Asunder, A Dying World Without Metal, Seeks Its Life On Kickstarter
Tabletop roleplayers, imagine being in a TTRPG world where metal did not exist. Well, such a world is on its way to existing with the launch of the Asunder: A Dark Fantasy RPG Kickstarter. The project has already surpassed its funding goal of $35,000, and still has 33 days remaining.
The Asunder TTRPG is the creation of Adam Lawson, who you may know from Geek & Sundry as the Director of such hit shows there as Wil Wheaton's Tabletop, Sagas of Sundry, Spellslingers, and many more. Lawson is also Co-designer & Art Director of Escape the Night: The Board Game. Lawson spent six years creating the world of Asunder, and stated in the Kickstarter Updates section, "I was choked up this morning to see it funded in one day. I am overwhelmed and overjoyed."
According to the video intro (narrated by Critical Role's Matthew Mercer, btw) and the Kickstarter notes, Asunder is a dying dark fantasy world without metal, and "Gaia, the source of life, has begun to devour the land." You roleplay as Seekers, "those who've seen the signs of the end and cannot turn away." You can click over to Good Time Society's YouTube channel and watch the three-hour Asunder: Gaia's Judgement – "Blister Socket" Ep #1 TTRPG Liveplay video with Amy Vorpahl, Satine Phoenix, Chris Wu, Jeremy Walker, and Becca Scott, for a deep look at how well Asunder plays. Or check out the Asunder Player's Quick Start Guide and get a closer look at the most excellent art accompanying the game.
The Asunder Kickstarter is funding two sourcebooks: The Seeker's Guide for players, and The Keeper's Tome for Keepers (GMs). Both books are 8.5″ x 11″ hardcover with over "160 full-color original images", and "layout design is by the legendary Hal Mangold (The Expanse and Fantasy Age)." Helping to support and detail the world of Asunder is an accompanying novel, A Gathering of Chaos, written by Cameron Hopkin. Chapter One of the novel has been graciously made available online free-to-read!
Other Asunder items being funded here include The Keeper's Screen, a set of custom Asunder dice, and an add-on campaign module, The Seed of Gaia, written by Brian Engard of F.A.T.E. Core. A set of nine miniatures will be unlocked when their stretch goals are met, with The Beast Master, The Demon Wrestler, and The Plant Weaver being shown in detailed photos.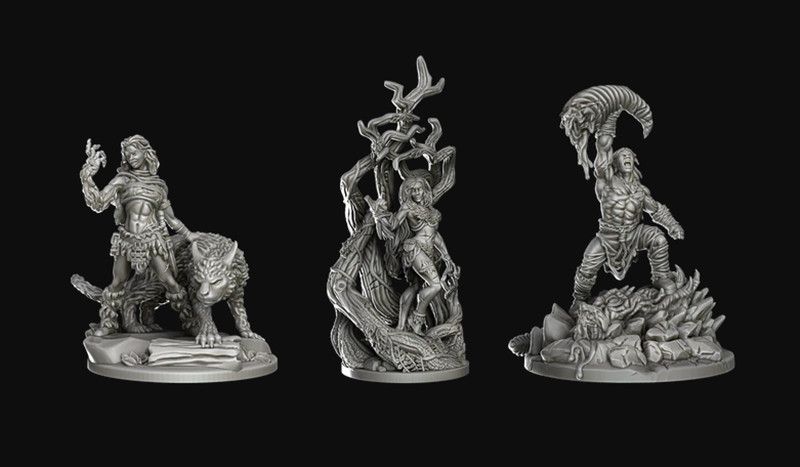 There is a lot more Asunder info available in the Kickstarter description, including a brief look at the Cultures (Beast Master, Plant Weaver, Insect Weaver, Chaos Wielder, Mainlander Symbiont, Demon Wrestler, Skimmer, and Seafarer), along with a good bit of info on the overall world of Asunder.
Source: Read Full Article