Broken Rules CEO Felix Bohatsch Explains How Gibbon: Beyond The Trees Got Its Political Edge
Gibbon: Beyond the Trees is a beautiful game. Sublime even. The Apple Arcade exclusive is more ambitious than most mobile titles while also weaving in a profound message. It tells a story about deforestation naturally propelled forth by the moment-to-moment gameplay, with traversal becoming more difficult as the rainforest is robbed of its trees. It does all this with detail and authenticity, using an art style that conjures a shimmeringly vibrant jungle doomed to man-made destruction.
Gibbon has since been ported to Nintendo Switch so more players can discover its moving homage to nature. I spoke with developer Broken Rules' CEO Felix Bohatsch about bringing Gibbon to life and working with Apple. Known for the acclaimed and award-winning mobile title Old Man's Journey, the Vienna-based indie developer has come a long way since its early days when it was just a group of students heading to GDC in 2007.
I was curious about how Gibbon came together. To my surprise, Bohatsch has never visited the rainforest region depicted in the game. Gibbon is set in what looks like Borneo, a large island in Southeast Asia. Having visited the jungle on the Malaysian side of Borneo myself I was amazed to see how well the game authentically depicts the stilt houses, tribes, and urban markets that make up that part of the world.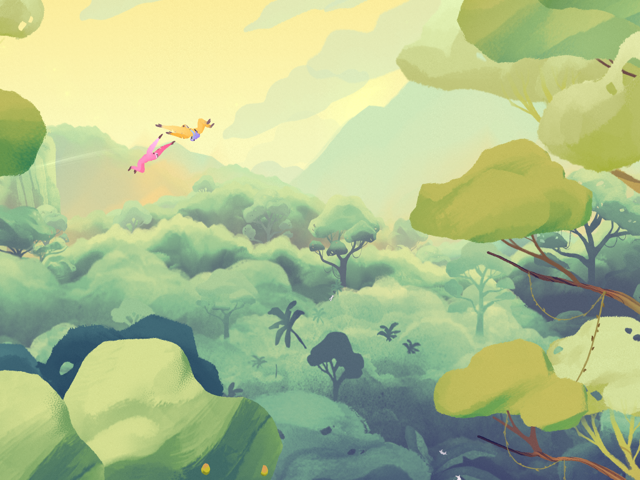 Where did the idea for this setting come from? Bohatsch says he likes nature and animals and Gibbon is not the team's first game inspired by an animal's movements – that would be their 2012's Wii U title Chasing Aurora, which focused on flying a bird in the Alps, and the similarly avian-focused Secrets of Rætikon from 2014. "I've always liked gibbons and visited zoos with my kids so they were always a bit in the back of my head," he says.
"And at some point I started looking a little bit more into it, so this was about a year after Old Man's Journey I'd say, trying to get inspiration, and I watched gibbon videos on YouTube, and I got more fascinated by their smoothness, their agility, the way they swing through the jungle, and leap from tree to tree, which I think is the coolest thing".
So he thought it'd be cool to put this in a game, to emulate the tree-swinging movement – known as brachiation – of a gibbon. He and fellow co-founder Peter Vorlaufer, put together a prototype, but it was too "physical and simulation heavy" so was put into the back drawer to revisit another day. Fast forward several months and they're contacted by Apple, told about plans for Apple Arcade and asked if they'd like to be involved. Thinking it might be a good fit, Gibbon was taken out of the drawer and put into full production.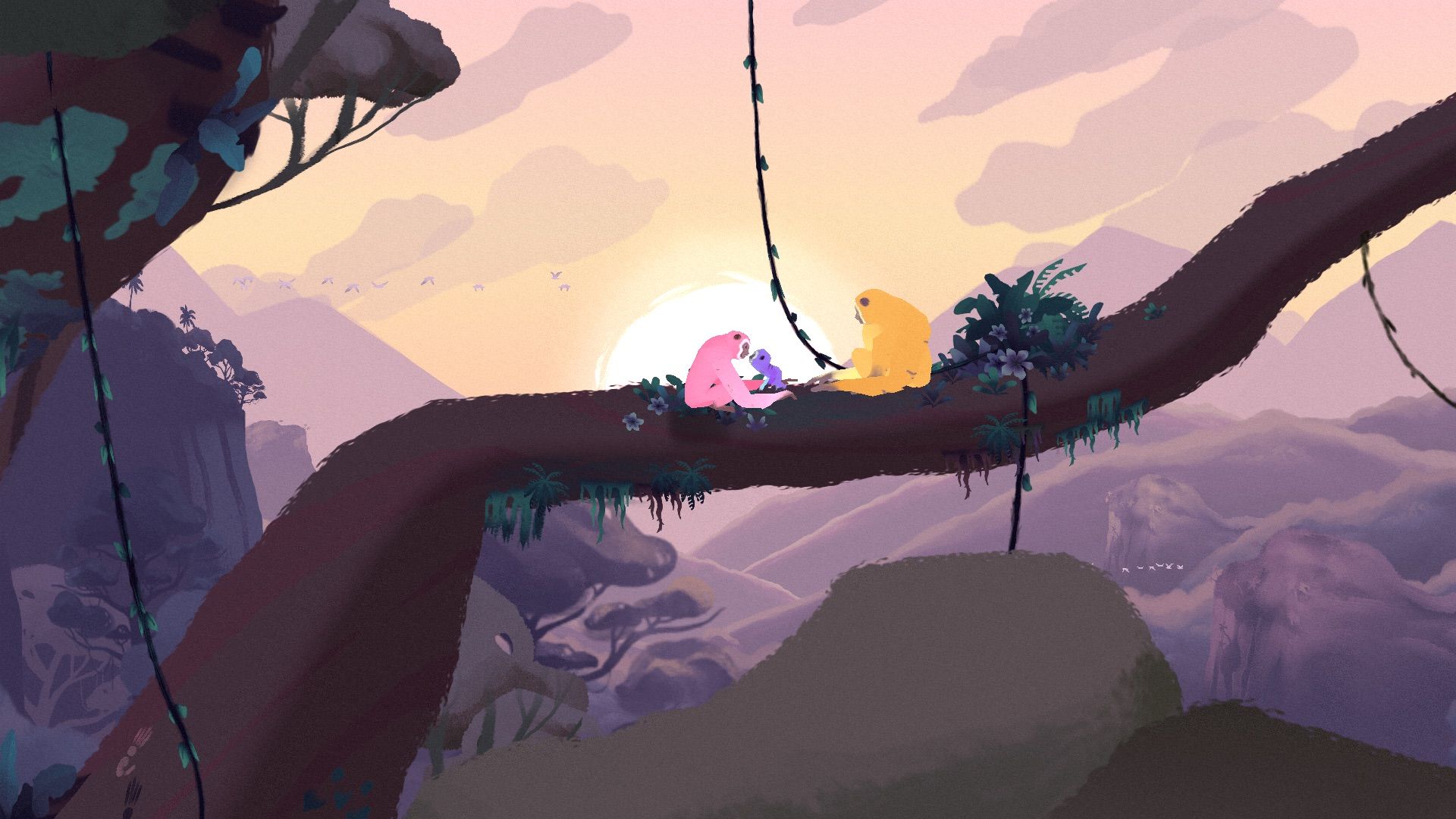 Bohatsch took inspiration from endless runners such as Alto's Adventure and Canabalt when it came to Gibbon's overall design, but also wanted to make something that tells a story during the flow state – "ending the endless runner" as he puts it.
However, through more research he and creative director Clemens Scott discovered gibbons were an endangered species threatened by habitat loss. The game couldn't just be about pure escapism, it had to fold reality in somehow. Eventually it was decided Gibbon would have two core themes or "pillars" as Bohatsch describes it: one about swinging through the jungle, and the other focused on environmental consciousness.
In contrast to Old Man's Journey where Apple was only the distribution partner, Apple came on as producers for Gibbon, which meant the company helped fund it and gave Broken Rules milestones to hit and the teams were in closer contact. Gibbon was destined for Apple Arcade, the subscription service which features titles such as The Pathless, Alto's Odyssey, Sayonara Wild Hearts, NBA 2K22 Arcade Edition, and Final Fantasy creator Hironobu Sakaguchi's Fantasian, among 200 or so other games and counting.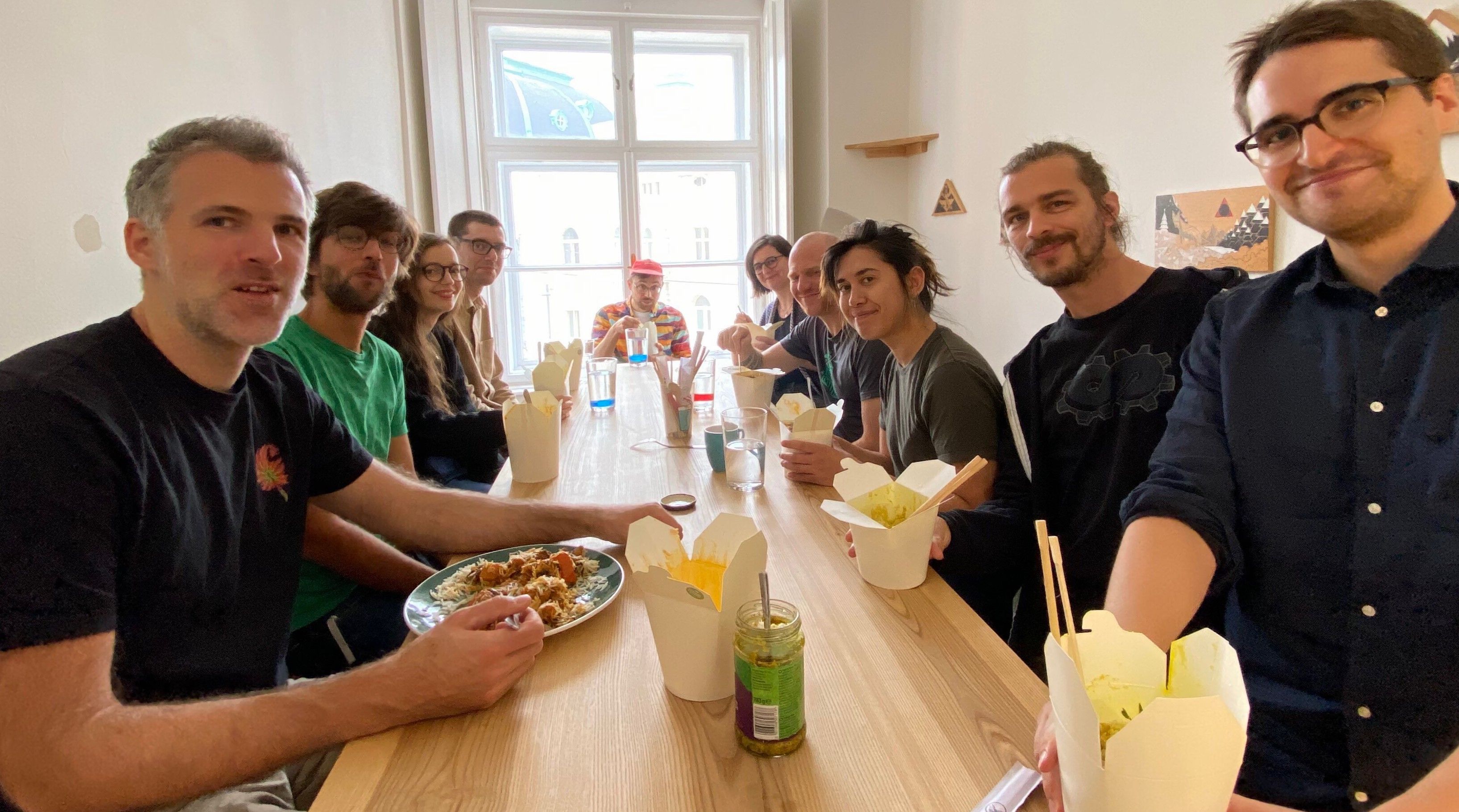 Gibbon manages to capture Southeast Asia's essence and style, despite the fact the developers have never visited that part of the world. "[It's] something we talked a lot about before, because usually we've always been creating games in a setting we know very well, and know we can represent truthfully without being too wrong or annoying or hurtful to cultures who live there," Bohatsch says. "There's always stylistic choices and abstraction and you don't want to represent the reality one-to-one, but it's important it's done respectfully and with care".
In Chasing Aurora and Secrets of Raetikon, which are set in the Alps, Broken Rules were on safe ground, and while Old Man's Journey was set around the Mediterranean, the team were familiar with the region from travel and vacations and as Europeans have at least some connection with it. For Gibbon: Beyond the Trees they needed a different approach. Initially, the team wanted to travel to Southeast Asia for research, but due to the Covid-19 pandemic and a tight schedule in turning the game around this wasn't possible.
They found a workaround. The team connected with NGOs working in the region, and during development they worked with the Thailand-based Gibbon Rehabilitation Project, and learned about the ape's family dynamics and how poaching has become an increasing problem, driven by tourists who want pictures with a baby gibbon. "This shows it isn't a local problem," Bohatsch says.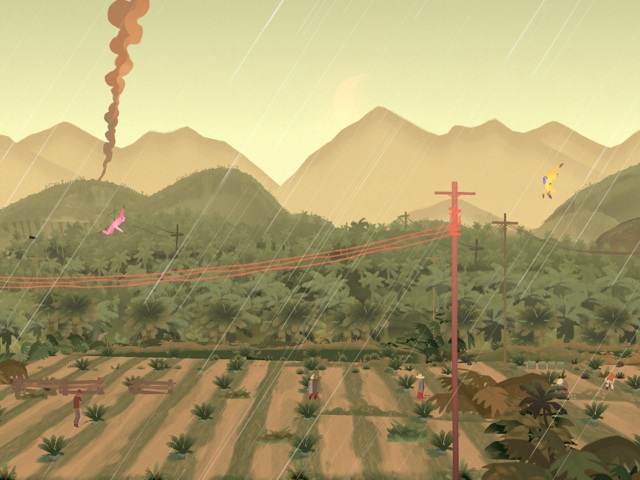 Gibbon has you moving from idyllic jungle to native tribal rainforest dwellings. Later, you'll find machines moving in alongside fire and destruction, before swinging past palm oil plantations and urban highways. It does this smoothly and with compelling narrative intent. It's an outstanding achievement, but I did have one criticism.
I put it to Bohatsch via an analogy. A North American child might be playing Gibbon on an iPad in the backseat of a car and start to feel empathy and concern for these animals and their rainforest, and may even ask what they can do for these animals, but all the while they may be eating a chocolate bar that contains palm oil. In other words, the player may not comprehend that it is the consumption in countries such as the US or UK or Germany, which incentivises the clearing of jungle. I also say that perhaps this more complex political message may be too much for a game like Gibbon. To Bohatsch's credit, he strongly resists this implication.
"It's an excuse to say 'it's just a game,'" he says. "You always learn something when you play a game, every developer has a responsibility to think about what they are actually putting in front of their players". Bohatsch says "every game is political" and he mentions the case of the New York Times banning the word 'foetus' from Wordle, which is a political act.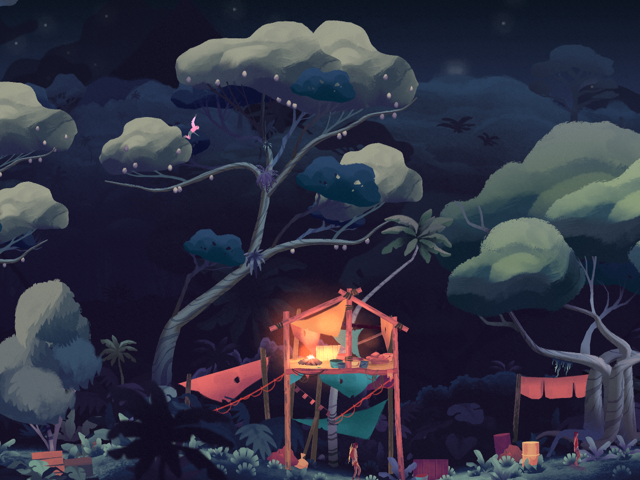 The developer and his team spoke about the problems I bring up and tried to mitigate them by designing the trucks and machines that clear the forest to appear like they're owned by a major corporate entity, to indicate it's a globalised issue. Broken Rules also hired a cultural liaison expert and credit is also due to London-based artist Catherine Unger, who has Asian heritage and knowledge of the region, who helped to make Gibbon's peoples and environments feel so alive and authentic. It shows that with the right mindset and via diligent research, creating art that's outside of one's immediate knowledge can be done.
To finish our conversation, Bohatsch muses on the rise of services like Apple Arcade and Xbox Game Pass. "We are now part of this subscription service and that was great for us at the time, but I'm not sure how well subscription services will work… what will happen to independent developers at some point, when the subscription services have found their audience and stabilised. I'm not sure if there's still going to be big interest from the big players in projects like Gibbon, because they're more of portfolio projects, they're projects you do because they try something new, or something more social ecological angle, but at some point it'll only be about retention and things like that and keeping your subscribers entertained with easy entertainment".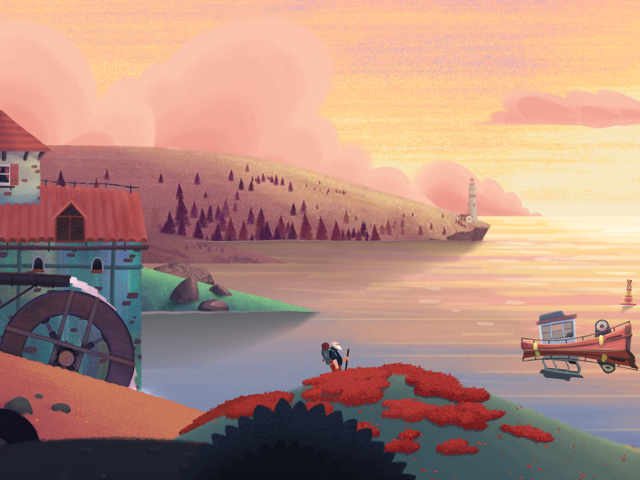 It's a prescient point and we do see big players like Sony investing heavily in live service games. It raises the question of what will happen to studios such as Broken Rules, or indie devs who have yet to make their mark, when they don't have access to public funding (which was vital to Broken Rules, Bohatsch says) and major publishers lose interest. Games cost money to make and not every developer has the resources to hold out for an eventual success. But it's heartening to see that it is still possible.
The Vienna-based studio comprises a small team, with Bohatsch as one of five co-founders, and Broken Rules scales up when needed to make a new title. The game that put Broken Rules on the map, Old Man's Journey, was an affecting, emotional journey that asked questions of the player, with a charming visual style and innovative gameplay to boot. Gibbon: Beyond the Trees is a worthy and beautifully realised follow-up. What this studio does next is one to watch.
Source: Read Full Article