Check Out This Nuka-World Welcome Kit From Doctor Collector
Whenever Nuka-World is mentioned, it's very hard not to hum the park's theme song. In line with this jovial welcome, Doctor Collector has released a Fallout Nuka-World Welcome Kit, designed as a genuine welcome pack, full of everything you'll need for entry, plus exclusive merchandise.
Nuka-World is an amusement park featured in the Fallout 4 DLC, and contains a host of rides and arcade games to enjoy in the wasteland. Marketed as a vista with rivers of quantum and fizzy mountaintops, Nuka-World offers futuristic fun in the Galactic Zone, gold mining in Dry Rock Gulch, and a peek behind the vale when exploring the Nuka-Cola Bottle Plant. The DLC was generally a hit with fans of the game, offering some relief from the threat of extinction, but not entirely a safe zone from Raiders and Mutants.
The Spanish brand Doctor Collector serves the Welcome Kit in a small, vending machine-styled tin, decorated with the Nuka-Cola pin-up girl, Bottle, and Cappy. The tin itself is a rarity, displaying an animated screen while a music box plays the Nuka-World theme song. The contents include all your theme park needs, such as a park ticket – admits one – a guidebook covering all of the crucial information and restrictions, a map pinpointing all the attractions, a VIP lanyard and Pass, tokens for the Nuka-Cade, and one Grandchester Mystery Museum ticket.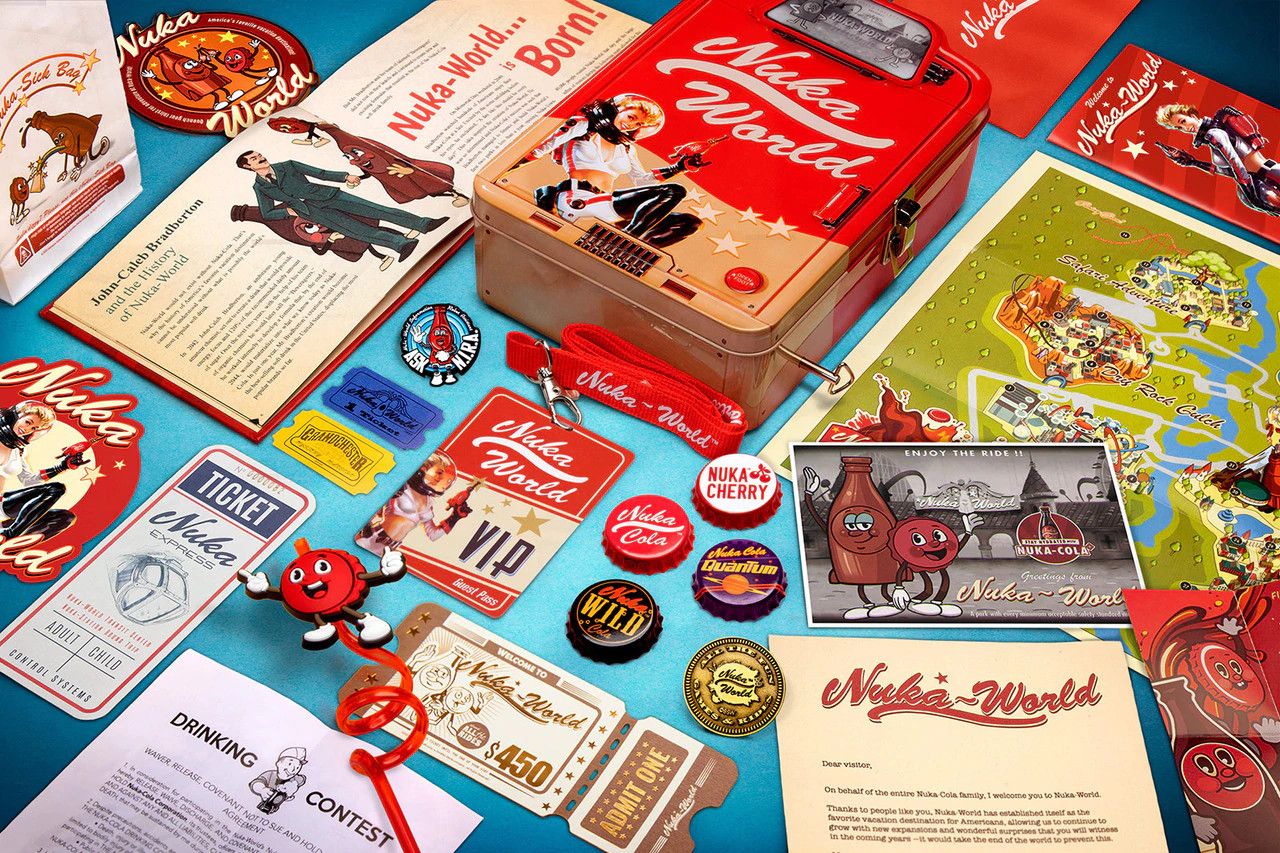 In addition to those realistic goodies, the Welcome Kit will also include extra splurges of merchandise. A Cappy crazy straw, Nuka-World coaster, a Bottle and Cappy sticker, and four collectible bottle caps will bulk out the Nuka-World vending machine. The Welcome Kit retails at $59.99, which seems reasonable for all of the authentic collectibles – plus a container that sings to you.
Doctor Collector also sells a bold Vault-Tec metal sign, featuring the game's iconic blue and yellow palette. The brand also caters to other video games and corners of pop culture, offering merch from Wolfenstein and The Elder Scrolls to Jurassic Park.
Stepping into Nuka-World for the first time can be overwhelming in its grandeur. The best way to experience the theme park is to get in there and start exploring, but we've compiled a list of the places you need to visit during your trip, so you don't miss out on any of the big attractions.
Source: Read Full Article