Children Of Morta Lays Out Surprise Roadmap Of Free Content
Breakout indie hit Children of Morta now has a 2020 roadmap with loads of free content and one paid DLC.
Children of Morta released last September on all major platforms, and it became an overnight hit. The game sold enough copies to totally cover its development costs in just 3 days, with everything else being just pure profit. So now, Dead Mage plans to give back to their fans with an entire year of free content starting in 2020, along with one paid expansion.
The surprise roadmap lays out what you can expect to come first, starting with the Shrine of Challenge, a new "hard" difficulty mode that will also add 20 new items including Charms, Divine Graces and Divine Relics.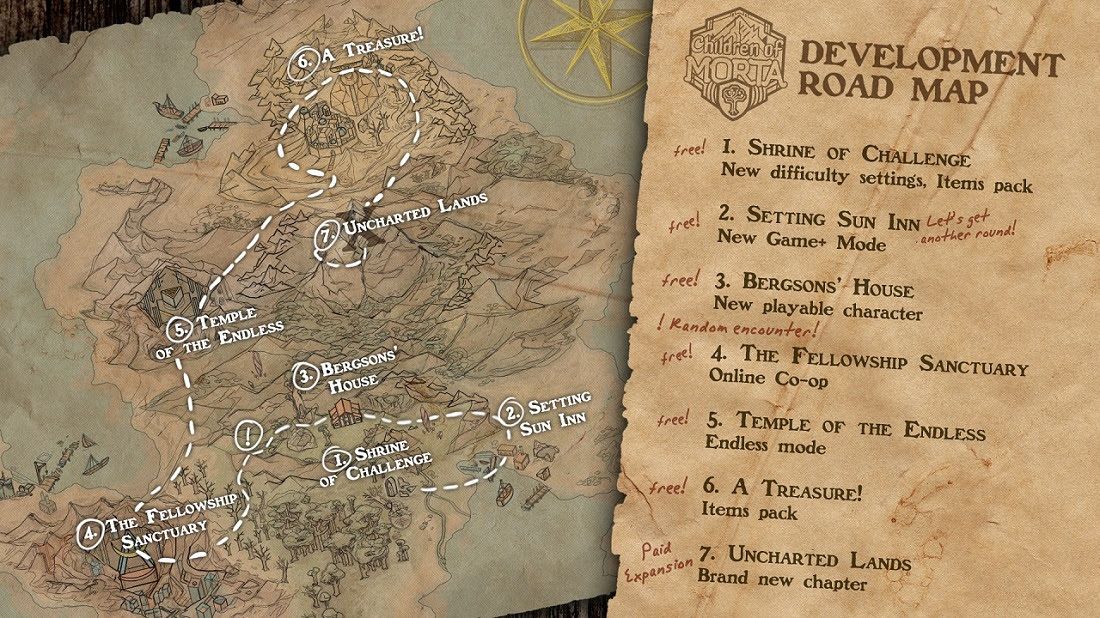 Next will come the Setting Sun Inn, a new game+ mode that allows players to keep playing with unlocked characters, skills, and all workshop upgrades. Along with the Setting Sun Inn will come "random encounters" which should also shake up the story a bit.
The third free update will add a totally new playable character to the Bergson's House. We know nothing about who that character could be, but it will surely add another unique class to try.
After that will come the much-requested online co-op update, The Fellowship Sanctuary. This will mostly be a benefit to PC players as console players already enjoy split-screen co-op, but we imagine it will also be used by Switch players too.
Rounding off the free updates will be the Temple of the Endless, which adds a horde mode endless combat option to the game's classic hack-and-slash action, and the Treasure update which will bring 30 new items including Charms, Divine Graces, and Divine Relics.
Last to arrive will be The Uncharted Lands, a paid DLC expansion that adds a brand new story to the Bergson Family's epic quest. There will be new enemies, a new boss, a new main quest, and even another playable character.
We don't have specific dates on when each update will arrive, but they should come roughly in the order they appear on the map. And for those who really dig the game's music, the Children of Morta soundtrack is now available one YouTube, Spotify, and iTunes.
Source: 11 Bit Studios, Dead Mage
Source: Read Full Article