Cowboys And Demons Collide In Evil West
At the recent Game Awards show held on December 10, video game developer Flying Wild Hog and publisher Focus Home Interactive announced their next new collaboration project, Evil West. The wild west vampire-hunting game is currently scheduled to release sometime in 2021 for Windows, PlayStation, and Xbox.
The announcement came with a kick-ass Evil West – World Premiere Reveal Trailer now available on Focus Home Interactive's YouTube channel, along with its Steam listing. Evil West now also has websites hosted by the dev and publisher with screenshots, video, and art for the game.
Imagine Doom, but in a Wild West setting, and with vampires. That seems to be the atmosphere Evil West is gunning for, and it looks like a 10-gallon hat full of fun. The story involves you in the role of Jesse Rentier, "one of the last agents in a top-secret vampire-hunting institute" in a dark, demon-infested alternate-dimension American frontier. You – and the institute, but mostly you – are out to put an end to a horrible terror on the rise, a vampire threat that seeks to spread throughout the entire United States.
Thankfully, you'll be armed with all sorts of weapons of death and destruction, including such classic Wild West firearms as the rifle and six-shooter, but also with a deadly mechanical device capable of multiple configurations on your right arm. The reveal trailer shows the device having a set of Wolverine-style blades, as well as a solid metal bar for delivering massive punching damage. Other gadgets will be available to use, and it looks as if one of those may be on the main character's left arm in the video and screenshots.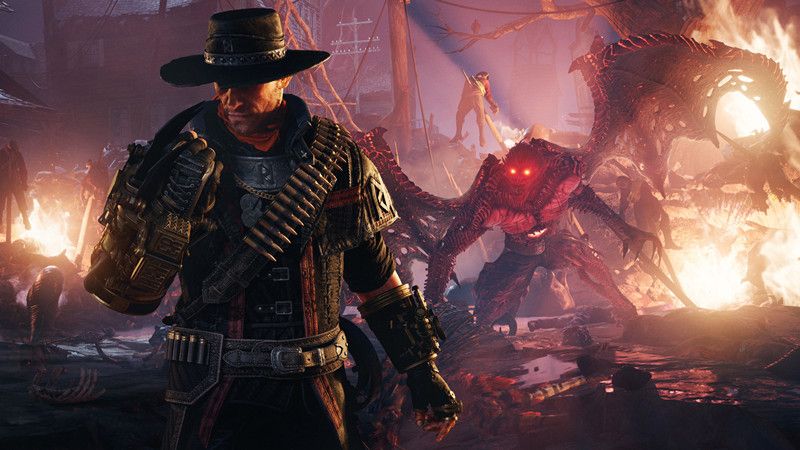 Your weapons and gadgets will be upgradable, and your character will likewise be able to earn and unlock perks to further customize your monster-slaying skills. You'll be able to take on the challenge solo or with a friend in co-op mode. Either way, you can expect the action to be weird, explosive, gory, and non-stop. As the game's tag line goes, "Evil never sleeps… but it bleeds."
You can find more info on the Evil West's official Facebook, Twitter, and Instagram channels.
Source: Read Full Article