Cyberpunk 2077 Collector's Editions For PS4 And Xbox One Are Available Again On Amazon US
Cyberpunk 2077's release was been a bit of a mixed bag. While it's earned plenty of positive reviews – including a damn fine one from us – its console launch has been a tad on the disastrous side. The ports were the reason for the game's most recent delay and it's easy to see why. Many players are complaining about its poor performance, which seems justified considering Digital Foundry's rather harsh opinions about its visuals on the PS4.
Unfortunately, not every person who wants to experience the luster of Night City has a souped-up gaming PC to play Cyberpunk on. So if you were looking to take your chances on playing the console version you may be happy to learn that the collector's edition of the game is available once again on Amazon.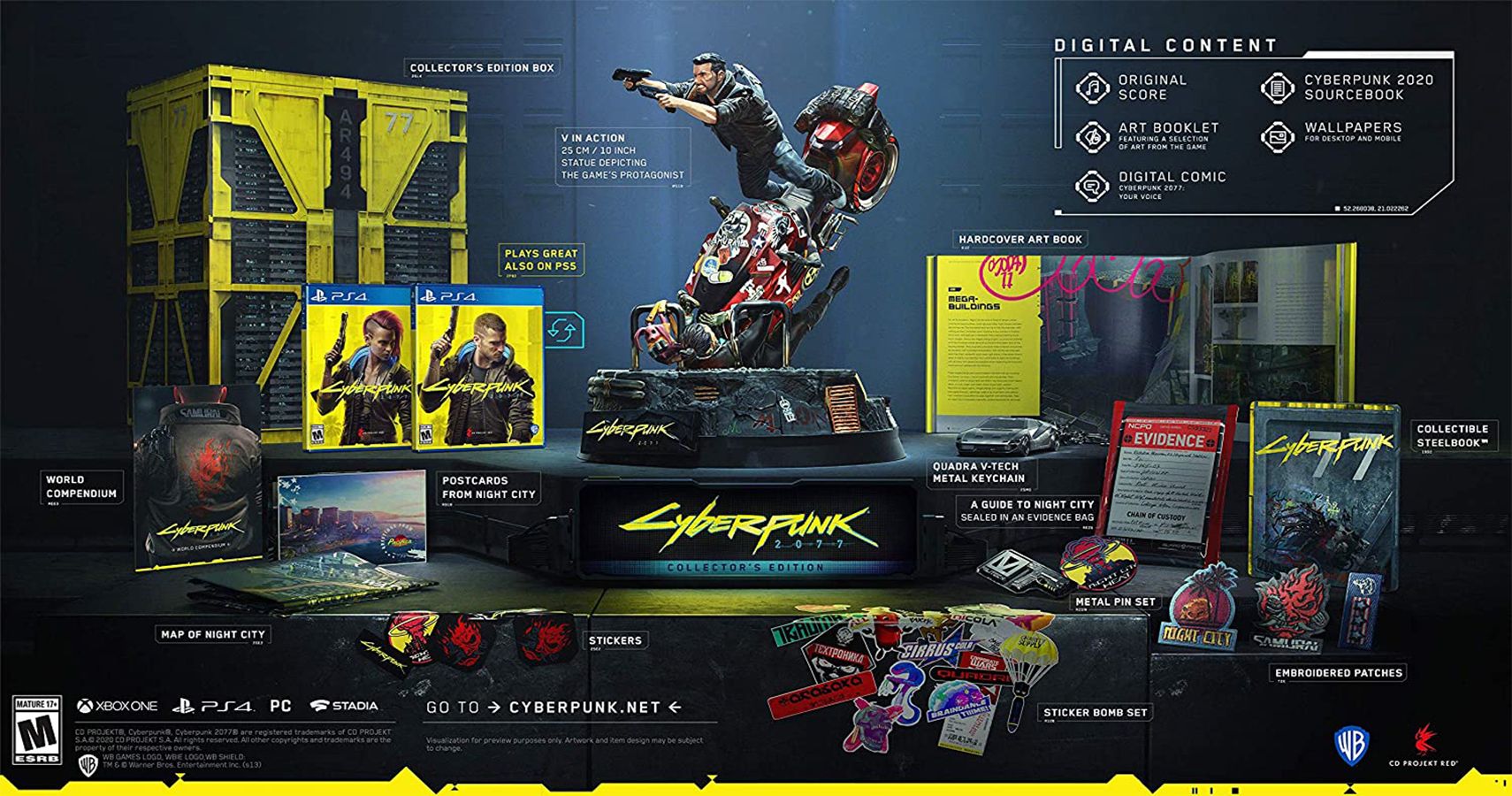 This collector's edition does come with an awful lot of Cyberpunk swag. Packed in with the PS4 or Xbox One version of the game comes a hardcover art book, a Night City guidebook, a keychain replica of the Quadra V-Tech, a model of V doing a cool pose on the back of a motorcycle, and a whole bunch of stickers, pins, postcards, and other Cyberpunk paraphernalia.
Hilariously, there's a small blurb on the Amazon preview image that declares "plays great also on PS5." While that's likely just there to let next-gen console owners know that they can play this on their fancy new hardware, in hindsight, it almost reads as a warning to not load this up on that dusty old PS4.
This is a rather impressive special edition, although buying Cyberpunk for a last-gen console doesn't seem like a great idea at the moment. CD Projekt Red is currently working on fixing the major issues and just released a hotfix that improved various bugs for the PS4 and PC versions (the Xbox One patch is still on the way.) This patch did improve the previously busted "Disable Copyrighted Music" setting, but there are a plethora of issues that still need fixing
It's also curious that these collector's edition bundles are suddenly available again. It's possible that due to the poor reception of Cyberpunk's console ports some disheartened fans may have canceled their orders leading to an influx of new stock.
Cyberpunk's launch hasn't been a smooth ride for CD Projekt Red, but that hasn't necessarily hurt the game's reputation all that much. It's still made a ton of money and even turned a profit on the very first day of its release. Even Johnny Silverhand himself, Keanu Reeves, seems to love the game. Despite all the bumps in the road, Cyberpunk can still be called a major success.
We've seen plenty of games release in rough states and manage to turn things around with patches and updates. It's plausible that most of the problems with Cyberpunk will be corrected and all the kinks will be worked out. It's just a shame that the newest trend in the gaming industry seems to be launching buggy games that take months to fix.
Source: Read Full Article