Deftones Re-Release Pac-Man-Styled Arcade Game For 20th Anniversary Of White Pony
The metal band Deftones have crossed into the realms of video games once again by re-releasing their White Pony arcade game. The Pac-Man-styled game accompanied the release of their enhanced CD version of the 2000 album White Pony, and the band have revived the game for the album's 20th anniversary.
While the band and their fans celebrate 20 years of White Pony – the band's third album – Deftones have also set up the White Pony x Black Stallion Arcade, where fans can play their version of Pac-Man. Replacing the ghosts Inky, Blinky, Pinky, and Clyde are the floating heads of the band members, including lead singer and founder Chino Moreno. The object of the game is to control the stallion or pony before it gets eaten by one of the band members. Accompanying your gameplay will be all the Deftones' tracks you could ask for, as fans can connect with their Spotify account whilst playing.
News of the game's revival was announced on the band's Instagram page, where a gameplay clip of the arcade game's 20th anniversary version was accompanied by a fitting Blanck Mass remix of the track Elite. The upbeat, techno track is a headbanging assault on the ears, which is a fitting remix to bounce around the playing field to. In addition to checking out the band's arcade page, fans will also be in with the chance of receiving an exclusive discount for the Deftones' online shop.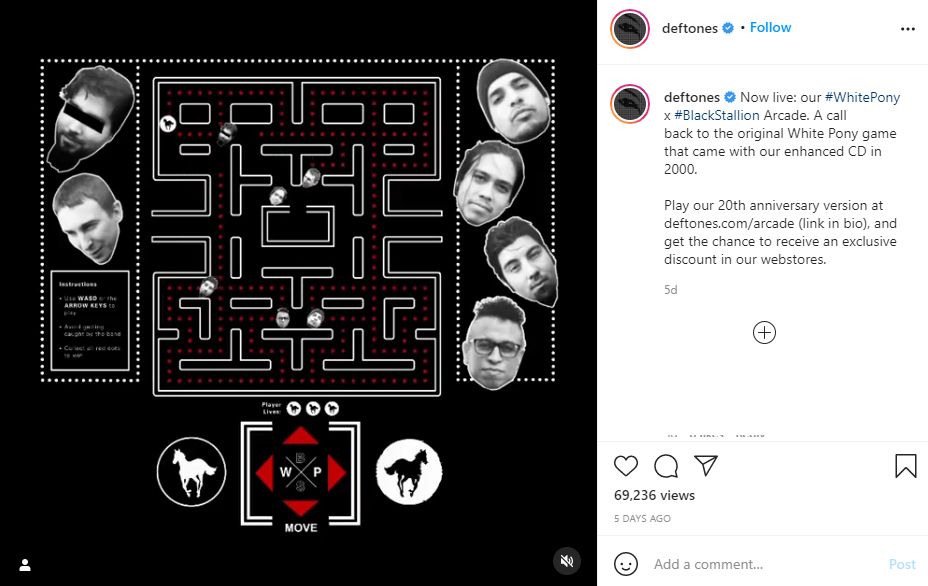 Pac-Man may well be the greatest arcade character in video games history, and Bandai Namco announced a new battle royale game for the franchise back in October. Pac-Man Mega Tunnel Battle joined Stadia a month later – as part of the classic game's 40th anniversary celebrations – and the publisher also announced the mobile game Pac-Man Geo.
The Pokemon Go-styled game allowed Pac-Man fans to compete on the go, by navigating the eponymous character through a series of real-world locations, including New York, Paris, and Tokyo. In addition to competing, last year's gameplay trailer highlighted how you are also able to design your own mazes with street names from all over the globe, where mazes can be shared within the community and beaten if you're good enough.
Source: Read Full Article