Everything Announced During February's Nintendo Direct
The traditional February Nintendo Direct livestream aired today, and it didn't disappoint. More than 30 games were showcased, most of which are launching in the first half of 2023. Here's everything you missed from today's event.
Pikmin 4 Gameplay Trailer
A new gameplay trailer for Pikmin 4 shows off our new hero as well as a puppy that can ram through obstacles and help your Pikmin in boss fights. Pikmin 4 is launching July 21, 2023.
Xenoblade Chronicles 3 Expansion Pass Volume 3 & 4
Volume 3 of the Xenoblade Chronicles 3 expansion pass will feature a new hero Lapidarist hero named Masha who can craft accessories. The DLC will introduce a new roguelike game mode that rewards in-game outfits. We also saw a tease for Volume 4. Volume 3 launches February 15, 2023.
Samba de Amigo: Party Central
The newest entry in the Samba de Amigo series of rhythm dancing games is coming to Switch this summer.
Fashion Dreamer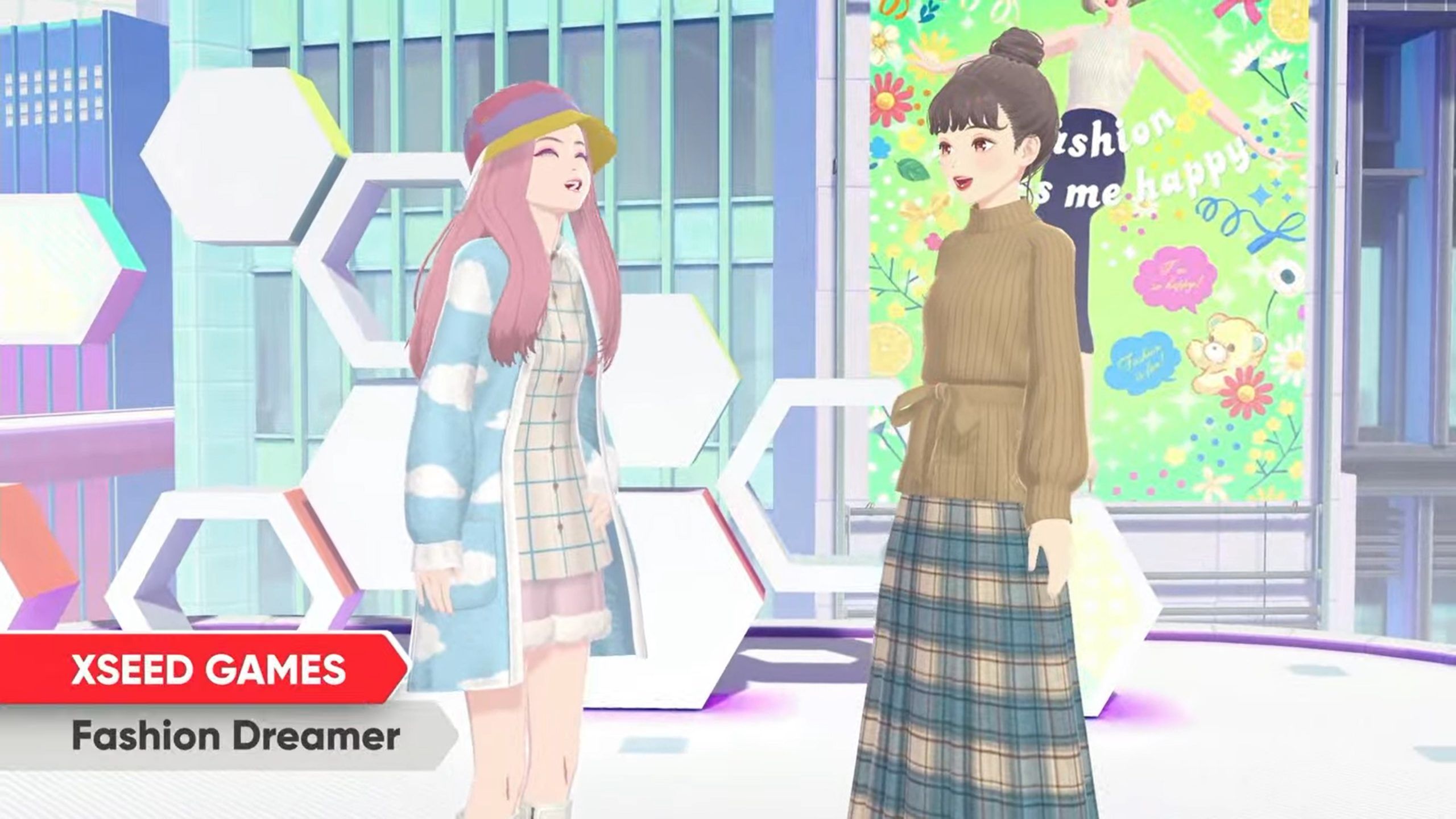 Coming exclusively to Switch later this year, Fashion Dreamer is a social sim game that allows you to customize your look and show off your outfits to friends.
Dead Cells: Return to Castlevania New Trailer
Dead Cells heads to Dracula's castle in a new expansion pack, which features Rictor, Alucard, and many weapons from the Castlevania series. The expansion will also feature music from the original series. Return to Castlevania launches March 6, 2023.
Tron: Identity Gameplay Trailer
First revealed at last year's D23 Expo, Tron: Identity is a narrative puzzle game that takes place many generations after Tron: Legacy. Tron: Identity launches on Switch this April.
Ghost Trick: Phantom Detective
Capcom's cult classic Nintendo DS game Ghost Trick is coming to the Switch with remastered high-resolution graphics and new features, including concept art, a music player, and new puzzles. Ghost Trick: Phantom Detective is coming to the Switch this summer.
DecaPolice
Level 5, makers of Ni No Kuni and Yo-Kai Watch, are back with a turn-based RPG about solving crimes in the big city. DecaPolice is coming to Switch sometime in 2023.
Bayonetta Origins: Cereza and the Lost Demon New Trailer
This prequel to Bayonetta got a new gameplay trailer that details some of the combat mechanics and story beats in the upcoming Switch exclusive. Bayonetta Origins: Cereza and the Lost Demon launches February 8, 2023.
Splatoon 3 Expansion Pass
Splatoon 3's two-part expansion pass has been revealed. Wave 1 will feature a return to Inkopolis, the hub world of the original Splatoon 2, while Wave 2 is called Side Order – though not much is known about it yet. Wave 1 launches Spring 2023.
Disney Illusion Island Gameplay Trailer
Battletoads maker Dlala showed off a new gameplay trailer for it's Mickey Mouse action platform adventure. This local co-op game can be played for players and stars Mickey, Minnie, Donald, and Goofy on a journey to yet-unknown lands.
Fire Emblem Engage Expansion Pass
Many famous Fire Emblem heroes are coming to Engage in Wave 2 and 3 of the expansion pass. New emblems include Hector, Soren, Camilla, Veronica, Chrom, and Robin. Emblems will be recruited through new missions, and Wave 4 will introduce a new story called Fell Xenologue. Wave 2 launches today.
Harmony: The Fall of Reverie
Life is Strange creator Don't Nod is back with a new narrative adventure game about a clairvoyant that can travel between worlds and see the future. Harmony: The Fall of Reverie has a score composed by Celeste composer Lena Raine. Harmony launches in June 2023.
Octopath Traveler 2 Demo Today
Octopath Traveler fans can play through the opening hours of the highly-anticipated sequel today thanks to a new demo. Octopath Traveler 2 launches on February 24, 2023.
We Love Katamari Reroll+ Royal Reverie
A release of a remaster of the original Katamari is coming to Switch this summer. Roll it up, roll it in, and roll with a friend on June 2, 2023.
Sea of Stars Gameplay Trailer And Demo
Turn-based RPG and prequel to hit action indie The Messanger, Sea of Stars, has a new demo available today on Switch.
Omega Strikers
Free-to-play competitive 3v3 hero "footbrawler" Omega Strikers is leaving early access this year. Omega Strikers launches on Switch, PC, and Mobile on April 27.
Etrian Odyssey Origins Collection
Classic dungeon crawler Etrian Odyssey is coming to Switch laster this year. Remastered versions of Etrian Odyssey 1, 2, and 3 will be available June 1, 2023.
Advance Wars 1+2: Re-Boot Camp New Release Date
This remake of the classic GBA strategy game nearly launched last year, but Nintendo opted to pull it for fear that its themes and characters would read insensitive amidst the Russian assault on Ukraine. Though the invasion is ongoing, Advance Wars 1+2: Re-Boot Camp is set to launch April 21, 2023.
Kirby's Return To Dreamland Deluxe Magalor Epilogue
The remake of Kirby's Return to Dreamluxe is launching February 24, and the new version of the game will star the interdimensional traveler Magalor on a journey to regain his lost powers.
Gameboy, Gameboy Color, and Gameboy Advance Coming To Nintendo Switch Online
Starting today, Nintendo Switch online players will have access to a variety of classic Gameboy games. NSO subscribers can play Tetris, Super Mario Land 2, Link's Awakening DX, Gargoyle's Quest, Game and Watch Gallery 3, Alone in the Dark: The New Nightmare, Metroid 2: Samus Returns, Wario Land 3, and Kirby's Dreamland. The expansion pass provides access to GBA titles, like Mario Advance 4, Warioware Inc.: Mega Microgames, Kuru Kuru Kururin, Mario Kart: Super Circuit, Mario and Luigi Superstar Saga, and The Legend of Zelda: The Minish Cap. Many titles will support online multiplayer, and new Gameboy, Gameboy Color, and Gameboy Advance games will be added to NSO over time.
Metroid Prime Remastered
The first installment in the Metroid Prime series has been remastered for the Nintendo Switch, and you can play it today. The Metroid Prime Trilogy has been long-rumored for the Switch, but this release only includes the first installment.
Master Detective Archives: Rain Code
The creators of the Dangaronpa series are bringing Rain Code to the Switch, a "lucid-noir" adventure game about a Shinigami that helps a young detective solve supernatural mysteries. Master Detective Archives: Rain Code launches on Switch this spring.
Baten Kaitos 1 And 2 Remaster
Classic RPG Baten Kaitos and Baten Kaitos 2 are getting the remaster treatment this year. The turn-based RPG series is coming to Switch this summer.
Fantasy Life i: The Girl Who Steals Time
Level 5's other big reveal was a new installment in the Fantasy Life series. This life-sim allows you to travel between the past and present to shape your island exactly the way you like. Fantasy Life i: The Girl Who Steals time is launching in 2023.
Professor Layton And The New World Of Steam
Professor Layton will return for the first time in more than a decade. There is no release date yet, but Professor Layton and the New World of Steam promises a fresh start for the beloved detective series.
Mario Kart 8 Deluxe: Wave 4
The fourth DLC pack for Mario Kart 8 Deluxe will introduce a brand new track called Yoshi's Island and reintroduce Birdo as a playable racer, who was originally appeared in Mario: Kart Double Dash. Wave 4 will be available this Spring as part of the $25 expansion pass, but NSO subscribers can access all of the DLC content for free.
The Legend of Zelda: Tears Of The Kingdom Gameplay Trailer
The presentation concluded with a new gameplay trailer for Tears of the Kingdom, which shows off more gameplay than any trailer we've see thus far. Link's magnetic rune ability returns, but we'll also see new gameplay mechanics, like rail grinding and vehicle building. The Legend of Zelda: Tears of the Kingdom launches exclusively on Switch May 12, 2023.
Source: Read Full Article