Final Fantasy 14: Heavensward – Where To Find All Aether Currents In Azys Lla
Heavensward's final zone, Azys Lla, is an Allagan maze with plenty of vertical space. Unlocking flight is always a good feeling, but the enormous scale of this multi-tiered abandoned facility makes soaring through its strange green skies seem especially freeing.
In each of Final Fantasy 14's expansions, players must locate every aether current in order to reach that wonderful point. For Azys Lla, we offer a map of the region that pinpoints the precise coordinates of every aether current location, letting you race through the legwork and get to flying as soon as possible.
Before we begin, bear in mind that Azys Lla is a special case; unlike all other expansion maps, there are no field-based currents. Only quest-based currents exist here, easing the burden of exploration considerably. What's more, these quests are all mandatory — the main story itself essentially insists that you eventually unlock flying here, which makes sense considering your destination!
Azys Lla Aether Current Locations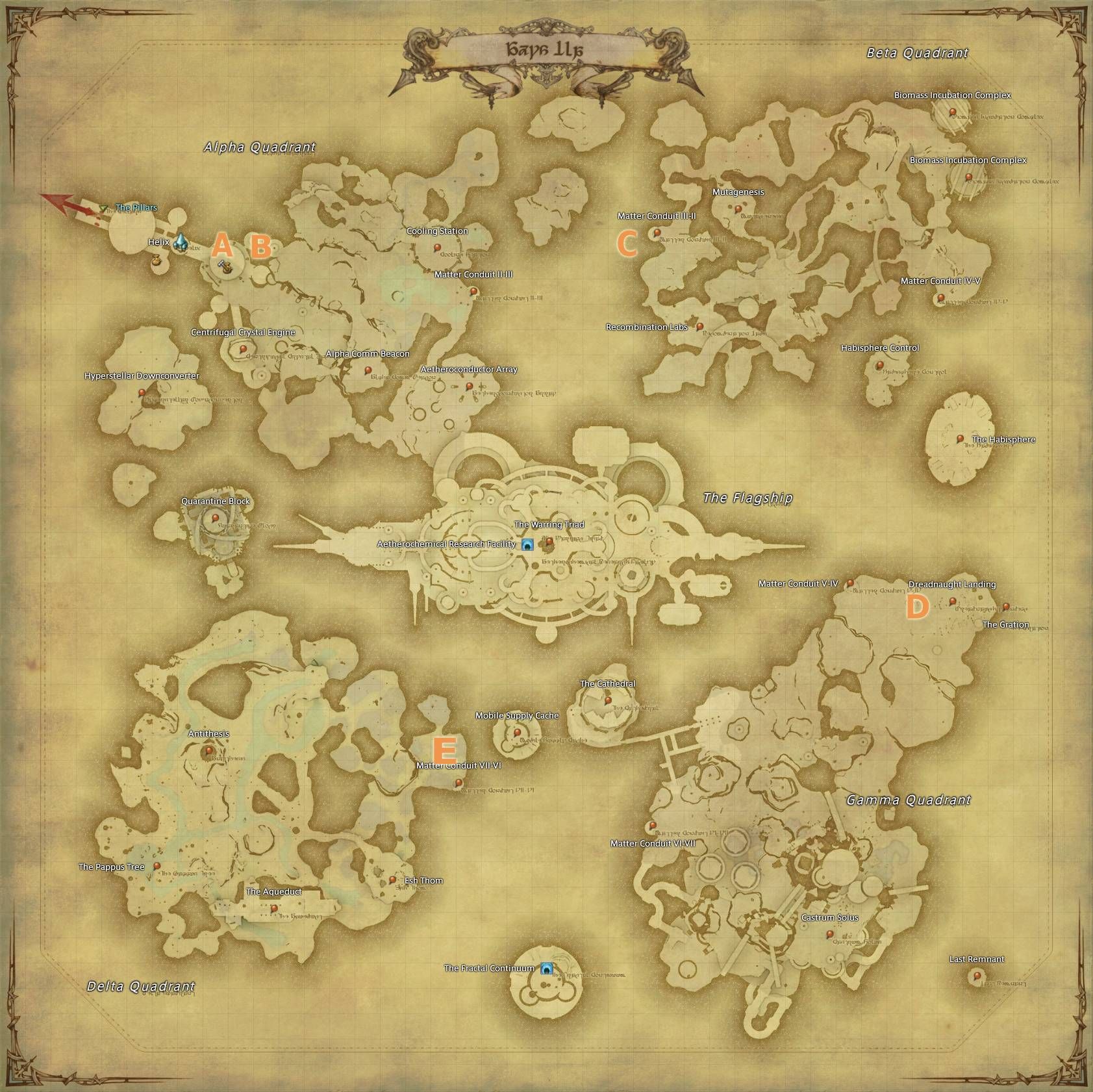 | | Quest Name | Quest Level | Quest Location | Notes |
| --- | --- | --- | --- | --- |
| A | Systematic Exploration | 59 | (X:21, Y:15) | Becomes available upon completion of main scenario quest 'The First Flight of the Excelsior'. |
| B | In Node We Trust | 59 | (X:6, Y:10) | Becomes available upon completion of main scenario quest 'Systematic Exploration'. |
| C | Chimerical Maintenance | 59 | (X:27, Y:10) | Becomes available upon completion of main scenario quest 'In Node We Trust'. |
| D | Close Encounters of the VIth Kind | 59 | (X:37, Y:11) | Becomes available upon completion of main scenario quest 'Chimerical Maintenance'. |
| E | Fetters of Lament | 59 | (X:18, Y:31) | Becomes available upon completion of main scenario quest 'Close Encounters of the VIth Kind'. |
Source: Read Full Article