How Has No One Copied Prime Video's X-Ray Feature?
Has there ever been a bigger boon for "I recognize that guy from somewhere" actors than Prime Video's X-Ray feature? Well, yeah. Probably '90s sitcom royalties and one-scene Law and Order roles. Those have, like, a financial benefit. But other than that, it's gotta be X-Ray!
If you aren't familiar, Amazon's streaming service, when paused, offers all kinds of information about the movie or TV series you're currently watching. Most helpfully, this includes the names of every actor in the scene alongside their headshot. For anyone who has ever wanted to put a name to a familiar face, Prime Video lets you do it with the press of a button, no need to search that specific episode of The Boys on IMDb.
While I was writing this article, I got a push ad on my phone from the Prime Video app, advertising the Harry Styles movie, My Policeman. I clicked on it and skipped forward to a random scene, then paused it there. On the screen, it had the names and photos of the actors in the scene — David Dawson as Younger Patrick, Harry Styles as Younger Tom, and Emma Corin as Younger Marion — and a link to buy the book the film is based on. It also lets you scroll through the rest of the cast and (maybe best of all?) see what music, if any, is playing in the current scene and in the rest of the movie.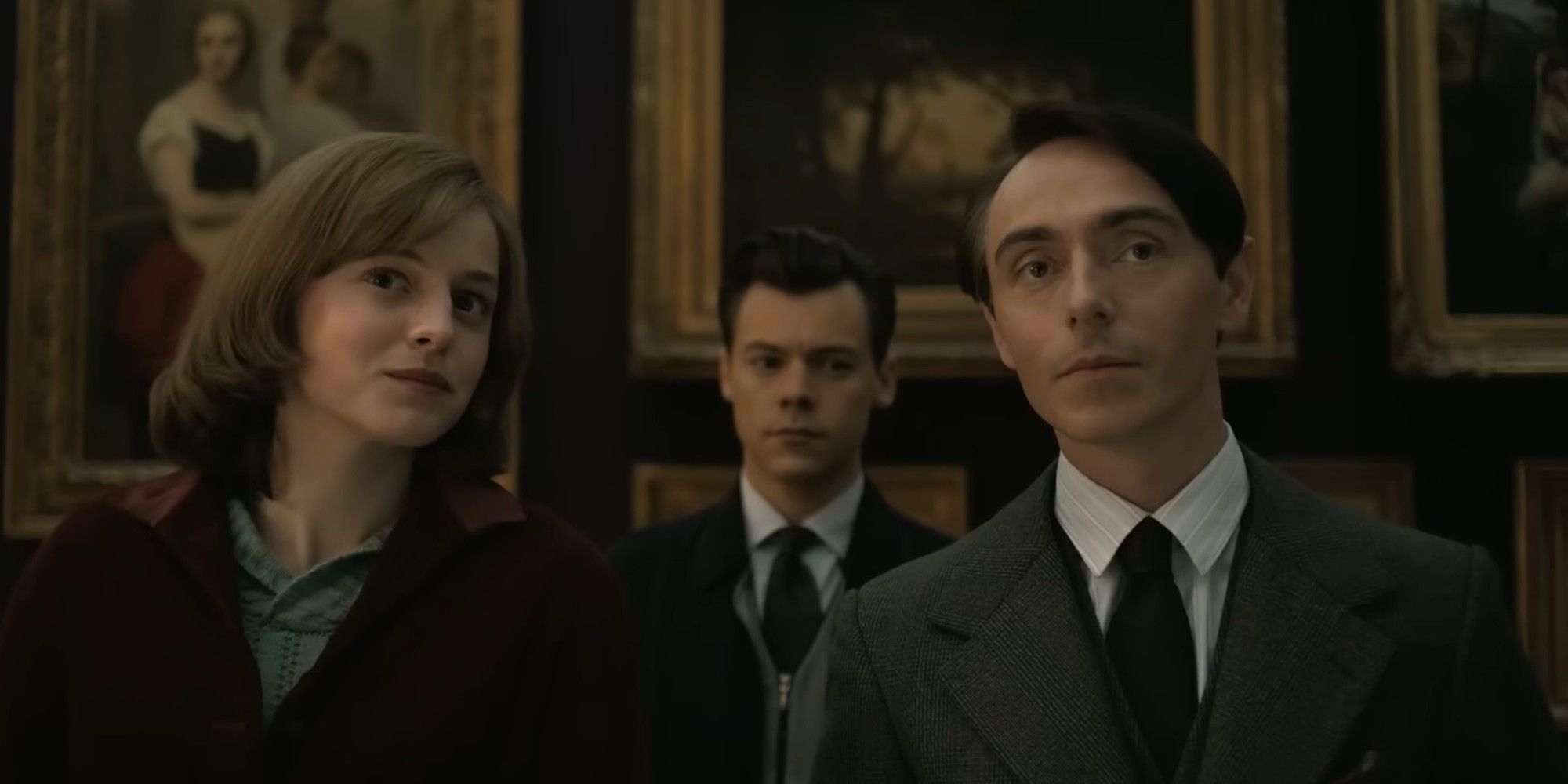 If you click on Styles' photo, the app brings up all the other projects the singer-songwriter has been involved in. You can rent Don't Worry Darling, watch him perform Sign of the Times on SNL, or check out his cameo as Thanos' brother in Eternals. Though you almost certainly know who Styles is if you've decided to watch a film as poorly reviewed as My Policeman, it's a helpful feature if you're curious about the actors in the supporting cast. Using X-Ray, you can quickly go from recognizing someone to experiencing the rest of their work.
The ad for the book, though, does give the game away a bit. While this is a convenient feature for users, it's also primarily designed to synergistically funnel you down an Amazon rabbit hole of spending — all from one central location. Like everything in capitalism, it is not mostly there for your convenience. It exists to make it easier for a corporation to make money.
But, it's not like Netflix, HBO Max, and Disney Plus aren't designed to make money. So, why has no one copied this? There is the simple explanation that I came across repeatedly while researching this piece: that X-Ray is powered by IMDb, which Amazon owns. So, competitors couldn't do the exact same thing in the exact same way. But, it's still a cool feature I would love to see replicated elsewhere, in some way, even if new tech had to be built or it was a process that required hiring new employees to do it manually. The people demand it! They need to know where they know that actress from!
Source: Read Full Article