Madden NFL 21 Available Now On Game Pass, Star Wars Squadrons And More Coming Soon
Xbox has revealed a number of new titles coming to Game Pass in the near future, as well as one available right now via EA Play.
Game Pass has been one of gaming's best deals for a while. However, Xbox seriously upped the ante when it launched the Xbox Series X|S. The subscription service's makeover included the addition of EA Play. Turns out that's the gift that keeps on giving. Madden NFL 21 is now available on EA Play, which means it is also accessible to anyone subscribed to Game Pass.
It seems as if it is going to be a very sporty month on Game Pass. Xbox already announced that starting on March 4, 2021, NBA 2K21 will also be available via the service. A number of other titles will be joining NBA 2K21 in the coming days and weeks. Every title announced for Game Pass today can be found below.
Headed To Game Pass
Madden NFL 21 (Available now, console)
Football Manager 2021 (March 4, 2021, PC)
Football Manager 2021 Xbox Edition (March 4, 2021, console and PC)
NBA 2K21 (March 4, 2021, console and cloud)
Star Wars Squadrons (March 2021, console)
NHL 21 (April 2021, console)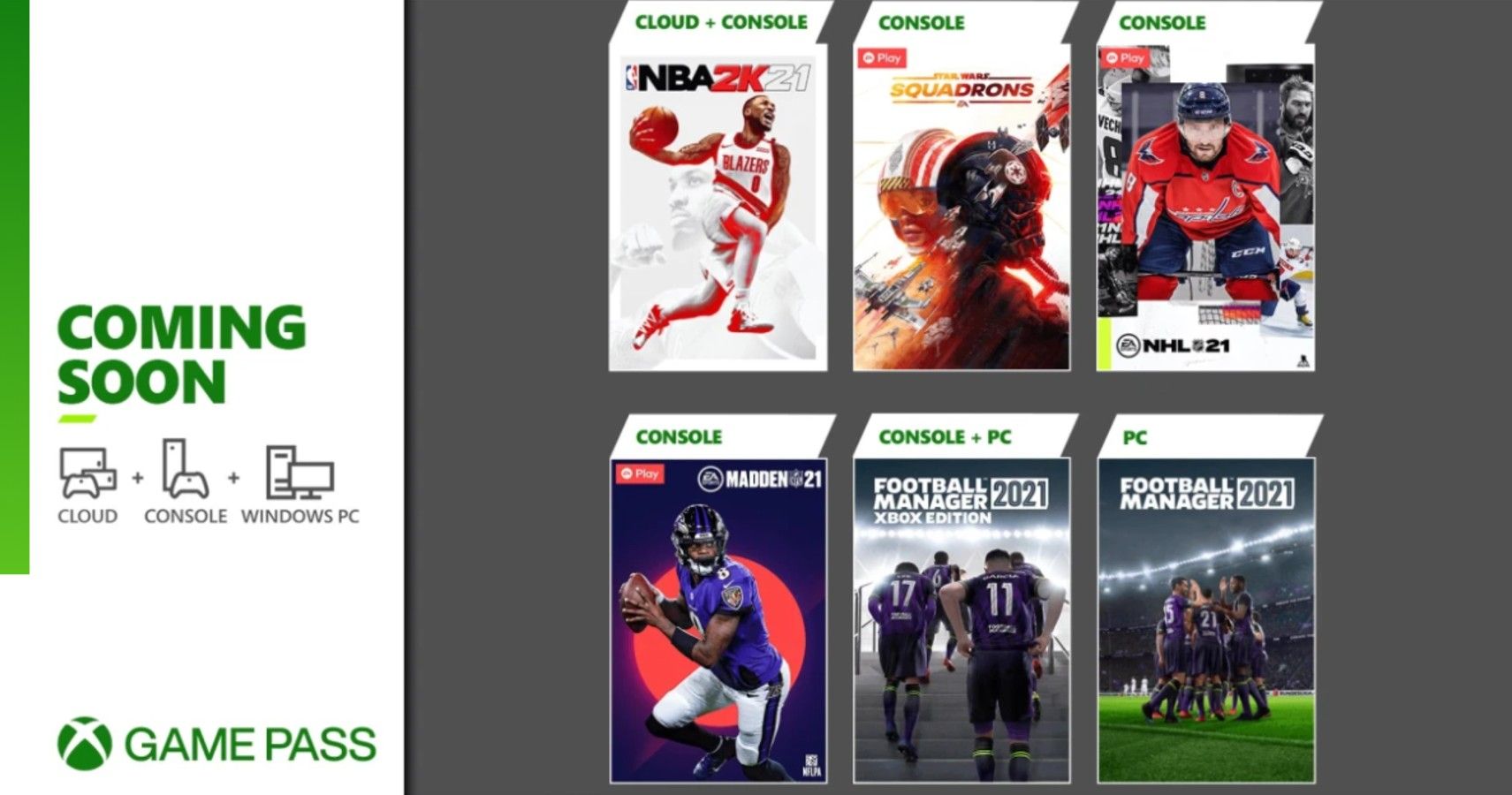 Like we said, a very sport-orientated announcement from Game Pass. The reveal also includes a reminder that Cricket 19 is still available via the service for PC players if you're into that kind of thing.
As always when it comes to Game Pass announcements, it can't all be good news. Some games will be making way for the incoming titles. The five titles below will be leaving Game Pass on March 15, 2021.
Leaving Game Pass
Alvastia Chronicles (console and PC)
Astrologaster (PC)
Bloodstained: Ritual of the Night (console and PC)
Kona (console)
The Witcher 3: Wild Hunt (console)
Play the five games above now while you still can. If you want to play them beyond March 15, Game Pass subscribers can get 20% of games and keep them forever.
Another big month for Game Pass, and just three days into March, this probably won't be the only announcement we get in terms of new additions to the service. Chances are Game Pass will be getting even bigger before the end of the year too. There are rumors that Ubisoft+ will be included for the price of entry at some point in 2021.
Source: Read Full Article