Pathfinder Monster Arena Ultimate League Tournament Starts Today
Paizo's Director of Game Design Jason Bulmahn recently announced the season one start date of the Monster Arena Ultimate League, a Pathfinder RPG Actual Play Tournament. The tournament is scheduled for Saturday, October 24, at 4pm PST, and will be streamed live on Bulmahn's Twitch channel at twitch.tv/JasonBulmahn.
ICYMI, the Monster Arena Ultimate League (MAUL) Pathfinder creature competition, where two teams of players controlling creatures do battle against the other in an online arena using the Pathfinder 2E rules. The League has been conducting pre-season matches to work out the gameplay and streaming details up to now, with Saturday's main event marking the official season one start.
Bulmahn posted the official season one MAUL bracket roster with the official announcement and in this Twitter post, showing the tournament's matches for the first four weeks.
Week One: Killer Kobolds vs Firestormers
Week Two: Bone Breakers vs Ogre Brothers
Week Three: Bramble Brawlers vs Bull Man
Week Four: Doom Dwarves vs Poison Shadows
According to the announcement, each team consists "of 160xp worth of monsters balanced against a 1st level band of heroes," and are built using the encounter building rules shown in the announcement pics. Each match is a single-elimination bout, with winners moving on to the semifinals, and losers moving on to become "otyugh food."
The MAUL was initially announced back on September 7 this year, with preseason matches being played live over Roll20. The matches were thankfully recorded, and Bulmahn has published them on his YouTube channel in a handy Monster Arena Ultimate League (M.A.U.L.) playlist. The four match videos are each about an hour long, with a fifth video added recently showcasing the Season 1 Tournament Bracket reveal.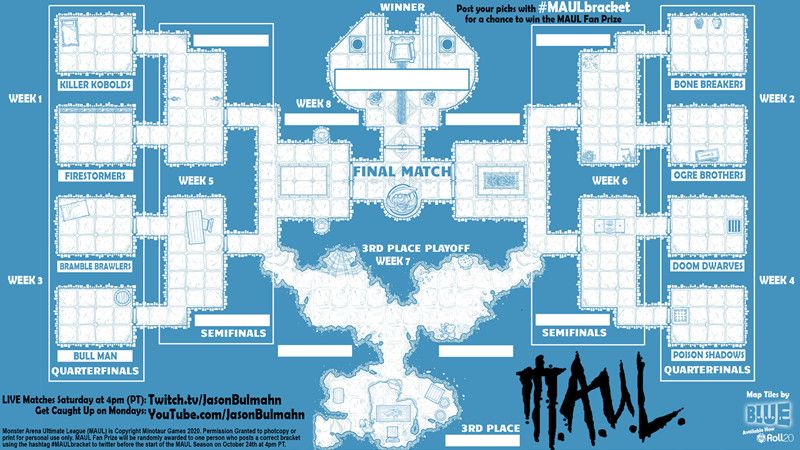 In true sports fashion, Bulmahn has also included a way for you to not just watch the MAUL tournament, but to participate, as well. You can download the MAUL bracket image from the announcement or tweet and fill in your predictions as to which teams will win their matches. Then post your image (or just simply type in your choices) to your socials with the #MAULBracket hashtag before 4pm PST on October 24 to be entered into a contest drawing "to win the MAUL Fan Grand Prize loaded with MAUL Merch."
If you miss the Saturday live-stream event, no worries, as Bulmahn will be posting the videos to his YouTube channel the following Monday.
Source: Read Full Article