Pokemon Unite: Season 8 Battle Pass Guide
Quick Links
Battle Pass Price And Duration
Pokemon Unite has entered its eighth season since its debut. Similar to past seasons, there is a lot to take in with the Season 8 update. As expected, the introduction of the brand new Season 8 Battle Pass serves as a substantial portion of this update.
Taking on a boxing-themed style, this season's battle pass offers players several in-game rewards; including exclusive avatar cosmetic items and Pokemon Holowear. Players are tasked with completing various challenges in order to earn the items offered, so knowledge regarding this is crucial to the acquisition of the Season 8 Battle Pass rewards. Use the following information to efficiently progress through this season's battle pass; earning you several desirable rewards.
Battle Pass Price And Duration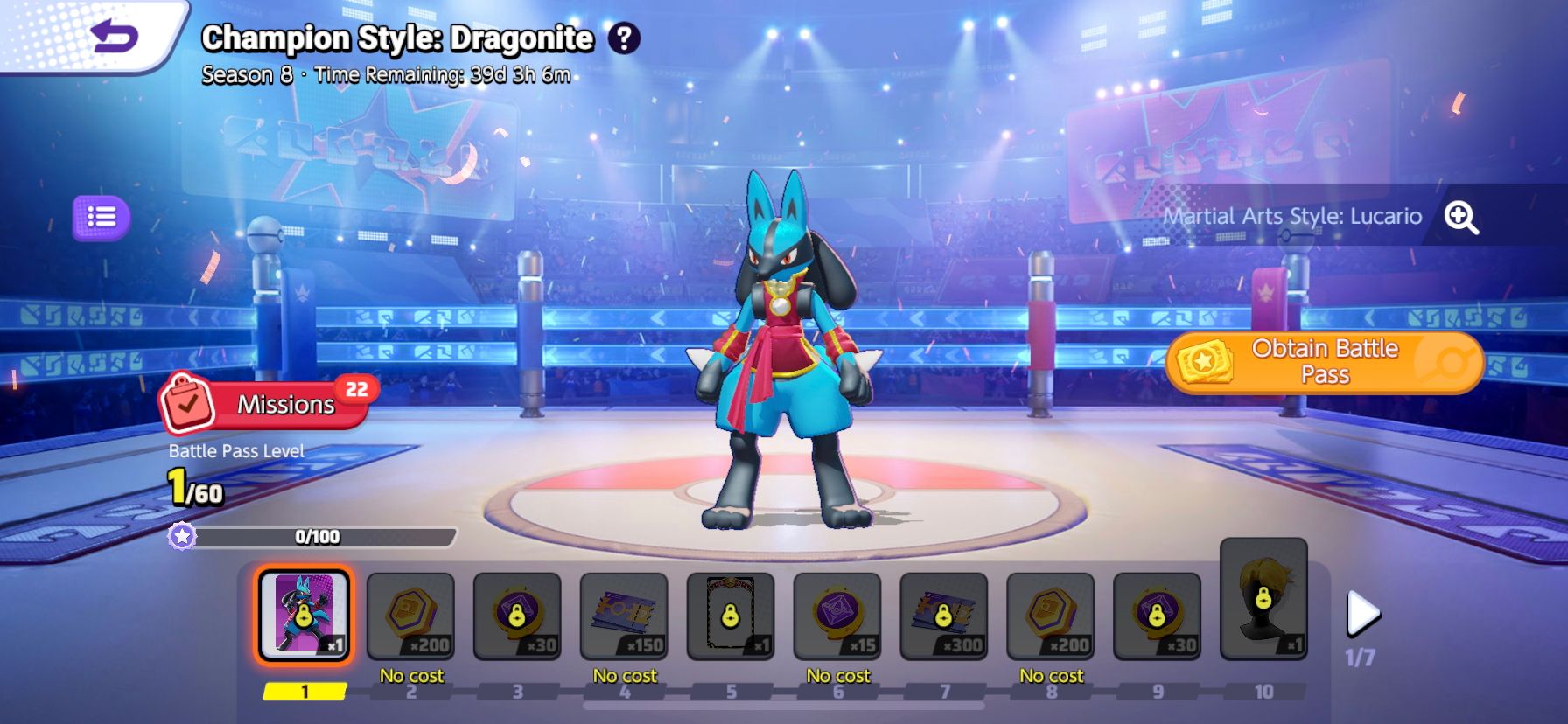 The Season 8 Battle Pass will be available for over a month, scheduled to end on July 20, 2022. In order to earn the rewards offered in this season's battle pass, you will need to complete challenges and progress your battle pass during this window of time.
Identical to previous seasons, there are two tiers of this battle pass available: the free Battle Pass and the Premium Battle Pass. The Premium Battle Pass costs 490 Aeos Gems, but offers the benefit of several additional rewards and missions throughout this season. Additionally, there is a Premium Pass Plus offered; costing 840 Aeos Gems. This option provides purchasers with the same benefits as the Premium Pass with the added bonus of ten free Battle Pass level-ups.
Beyond gaining more rewards when purchasing the Premium Battle Pass, it is important to note that there is a difference in rarity when looking at the two tiers offered. The majority of battle pass-themed cosmetics and Holowear are only available as rewards for those who have purchased the Premium Battle Pass; while those who opted for the free tier will receive various in-game currencies as their rewards.
Battle Pass Missions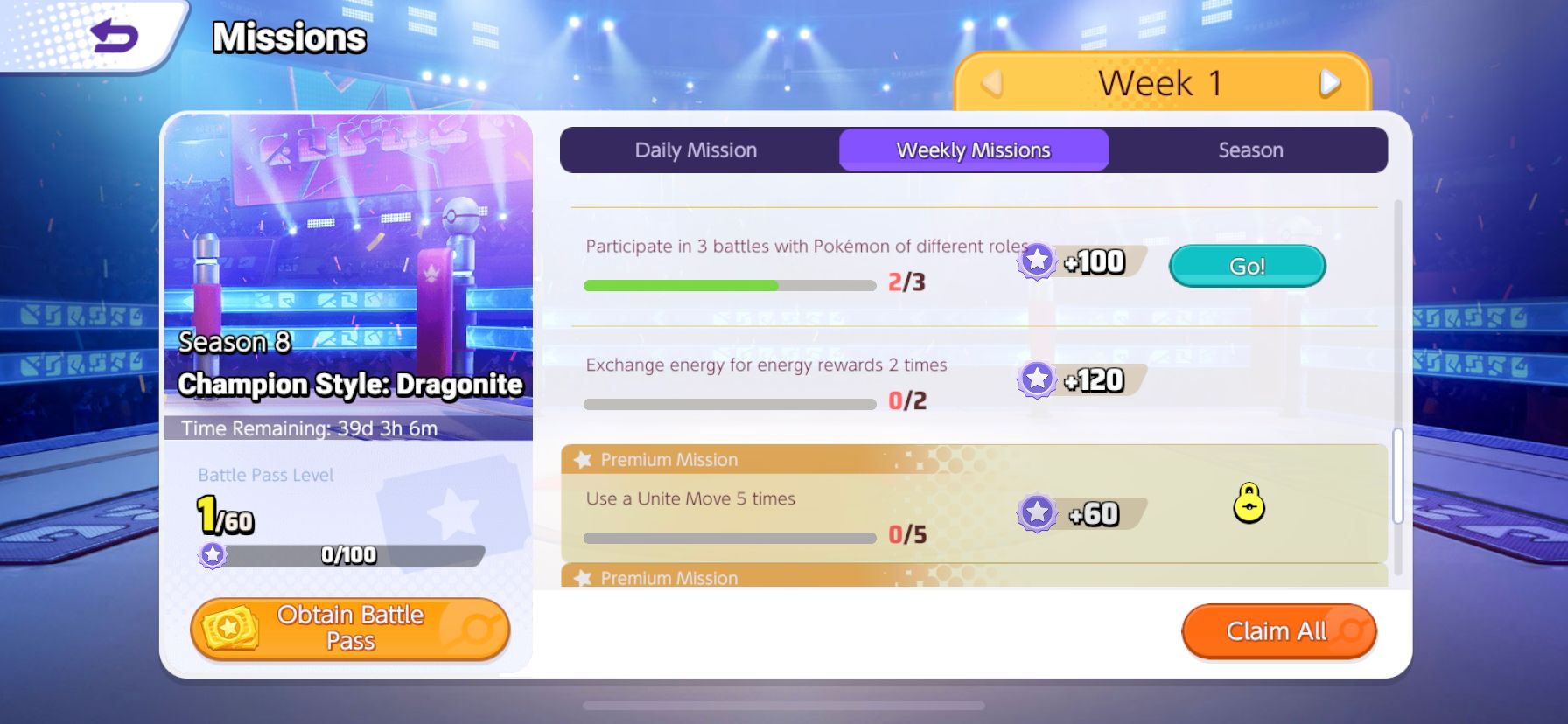 In order to progress and earn rewards from the Season 8 Battle Pass, you will need to complete the various Battle Pass Missions that are offered. Completing these missions will provide players with points that are required to level up their battle pass. The difficulty of these missions ranges; typically offering you more points upon completing more challenging missions. Each time you have accumulated 100 points from these missions, you will increase the level of your battle pass.
There are three types of missions that are being offered this season: Daily, Weekly, and Season Missions. Similar to previous seasons, Daily Missions will consist of simpler requirements; including tasks like logging in or participating in matches. Weekly and Season Missions typically involve more time and effort to complete; rewarding you with more points upon their completion.
Daily and Weekly Missions will change on each of their respective time frames; while Season Missions will remain the same throughout the entirety of this Season. The following missions will be available all of Season 8 of Pokemon Unite; offering players the largest amount of points when completed.
Pokemon Unite Season 8 Battle Pass Seasonal Mission
Mission
Reward
Participate in 1 battle.
100 BP Points
Participate in 2 battles.
100 BP Points
Participate in 5 battles.
100 BP Points
Participate in 10 battles.
100 BP Points
Participate in 15 battles.
100 BP Points
Participate in 25 battles.
100 BP Points
Participate in 35 battles.
200 BP Points
Win 1 battle.
100 BP Points
Win 2 battles.
100 BP Points
Win 5 battles.
100 BP Points
Win 7 battles.
100 BP Points
Win 10 battles.
100 BP Points
Win 13 battles.
100 BP Points
Knock out Zapdos a total of 10 times.
200 BP Points
Score a total of 2,500 points.
200 BP Points
Log in a total of 21 days.
200 BP Points
Make a total of 150 assists.
200 BP Points
Use a Unite Move 80 times (Premium Mission).
150 BP Points
There will be some missions that will be labeled as "Premium Mission" throughout the season. These missions can only be completed if you have purchased the Premium Battle Pass.
Battle Pass Rewards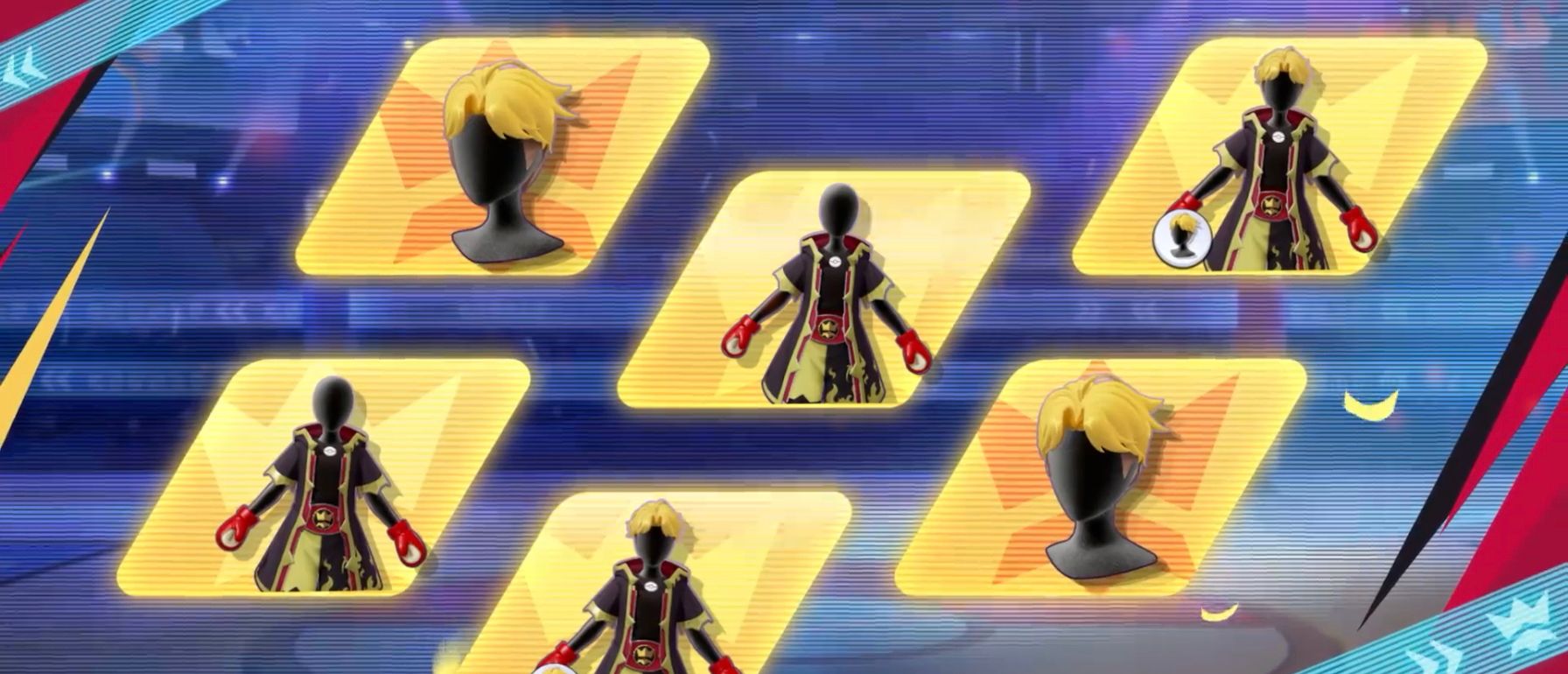 There are a total of 60 rewards that can be earned in the Season 8 Battle Pass. Each reward is earned by increasing your Battle Pass Level. As mentioned earlier, this is done by completing the various challenges that are available during this season. These Battle Pass Rewards are provided below, as well as whether it is a Premium Pass Reward or if it is available for free.
Season 8 Battle Pass Rewards
Level
Reward
Free/Premium
1
Martial Arts Style: Lucario
Premium
2
200 Aeos Coins
Free
3
30 Item Enhancers
Premium
4
150 Aeos Tickets
Free
5
Champion Style Frame
Premium
6
15 Item Enhancers
Free
7
300 Aeos Tickets
Premium
8
200 Aeos Coins
Free
9
30 Item Enhancers
Premium
10
Champion Set Headwear
Premium
11
15 Item Enhancers
Free
12
300 Aeos Tickets
Premium
13
15 Item Enhancers
Free
14
Champion Style Background
Premium
15
15 Item Enhancers
Free
16
300 Aeos Tickets
Premium
17
200 Aeos Coins
Free
18
300 Aeos Tickets
Premium
19
15 Item Enhancers
Free
20
Champion Style Expression
Premium
21
150 Aeos Tickets
Free
22
300 Aeos Tickets
Premium
23
15 Item Enhancers
Free
24
300 Aeos Tickets
Premium
25
200 Aeos Coins
Free
26
30 Item Enhancers
Premium
27
150 Aeos Tickets
Free
28
30 Item Enhancers
Premium
29
15 Item Enhancers
Free
30
300 Aeos Tickets
Premium
31
15 Item Enhancers
Free
32
300 Aeos Tickets
Premium
33
15 Item Enhancers
Free
34
Champion Style Sticker
Premium
35
15 Item Enhancers
Free
36
300 Aeos Tickets
Premium
37
200 Aeos Coins
Free
38
300 Aeos Tickets
Premium
39
15 Item Enhancers
Free
40
Champion Style Pose
Premium
41
150 Aeos Tickets
Free
42
30 Item Enhancers
Premium
43
150 Aeos Tickets
Free
44
300 Aeos Tickets
Premium
45
15 Item Enhancers
Free
46
300 Aeos Tickets
Premium
47
15 Item Enhancers
Free
48
300 Aeos Tickets
Premium
49
150 Aeos Tickets
Free
50
Champion Set Tops and Bottoms
Premium
51
15 Item Enhancers
Free
52
300 Aeos Tickets
Premium
53
15 Item Enhancers
Free
54
30 Item Enhancers
Premium
55
15 Item Enhancers
Free
56
300 Aeos Tickets
Premium
57
15 Aeos Coins
Free
58
300 Aeos Tickets
Premium
59
15 Item Enhancers
Free
60
Champion Style: Dragonite
Premium
Once you have reached Battle Pass Level 60, you will begin earning Battle Pass Prize Boxes. You can redeem one of these boxes each time you accumulate 130 Battle Pass Points. When opened, you can earn one of many items that are being offered. However, each of these items differs in their probability of being obtained, provided below.
Battle Pass Prize Box Rewards
Reward
Probability
100 Aeos TIckets
3%
80 Aeos Tickets
10%
50 Aeos Tickets
12%
10 Holowear Tickets
3%
5 Holowear Tickets
7%
2 Holowear TIckets
10%
20 Fashion Tickets
5%
10 Fashion Tickets
10%
4 Fashion Tickets
15%
10 Item Enhancers
3%
8 Item Enhancers
10%
5 Item Enhancers
12%
You can have a maximum of 21 Battle Pass Prize Boxes stored before acquiring them. Make sure to keep an eye on this in order to maximize your rewards.
Source: Read Full Article