Rocket League Is Getting A Mobile Port Later This Year
A mobile port for Rocket League appears to be in the works, not to be confused with the mobile spinoff Rocket League Sideswipe which has already been announced.
The Epic versus Apple lawsuit is only into its third day and the big reveals keep on coming. The latest of those reveals was in regard to plans for Epic-owned Rocket League. According to documents showcased during the trial, Rocket League is coming to mobile later this year. Not Rocket League Sideswipe, the mobile spinoff that has already been announced, but the full version of the game.
The document also describes the game as a "next-generation client" suggesting it will also be coming to PS5 and Xbox Series X|S at the same time. It doesn't specify whether both iOS and Android will be getting in on the action at the same time. It will feature cross-progression and cross-platform play though, which means you will be able to log on and continue your progress on the new platforms while still using it on the existing ones.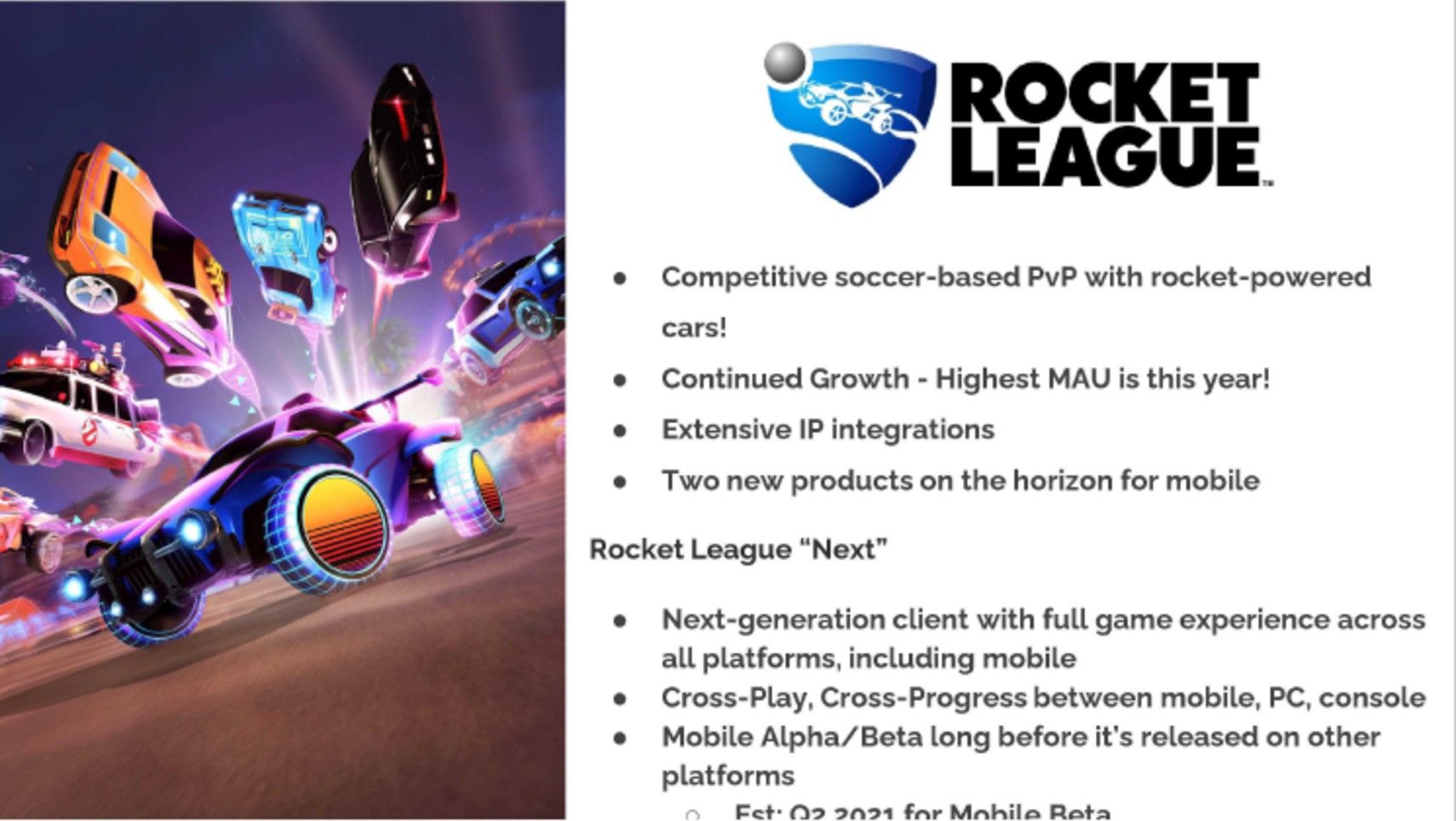 An exact release date is not mentioned in the document. However, it does state the game will come to mobile before the end of 2021 and will be preceded by beta testing. Sideswipe, which is officially launching before the end of this year, will be a 2D take on the game. It's interesting that Epic would launch both projects in such close proximity.
As touched upon above, this Rocket League reveal is just the tip of the iceberg when it comes to information offered up during the ongoing trial. Earlier this week, documents revealed PlayStation requires publishers to pay it compensation in return for them being able to enable cross-platform play. It is the only platform to ask that of its publishers.
Other information revealed includes plans for LeBron James and The Rock to join the Fortnite roster, and emails from Epic asking Xbox to drop the need for a Live Gold subscription to enjoy F2P games last August. Xbox eventually did do that, but only last month, and only after backlash following the planned price increase for Live Gold.
Source: Read Full Article