World Of Warcraft: Dragonflight – Frost Mage Complete Guide
Quick Links
Mages have long been a staple of RPGs and high fantasy, and things are no different with World of Warcraft. It was one of the earliest examples of exceptional class fantasy, and it appears that it hasn't been forgotten in Dragonflight, as the recent expansion has opened the class up to be played by all races.
However, while arcane and fire mages are sought after for their high damage output, frost mages have often gone overlooked. It's thought by some to be a joke pick, but with the upgraded talent trees, frost is an underrated sleeping gem. Here's a complete overview on just how to utilize frost mage's full power.
Class Overview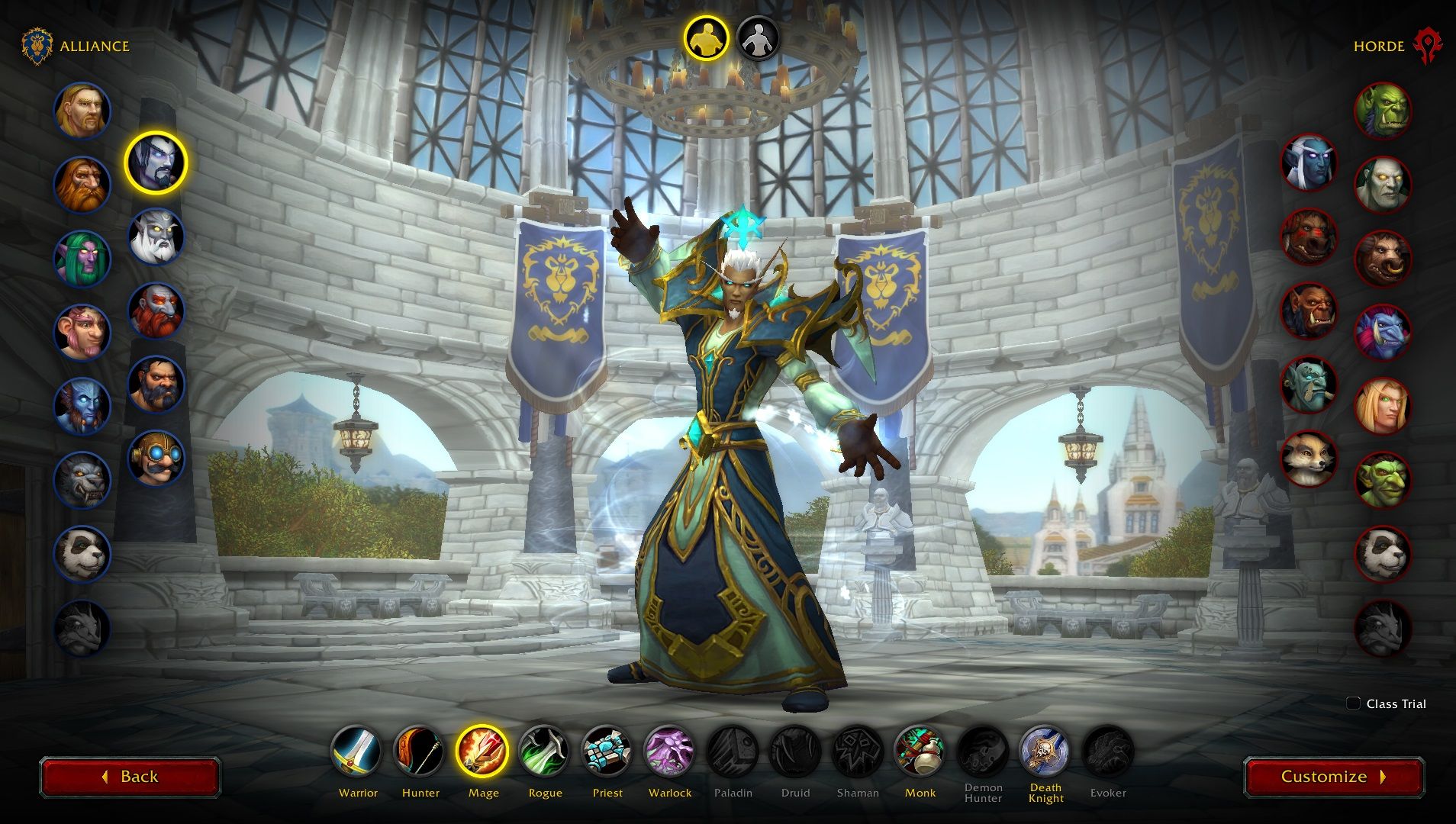 Frost mage is often heralded as one of the best specializations for utility. While it can be beaten in damage by a select few classes, like marksmanship hunter, it's almost unparalleled when it comes to offering slows, stuns, roots, and polymorphs.
With Dragonflight's new talent tree system, frost mage keeps all of that utility afforded to them before and gains further damaging abilities, making it an excellent choice for general play or high-end dungeons. There are several ways to optimize frost mage further, such as the right race to pick.
Race
| Name of Race | Racial Abilities |
| --- | --- |
| Void Elf | Entropic Embrace has a random chance to increase damage, Spacial Rift gives more mobility, and spell casting cannot be interrupted by damage. |
| Human | Increased secondary stats, like versatility, mastery, haste, and critical strike. |
| Nightborne | Increased magical damage with the ability to snare enemies. |
| Blood Elf | Arcane Torrent can refill a small portion of mana. |
While frost mage can be played viably by any race in the game, there are a few stand-out choices.
Though Blood Elf has often been seen as a classic pairing for mage due their ability to refill mana, in recent years, the allied races have blown away the competition.
Void Elf is the strongest pairing for frost mage due to a number of factors. Spacial Rift is another form of Blinking, allowing for more mobility, and their Entropic Embrace can activate upon casting any spell, temporarily boosting their Shadowfrost damage. Finally, their passive ability to have uninterrupted spellcasting works well on any casting class.
Nightborne is also optimal, as their magical damage receives an increase, and they're able to snare enemies to safely Blink away.
Humans are a good all-around pick as well. Their boost to secondary stats is second to none, and mages crave the haste and versatility that humans offer.
Stat Priority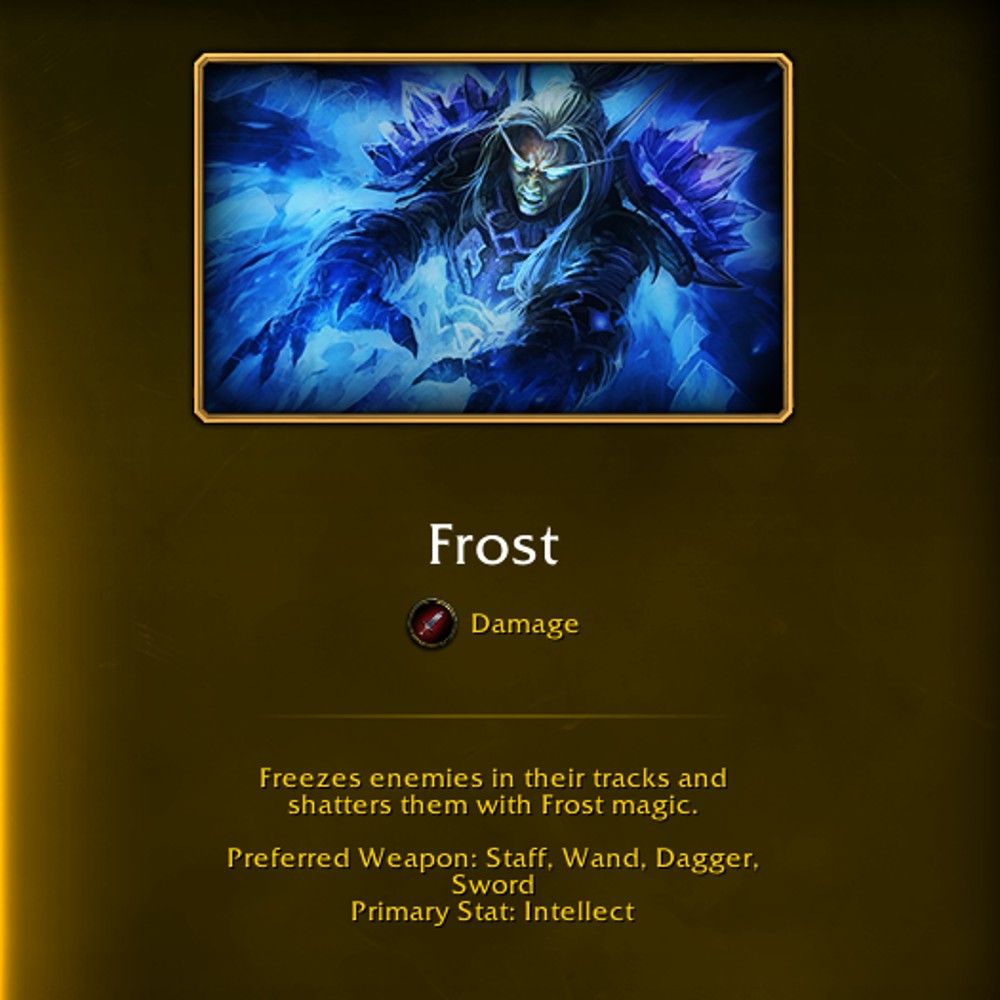 As a spellcaster, your primary stat is intellect. This is where the majority of your damage comes from, and you cannot live without it. However, things get trickier when trying to decipher which secondary stats you need.
Frost mage suffers from the drawback of long cast times. Therefore, anything with haste is a big plus, allowing you to get through your rotation that much faster and set-up for your big resource spenders. Along with haste, you want to watch out for versatility and mastery, which adds to your overall damage and icicles' damage, respectively. These secondary stats can come from different enchants and gems.
Enchants

Enchant Ring – Devotion of Haste

Enchants a ring item to boost haste.

Enchant Weapon – Wafting Devotion

Enchants a weapon to passively gain temporary boosts to haste and speed.

Gems

Fierce Illimited Diamond

Socket within gear to boost your primary stat and haste.

Energized Malygite

Socket within gear to boost versatility and haste.

Keen Neltharite

Socket within gear to boost mastery and haste.
Rotation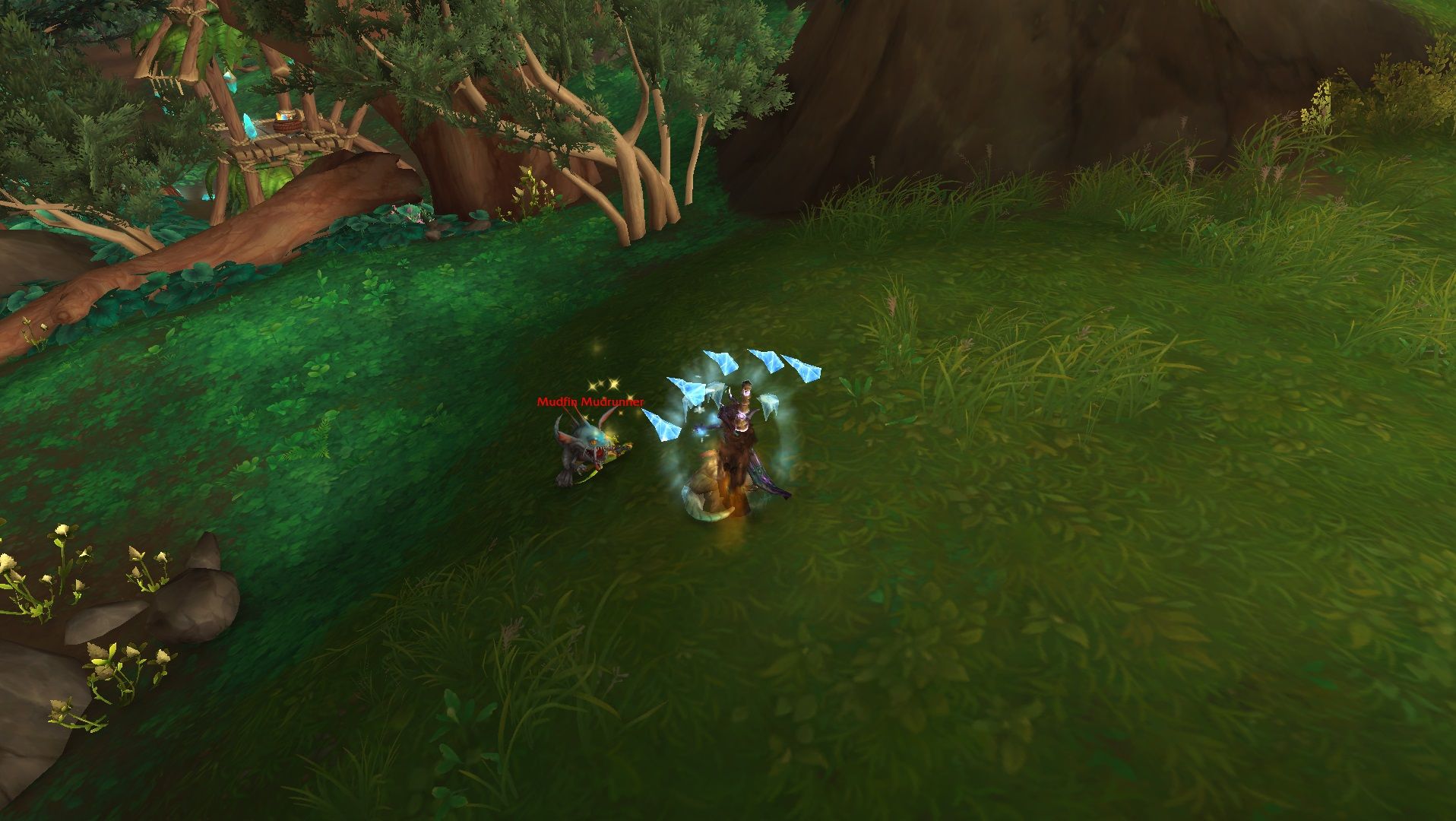 Luckily, frost mage doesn't have as wild of a rotation as some other classes, and you'll find that there are four main abilities to familiarize yourself with. As for the rest of your bar, these are either situational or intended for advanced play, such as mythic dungeons or PvP.
Frostbolt is given to you at level one and is able to slow your opponent. This is your spam ability and will help you build your specialization-specific resource, which are your icicles. You'll want to use Frostbolt until you have four icicles.
Flurry can be unlocked rather early, as soon as level 15, and it'll deal a good amount of damage while giving you your fifth and final icicle. It will also apply Winter's Chill, which will enhance the damage of your next two frost spells.
Ice Lance is unlocked upon reaching level ten, and can be woven into your rotation between other abilities. At first, this will be the ability to launch all of your icicles at the target, and so it's wise to wait until after Flurry to use it. However, you should also use it when you gain stacks of Fingers of Frost for increased damage.
Glacial Spike is a keystone talent, and doesn't come into play until at least level 30. Once it's unlocked, Ice Lance will no longer launch icicles, instead being replaced by Glacial Spike. You'll want to use this as your resource spender immediately after Flurry to benefit from Winter's Chill.
Aside from these four main abilities, it would also be worth it to hotkey several others that you may find yourself using regularly, such as Cone of Cold, Counterspell, and Ice Floes.
Leveling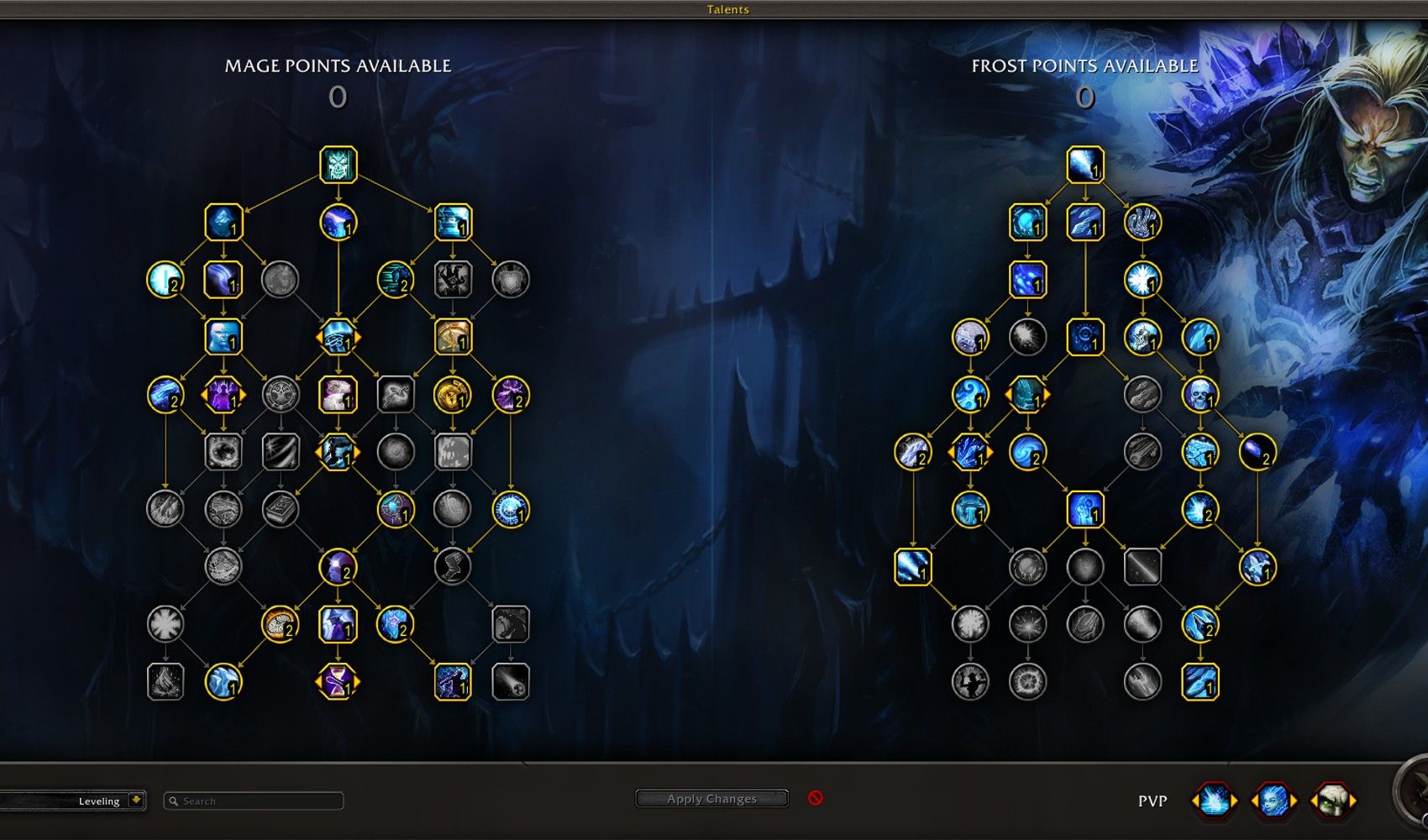 Main Tree

Frost Tree

Row One

Row Two

Ice Block
Overflowing Energy
Invisibility

Frozen Orb
Blizzard
Fingers of Frost

Row Three

Winter's Protection (2/2)
Spellsteal
Incantation of Swiftness (2/2)

Row Four

Mirror Image
Rune of Power
Alter Time

Brain Freeze
Cold Snap
Frostbite
Piercing Cold

Row Five

Cryo-Freeze (2/2)
Reduplication
Mass Polymorph
Master of Time
Diverted Energy (2/2)

Perpetual Winter
Lonely Winter
Bone Chilling

Row Six

Glacial Assault (2/2)
Frozen Touch
Wintertide (2/2)
Flash Freeze
Subzero (2/2)

Row Seven

Tome of Antonidas
Energized Barriers

Deep Shatter (1/2)
Icy Veins
Splintering Cold (2/2)

Row Eight

Comet Storm
Splitting Ice

Row Nine

Time Manipulation (2/2)
Greater Invisibility
Accumulative Shielding (2/2)

Row Ten

Freezing Cold
Time Anomaly
Displacement
Talents aren't too important while leveling, as they're more significant when it comes to endgame content. However, it is smart to prioritize talents that revolve around your main abilities — Frostbolt, Flurry, Ice Lance, and Glacial Spike.
This build is also ideal for doing world content when you're at max level, like world quests around the Dragon Isles, or any solo content. However, if you aspire to do dungeons or PvP on a regular basis, you'll need to switch out your talents.
Gearing Up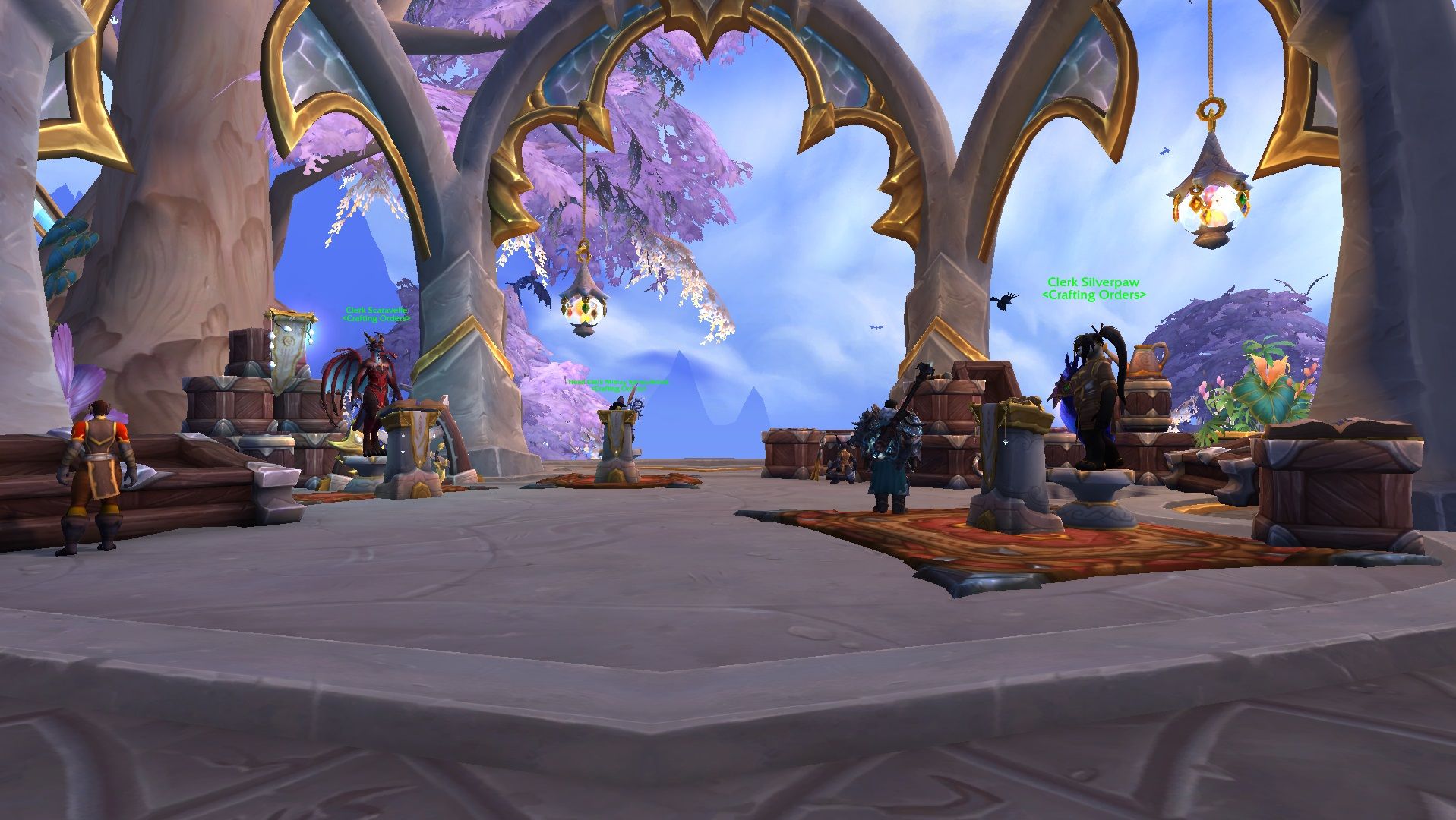 | Slot | Name of Gear | Source |
| --- | --- | --- |
| Head | Crystal Scholar's Cowl | Vault of the Incarnates – Raszageth |
| Neck | Ukhel Ancestry Beads | The Nokhud Offensive – Teera |
| Shoulders | Crystal Scholar's Beacons | Vault of the Incarnates – Broodkeeper Diurna |
| Back | Fireproof Drape | Ruby Life Pools – Kokia Blazehoof |
| Chest | Crystal Scholar's Tunic | Vault of the Incarnates – Kurog Grimtotem |
| Wrist | Manawracker Bindings | Court of Stars |
| Gloves | Crystal Scholar's Pageturners | Vault of the Incarnates – Dathea, Ascended |
| Belt | Sky Saddle Cord | Ruby Life Pools – Kyrakka |
| Legs | Crystal Scholar's Britches | Vault of the Incarnates – Sennarth |
| Feet | Sandals of the Wind Sovereign | Vault of the Incarnates – Raszageth |
| Ring | Seal of Diurna's Chosen | Vault of the Incarnates – Eranog |
| Ring | Seal of Filial Duty | Vault of the Incarnates – Broodkeeper Diurna |
| Trinket | Whispering Incarnate Icon | Vault of the Incarnates – Primal Council |
| Trinket | Furious Ragefeather | The Nokhud Offensive – Teera |
| Weapon | Staff of Trembling Will | Temple of the Jade Serpent – Sha of Doubt |
Hitting max level in Dragonflight is only the beginning. Once you've reached level 70, you'll want to start paying attention to your item level, or ilvl for short. This can be found on your character screen, and you can boost it by finding better gear around the Dragon Isles.
After hitting max level, you can get better gear from a few different sources. It's best to start off by checking if there are any easy upgrades to obtain from world quests found around the different zones, which provides you with pieces of the Cobalt Watcher's Vestments. This is the easiest and most efficient way to get new gear, but world quests are slow to respawn.
Dragonflight also modified professions. Unlike previous expansions, professions can now reliably equip you with a wide range of gear, and with the introduction of the Artisan's Consortium, you can request pieces that are tailor-made just for you from other players. You should watch out for the Overseer's Writhebark Stave from Inscription and the Surveyor's Cloth Set from Tailoring.
Running regular or heroic dungeons is a surefire way to level up gear as well, providing you with ilvl 340 or 360 gear, called the Titan Dungeonkeeper's Vestments. However, heroic dungeons do have a gear requirement of 342 before you can queue using the Group Finder.
Finally, high-end equipment, like the Bindings of the Crystal Scholar, can be obtained from raids, mythic dungeons, or rated PvP. These can provide up to ilvl 382 gear and beyond. However, these are some of the toughest challenges in the game, and they'll require you to change your talent build.
Endgame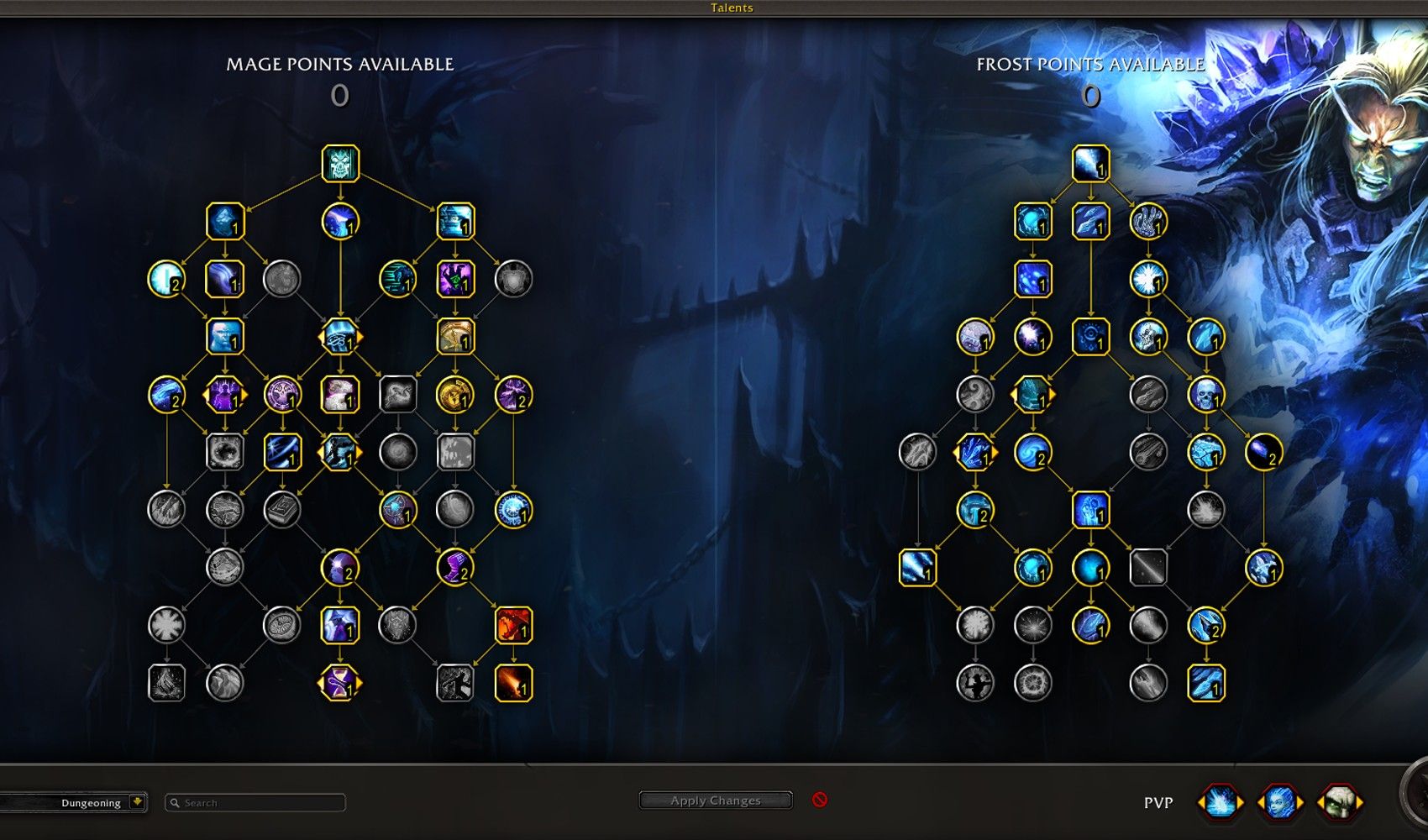 Main Tree

Frost Tree

Row One

Row Two

Ice Block
Overflowing Energy
Invisibility

Frozen Orb
Blizzard
Fingers of Frost

Row Three

Winter's Protection (2/2)
Spellsteal
Incantation of Swiftness (1/2)
Remove Curse

Row Four

Mirror Image
Rune of Power
Alter Time

Brain Freeze
Everlasting Frost
Cold Snap
Frostbite
Piercing Cold

Row Five

Cryo-Freeze (2/2)
Reduplication
Quick Witted
Mass Polymorph
Master of Time
Diverted Energy (2/2)

Lonely Winter
Bone Chilling

Row Six

Frozen Touch
Wintertide (2/2)
Flash Freeze
Subzero (2/2)

Row Seven

Tome of Antonidas
Energized Barriers

Deep Shatter (2/2)
Icy Veins

Row Eight

Flow of Time (2/2)
Temporal Velocity (2/2)

Comet Storm
Freezing Rain
Icy Propulsion
Splitting Ice

Row Nine

Greater Invisibility
Dragon's Breath

Slick Ice
Hailstones (2/2)

Row Ten
When it comes to running raids and heroic or mythic dungeons, you'll have to begin to pay attention to more than just your basic rotation. There are two main points to both instances; efficiently sweeping out mob packs and quickly bursting down bosses. The table above is an effective build for both.
The main alteration that comes with this new talent tree is the heavy use of AoE abilities. While running from boss to boss within a raid or dungeon, you'll have to clear out dense packs of enemies along the way. Get into the habit of casting Blizzard whenever it's off cooldown, and weave Frozen Orb and Comet Storm whenever you can.
With the talent Freezing Rain, Frozen Orb increases Blizzard's damage and makes it instant cast while the orb is active. If you cast Frozen Orb and instantly follow it with a Blizzard, it'll come off cooldown just in time for you to benefit from the proc one more time.
Meteor and Dragon's Breath also help in this regard, allowing you to continue to cast AoE spells while Frozen Orb or Comet Storm is still on cooldown. Cone of Cold is also handy, but keep in mind that it requires you to be close-range with the enemies, which combos well with Dragon's Breath.
However, frost mage doesn't just shine with mob packs. On any boss, pop Icy Veins and Mirror Image for a significant damage increase. Open with a few Frostbolts to gain icicles and faster casting time, then use the same combo of Flurry into Glacial Spike while Winter's Chill is active. Then, while the boss is frozen from Glacial Spike, continue with Frostbolts to gain from the Deep Shatter and Subzero talents. After this, repeat.
If this is done right and without interruption, you'll be able to get out quite a few rotations of this, supplying your team with great sustained damage. If you feel that you need another boost, use Rune of Power when the one automatically summoned from Icy Veins wears off.
If you'd like more information on how well you're performing in endgame content, addons like Details! Damage Meter and DeadlyBossMods can clue you in on how much damage you deal out and how to avoid certain boss mechanics.
Utility Tips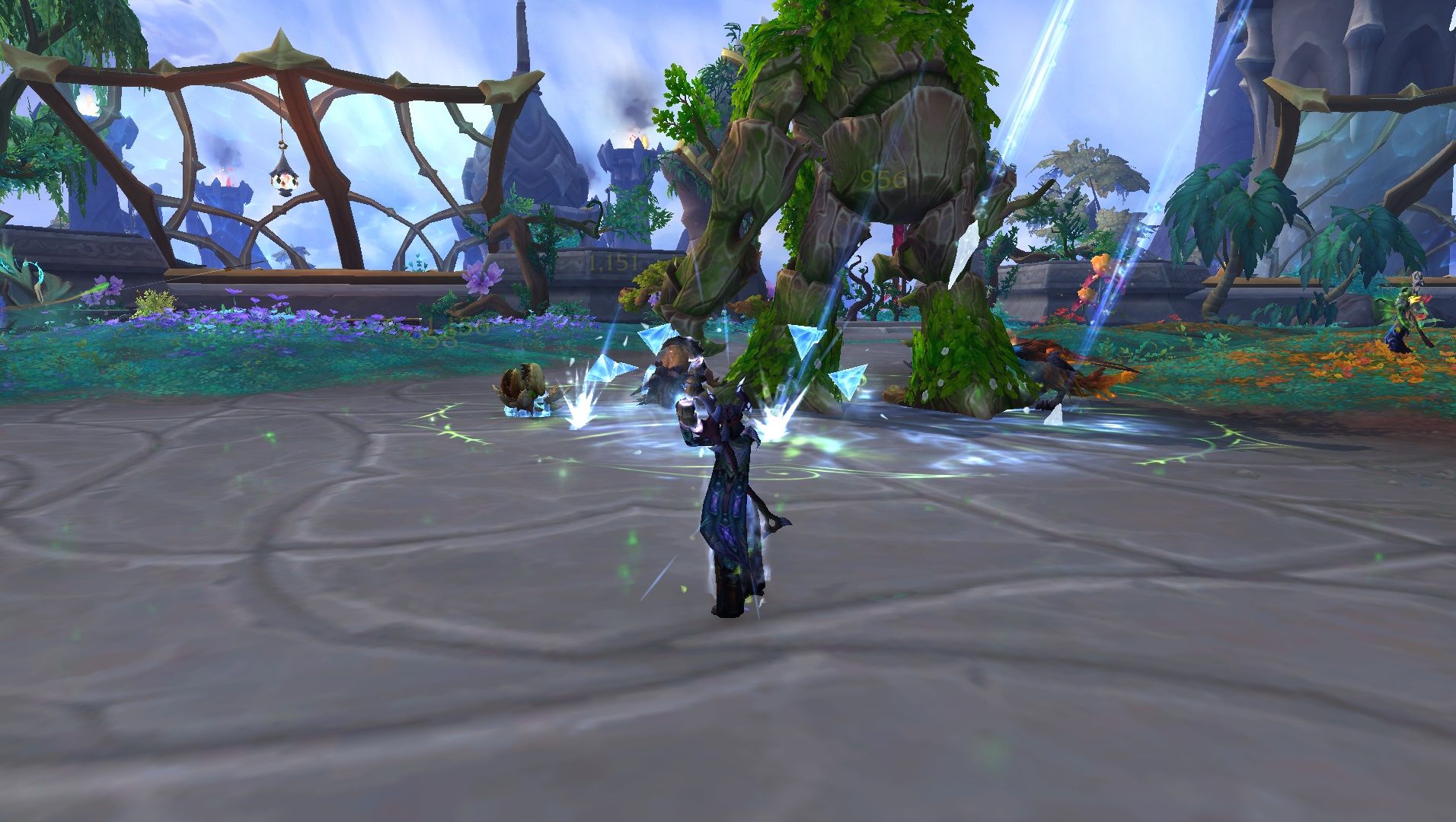 Frost mage is all about high sustained damage when it comes to AoE and skillful burst damage with Glacial Spike. With that said, there's more to the kit than just damaging abilities. There are a number of great utility spells at a frost mage's disposal.
Invisibility and Greater Invisibility is perfect for escaping aggro and reducing threat.
Ice Block, when paired with the Cryo-Freeze talent, is your last-resort tool for healing, as you become immune to all damage and heal 80 percent of your maximum health.
Alter Time can be used right after coming out of an Ice Block to reset your health pool if you take too much damage in a short period of time.
Remove Curse is great in PvE, but needs you to look out for debuffs on your teammates.
Polymorph is a staple for getting around any unwanted mobs in world content or a dungeon.
Ice Floes is good for repositioning on a battlefield, allowing you to cast while moving out of the way of an attack.
There are many layers to frost mage, and while it could be overwhelming at first, the payoff from the immense damage, survivability, and utility is worth it, easily rivaling that of the other specializations.
Source: Read Full Article