Xenoblade Chronicles 3: Everything You Need To Know About Gem Crafting
Quick Links
Every Gem And What They Do
Defender Gem Crafting Requirements
Attacker Gem Crafting Requirements
Healer Gem Crafting Requirements
Universal Gem Crafting Requirements
Xenoblade Chronicles 3 is a massive game with an immense number of ways to upgrade its characters, making Ouroboros the most formidable group in all of Aionios. Whether you're eating meals to earn extra EXP or equipping better Accessories to give yourself better Stats, there's always something you can be improving to increase your performance in combat.
One of these ways is through the game's Gem Crafting system, which allows you to slot up to three Gems on each character, granting buffs to things such as Healing Power, HP, Critical Rates, and much more. Gems are a fundamental part of Xenoblade Chronicles 3, and its many options give you near-unlimited ways to draw out your character's true potential.
Gem Crafting Overview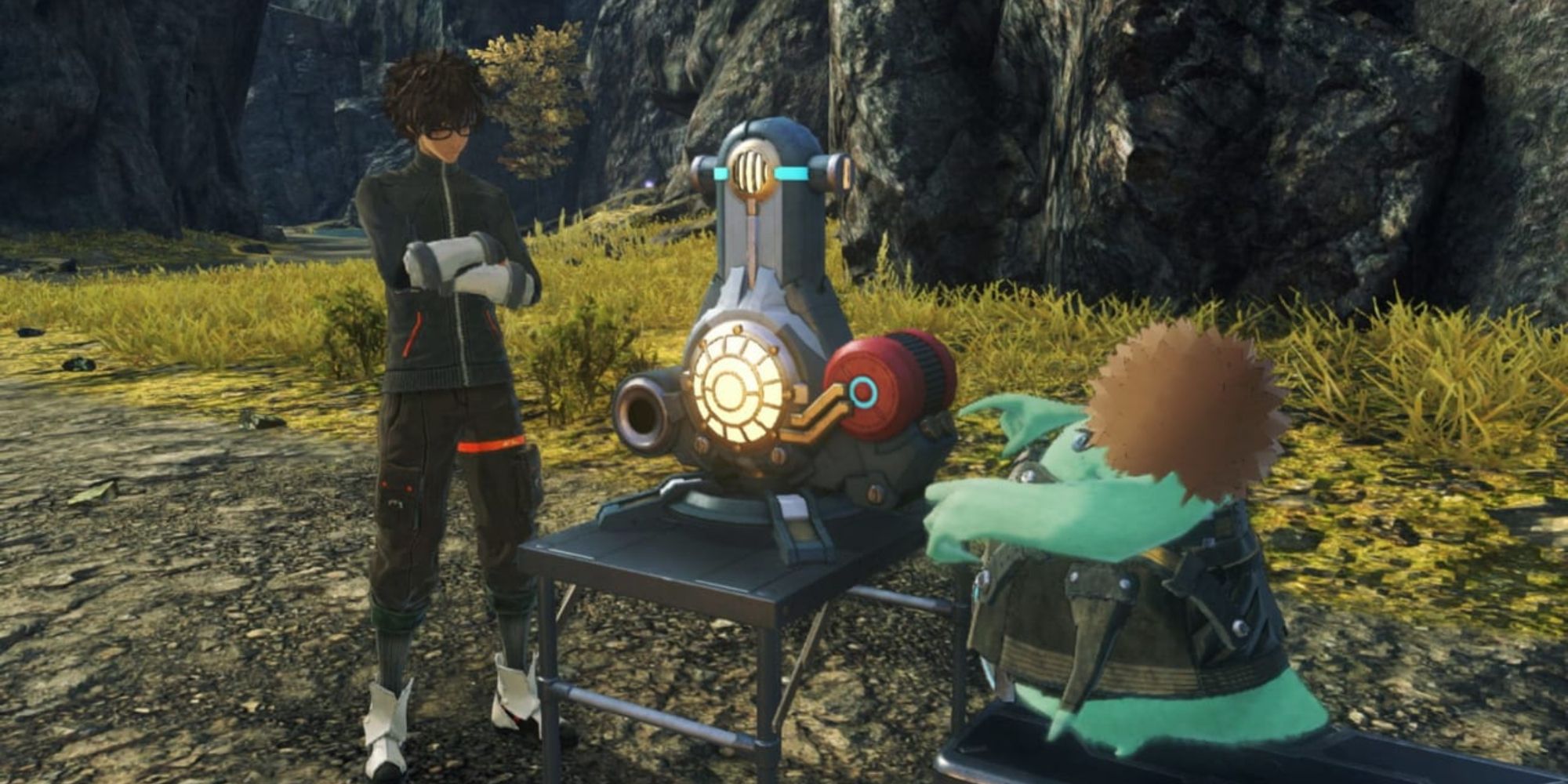 Gems are a crucial part of Xenoblade Chronicles 3, allowing you to buff specific aspects of your character up, enabling them to perform better with their Class. There are many Gems in the game, which we will touch on later, but every Gem belongs to a specific grouping, signifying they're better suited for certain Classes than others. While you are free to use any of the Gems you craft and mix and match them to your heart's content, that may not always be the best decision, as your Class determines your role in battle, which makes some Gems naturally a much better fit for you than others.
Furthermore, every character can equip three Gems total, allowing you to buff their Stats by a significant margin if you use them correctly. Additionally, once you make a Gem, it can be equipped by everyone in your party and used on everyone simultaneously. This fantastic feature removes the annoyance and tedium of having to craft the same Gem six times or having to unequip it from one character to put on another. This also makes changing everyone's Class to a new one whenever they reach max-level much less painful, which is very much welcomed. However, you will not always have three Gem Slots available, as they come by leveling up, which you can find out more about below:
Gem Slot 1: Level 1
Gem Slot 2: Level 20
Gem Slot 3: Level 40
That's the long and short of it without getting into what each Gem does or how to make them. For that, please check out the following sections, which cover every Gem in the game, their effects, and the required Materials needed to make and upgrade them!
Every Gem And What They Do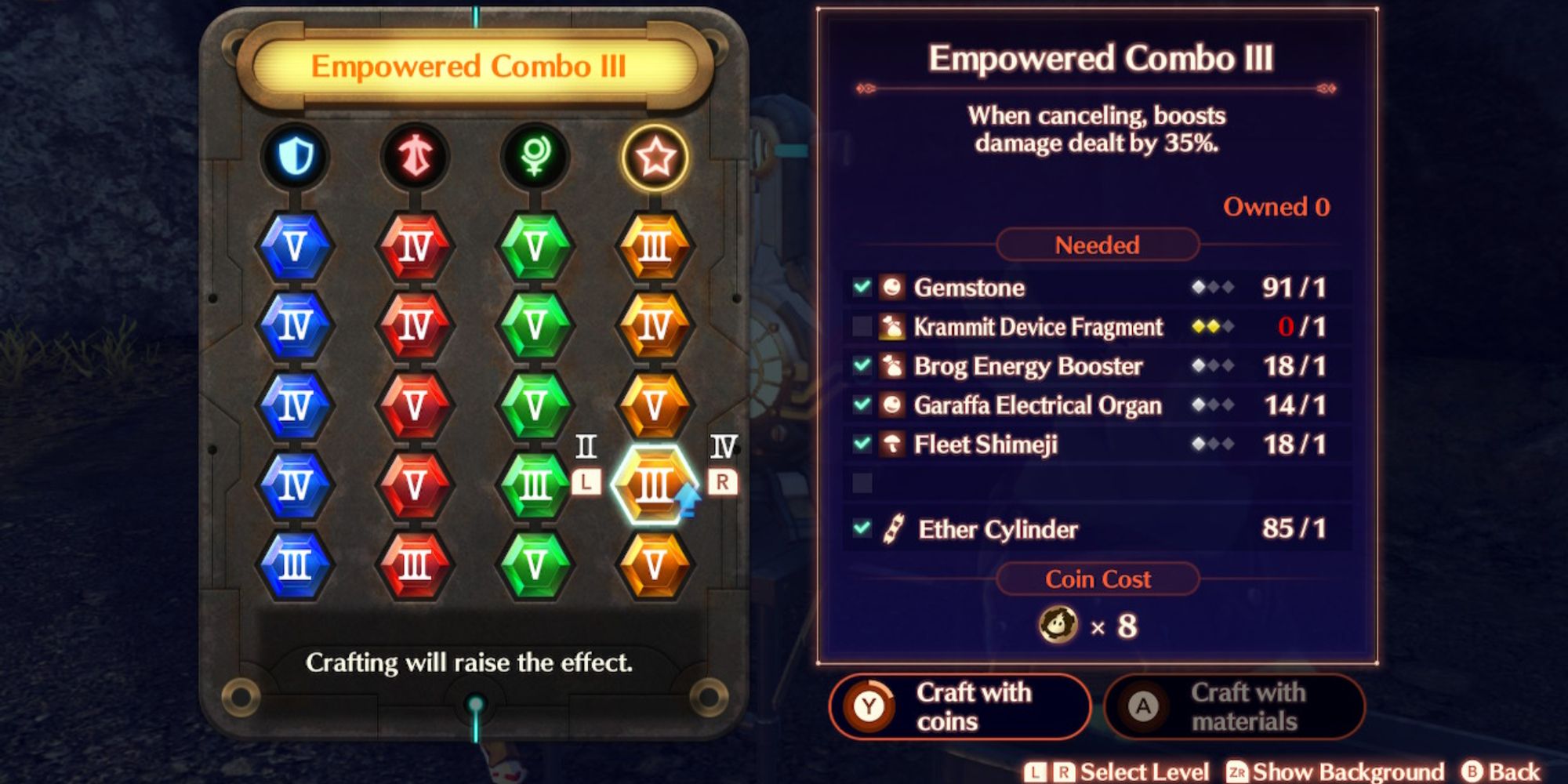 There are four Gem groupings in Xenoblade Chronicles 3, with each group having stats that benefit a specific role more than others. These Gem groups are as follows:
Defender Gems (Blue)
Attacker Gems (Red)

DPS Classes
Healer Gems (Green)

Healing Classes
Universal Gems (Yellow)

All Classes

Furthermore, every Gem grouping has five Gems, all with ten tiers that make their effects much more potent than before, giving you many options at your disposal to beef up your characters and classes. For more information on the four types of Gems, their effects, and what each Tier does, please check out the chart below!

Defender Gems

| | I | II | III | IV | V | VI | VII | VIII | IX | X |
| --- | --- | --- | --- | --- | --- | --- | --- | --- | --- | --- |
| Tailwind | +10 to Agility | +12 to Agility | +15 to Agility | +17 to Agility | +20 to Agility | +22 to Agility | +25 to Agility | +27 to Agility | +30 to Agility | +35 to Agility |
| Steel Protection | +5 Percent to Block Rate | +7 Percent to Block Rate | +10 Percent to Block Rate | +12 Percent to Block Rate | +15 Percent to Block Rate | +17 Percent to Block Rate | +20 Percent to Block Rate | +22 Percent to Block Rate | +25 Percent to Block Rate | +30 Percent to Block Rate |
| Ultimate Counter | When taking damage, deal 80 Percent damage. | When taking damage, deal 100 Percent damage. | When taking damage, deal 120 Percent damage. | When taking damage, deal 140 Percent damage. | When taking damage, deal 160 Percent damage. | When taking damage, deal 180 Percent damage. | When taking damage, deal 200 Percent damage. | When taking damage, deal 220 Percent damage. | When taking damage, deal 240 Percent damage. | When taking damage, deal 280 Percent damage. |
| Brimming Spirit | When using Arts, your Aggro is boosted by 20 Percent. | When using Arts, your Aggro is boosted by 22 Percent. | When using Arts, your Aggro is boosted by 25 Percent. | When using Arts, your Aggro is boosted by 27 Percent. | When using Arts, your Aggro is boosted by 30 Percent. | When using Arts, your Aggro is boosted by 32 Percent. | When using Arts, your Aggro is boosted by 35 Percent. | When using Arts, your Aggro is boosted by 37 Percent. | When using Arts, your Aggro is boosted by 40 Percent. | When using Arts, your Aggro is boosted by 45 Percent. |
| Perilous Presence | Pull Aggro at the start of each battle. | Pull Aggro at the start of each battle. | Pull Aggro at the start of each battle. | Pull Aggro at the start of each battle. | Pull Aggro at the start of each battle. | Pull Aggro at the start of each battle. | Pull Aggro at the start of each battle. | Pull Aggro at the start of each battle. | Pull Aggro at the start of each battle. | Pull Aggro at the start of each battle. |

Attacker Gems

| | I | II | III | IV | V | VI | VII | VIII | IX | X |
| --- | --- | --- | --- | --- | --- | --- | --- | --- | --- | --- |
| Steelcleaver | +10 to Attack | +25 to Attack | +30 to Attack | +35 to Attack | +40 to Attack | +45 to Attack | +50 to Attack | +55 to Attack | +60 to Attack | +70 to Attack |
| Accurate Grace | +20 to Dexterity | +22 to Dexterity | +25 to Dexterity | +27 to Dexterity | +30 to Dexterity | +33 to Dexterity | +35 to Dexterity | +37 to Dexterity | +40 to Dexterity | +40 to Dexterity |
| Analyze Weakness | Damage from Critical Attacks is increased by 20 Percent. | Damage from Critical Attacks is increased by 25 Percent. | Damage from Critical Attacks is increased by 30 Percent. | Damage from Critical Attacks is increased by 35 Percent. | Damage from Critical Attacks is increased by 40 Percent. | Damage from Critical Attacks is increased by 45 Percent. | Damage from Critical Attacks is increased by 50 Percent. | Damage from Critical Attacks is increased by 55 Percent. | Damage from Critical Attacks is increased by 60 Percent. | Damage from Critical Attacks is increased by 70 Percent. |
| Swelling Scourge | The potency of Debuffs is increased by 25 Percent. | The potency of Debuffs is increased by 27 Percent. | The potency of Debuffs is increased by 30 Percent. | The potency of Debuffs is increased by 33 Percent. | The potency of Debuffs is increased by 35 Percent. | The potency of Debuffs is increased by 37 Percent. | The potency of Debuffs is increased by 40 Percent. | The potency of Debuffs is increased by 42 Percent. | The potency of Debuffs is increased by 45 Percent. | The potency of Debuffs is increased by 50 Percent. |
| Refined Incantation | Increases Debuff duration by 25 Percent. | Increases Debuff duration by 27 Percent. | Increases Debuff duration by 30 Percent. | Increases Debuff duration by 33 Percent. | Increases Debuff duration by 35 Percent. | Increases Debuff duration by 37 Percent. | Increases Debuff duration by 40 Percent. | Increases Debuff duration by 42 Percent. | Increases Debuff duration by 45 Percent. | Increases Debuff duration by 50 Percent. |

Healer Gems

| | I | II | III | IV | V | VI | VII | VIII | IX | X |
| --- | --- | --- | --- | --- | --- | --- | --- | --- | --- | --- |
| Lifebearer | +20 to Healing Power | +22 to Healing Power | +25 to Healing Power | +27 to Healing Power | +30 to Healing Power | +33 to Healing Power | +35 to Healing Power | +37 to Healing Power | +40 to Healing Power | +45 to Healing Power |
| Soothing Breath | +5 to Healing Power and revives incapacitated allies with 20 Percent more HP. | +6 to Healing Power and revives incapacitated allies with 22 Percent more HP. | +7 to Healing Power and revives incapacitated allies with 25 Percent more HP. | +8 to Healing Power and revives incapacitated allies with 27 Percent more HP. | +9 to Healing Power and revives incapacitated allies with 30 Percent more HP. | +10 to Healing Power and revives incapacitated allies with 32 Percent more HP. | +11 to Healing Power and revives incapacitated allies with 35 Percent more HP. | +12 to Healing Power and revives incapacitated allies with 37 Percent more HP. | +13 to Healing Power and revives incapacitated allies with 40 Percent more HP. | +15 to Healing Power and revives incapacitated allies with 45 Percent more HP. |
| Lifesaving Expertise | +5 to Healing Power and increases the speed of reviving allies by 20 Percent. | +6 to Healing Power and increases the speed of reviving allies by 22 Percent. | +7 to Healing Power and increases the speed of reviving allies by 25 Percent. | +8 to Healing Power and increases the speed of reviving allies by 27 Percent. | +9 to Healing Power and increases the speed of reviving allies by 30 Percent. | +10 to Healing Power and increases the speed of reviving allies by 32 Percent. | +11 to Healing Power and increases the speed of reviving allies by 35 Percent. | +12 to Healing Power and increases the speed of reviving allies by 37 Percent. | +13 to Healing Power and increases the speed of reviving allies by 40 Percent. | +15 to Healing Power and increases the speed of reviving allies by 45 Percent. |
| Swelling Blessing | Increases the potency of buffs you cast by 25 Percent. | Increases the potency of buffs you cast by 27 Percent. | Increases the potency of buffs you cast by 30 Percent. | Increases the potency of buffs you cast by 33 Percent. | Increases the potency of buffs you cast by 35 Percent. | Increases the potency of buffs you cast by 37 Percent. | Increases the potency of buffs you cast by 40 Percent. | Increases the potency of buffs you cast by 42 Percent. | Increases the potency of buffs you cast by 45 Percent. | Increases the potency of buffs you cast by 50 Percent. |
| Refined Blessing | Increases the duration of buffs you cast by 25 Percent. | Increases the duration of buffs you cast by 27 Percent. | Increases the duration of buffs you cast by 30 Percent. | Increases the duration of buffs you cast by 33 Percent. | Increases the duration of buffs you cast by 35 Percent. | Increases the duration of buffs you cast by 37 Percent. | Increases the duration of buffs you cast by 40 Percent. | Increases the duration of buffs you cast by 42 Percent. | Increases the duration of buffs you cast by 45 Percent. | Increases the duration of buffs you cast by 50 Percent. |

Universal Gems

| | I | II | III | IV | V | VI | VII | VIII | IX | X |
| --- | --- | --- | --- | --- | --- | --- | --- | --- | --- | --- |
| Ironclad | +100 to HP | +250 to HP | +400 to HP | +550 to HP | +700 to HP | +850 to HP | +1000 to HP | +1150 to HP | +1300 to HP | +1500 to HP |
| Steady Striker | The time between Auto-Attacks is decreased by 15 Percent. | The time between Auto-Attacks is decreased by 17 Percent. | The time between Auto-Attacks is decreased by 20 Percent. | The time between Auto-Attacks is decreased by 22 Percent. | The time between Auto-Attacks is decreased by 25 Percent. | The time between Auto-Attacks is decreased by 27 Percent. | The time between Auto-Attacks is decreased by 30 Percent. | The time between Auto-Attacks is decreased by 32 Percent. | The time between Auto-Attacks is decreased by 35 Percent. | The time between Auto-Attacks is decreased by 40 Percent. |
| Doublestrike | You have a 15 Percent chance to attack twice during an Auto-Attack. | You have a 17 Percent chance to attack twice during an Auto-Attack. | You have a 20 Percent chance to attack twice during an Auto-Attack. | You have a 22 Percent chance to attack twice during an Auto-Attack. | You have a 25 Percent chance to attack twice during an Auto-Attack. | You have a 27 Percent chance to attack twice during an Auto-Attack. | You have a 30 Percent chance to attack twice during an Auto-Attack. | You have a 32 Percent chance to attack twice during an Auto-Attack. | You have a 35 Percent chance to attack twice during an Auto-Attack. | You have a 40 Percent chance to attack twice during an Auto-Attack. |
| Empowered Combo | Increases damage by 25 Percent when canceling attacks. | Increases damage by 30 Percent when canceling attacks. | Increases damage by 35 Percent when canceling attacks. | Increases damage by 40 Percent when canceling attacks. | Increases damage by 45 Percent when canceling attacks. | Increases damage by 50 Percent when canceling attacks. | Increases damage by 55 Percent when canceling attacks. | Increases damage by 60 Percent when canceling attacks. | Increases damage by 65 Percent when canceling attacks. | Increases damage by 75 Percent when canceling attacks. |
| Disperse Bloodlust | When using Arts, your Aggro is reduced by 20 Percent. | When using Arts, your Aggro is reduced by 22 Percent. | When using Arts, your Aggro is reduced by 25 Percent. | When using Arts, your Aggro is reduced by 27 Percent. | When using Arts, your Aggro is reduced by 30 Percent. | When using Arts, your Aggro is reduced by 32 Percent. | When using Arts, your Aggro is reduced by 35 Percent. | When using Arts, your Aggro is reduced by 37 Percent. | When using Arts, your Aggro is reduced by 40 Percent. | When using Arts, your Aggro is reduced by 45 Percent. |

Defender Gem Crafting Requirements

Now that you know what every Gem is capable of, it's time to go over how to craft the Defender Gems. To craft Gems, you will need Materials that increase in rarity and volume with each new Tier reached. Each Gem has ten tiers, with each Gem Grouping having five Gems, meaning you will be farming and grinding for Materials if you want to upgrade every Gem. If you want to see what each Gem requires to be made, look no further than the many long tables below!

Also, please remember that you can bypass tiers by spending Gold Nopon Coins, which will not only give you a boost in Gem Quality but also allow you to move onto the next Tier without needing the Materials. You can see the cost of Gold Nopon Coins for each Tier on the far right of each table!

Material Rarity Chart

| Common | Rare | Legendary |
| --- | --- | --- |
| Plain Text | ? | ? |

Tailwind

Gemstone Tier
Materials Needed
Gold Nopon Coin Bypass
Tailwind I

x1 Gemstone
x1 Pale Skeeter Wing

Tailwind II

x1 Gemstone
x1 Vang Membrane
x1 Decorative Grebel Quill
x1 Glitter Radish
x1 Ether Cylinder

Tailwind III

x1 Gemstone
x1 Vang Membrane?
x1 Gold Arachno Queensilk
x1 Arachno Thread
x1 Munchygrub Fossil
x1 Ether Cylinder

Tailwind IV

x1 Pure Gemstone?
x1 Piercing Rhogul Quill?
x1 Slender Flamii Bone?
x1 Testudo Iron Wing
x1 Mobility Thruster
x1 Ether Cylinder

Tailwind V

x1 Pure Gemstone?
x2 Lightweight Velites Base?
x2 Small Speculatos Base?
x2 Pale Skeeter Wing?
x1 Ion Booster
x2 Ether Cylinder

Tailwind VI

x1 Pure Gemstone?
x2 Vollgull Stormwind Wing?
x2 Sagittarius Frame?
x2 Equites Tanke Wheel
x1 Anti-Grav Chassis
x2 Ether Cylinder

Tailwind VII

x1 Ultra Pure Gemstone?
x2 Horrish Propeller?
x2 Geometric Myoot Gear?
x3 Testudo Iron Wing?
x3 Small Speculatos Base
x1 Ring Guava?
x2 Ether Cylinder

Tailwind VIII

x2 Ultra Pure Gemstone?
x15 Elegant Ansel Feather?
x15 Vang Membrane?
x15 Obsidian Kananus Mane
x15 Horrish Propeller
x10 Vagrant Jade?
x3 Ether Cylinder

Tailwind IX

x3 Ultra Pure Gemstone?
x20 Lightweight Velites Base?
x20 Slender Flamii Bone?
x20 Fine Ageshu Wing?
x20 Powdered Skwaror Leaves
x10 Pentashroom?
x3 Ether Cylinder

Tailwind X

x5 Ultra Pure Gemstone?
x30 Shining Ellook Antler?
x30 Golden Brog Oil?
x30 Pale Skeeter Wing?
x30 Antol Leg Chitin?
x30 Fine Ageshu Wing
x3 Ether Cylinder

Steel Protection

Gemstone Tier
Materials Needed
Gold Nopon Coin Bypass
Steel Protection I

x1 Gemstone
x1 Krabble Shield Pincer

Steel Protection II

x1 Gemstone
x1 Grebel Carapace
x1 Slender Flamii Bone
x1 Anarchy Orchid
x1 Ether Cylinder

Steel Protection III

x1 Gemstone
x1 Caterpile Antenna?
x1 Garaffa Tenderloin
x1 Tirkin Service Medal
x1 Fossil Monkey Fossil
x1 Ether Cylinder

Steel Protection IV

x1 Pure Gemstone?
x1 Quardun Shell?
x1 Tough Hox Pelt?
x1 Springy Medooz Bell
x1 Blood Emerald
x1 Ether Cylinder

Steel Protection V

x1 Pure Gemstone?
x2 Scorpox Exoskeleton?
x2 Auxilla Exo-Armor?
x2 Crustip Jet Spray?
x1 Thick Flange
x2 Ether Cylinder

Steel Protection VI

x1 Pure Gemstone?
x2 Ories Headplate?
x2 Rol Rock Fragment?
x2 Glistening Krodlax Scale
x1 Matryos Carbon
x2 Ether Cylinder

Steel Protection VII

x1 Ultra Pure Gemstone?
x2 Mineral Darbus Bone?
x2 Metal Vokooku Shard?
x3 Grebel Carapace?
x3 Agnian Soldier's Armor
x1 Bronze Wood?
x2 Ether Cylinder

Steel Protection VIII

x2 Ultra Pure Gemstone?
x15 Kevesi Soldier's Armor?
x15 Agnian Soldier's Armor?
x15 Metal Vokooku Shard
x15 Armored Plambus Wing
x10 Dynamic Coating?
x3 Ether Cylinder

Steel Protection IX

x3 Ultra Pure Gemstone?
x20 Auxilia Exo-Armor?
x20 Quardun Shell?
x20 Star-Shaped Droid Screw?
x20 Krammit Device Fragment
x10 Demon Marble?
x3 Ether Cylinder

Steel Protection X

x5 Ultra Pure Gemstone?
x30 Flak Scrap Iron?
x30 Armored Plambus Wing?
x30 Krabble Shield Pincer?
x30 Metal Vokooku Shard?
x30 Aucilia Exo-Armor
x3 Ether Cylinder

Ultimate Counter

Gemstone Tier
Materials Needed
Gold Nopon Coin Bypass
Ultimate Counter I

x1 Gemstone
x1 Ropl Rock Fragment

Ultimate Counter II

x1 Gemstone
x1 Tough Hox Pelt
x1 Piercing Phogul Quill
x1 Anarchy Orchid
x1 Ether Cylinder

Ultimate Counter III

x1 Gemstone
x1 Steel Urchon Scale?
x1 Great Feris Horn Pair
x1 Arachno Thread
x1 Fossil Monkey Fossil
x1 Ether Cylinder

Ultimate Counter IV

x1 Pure Gemstone?
x1 Medooz Tentacle?
x1 Ottil's Clambreaking Stone?
x1 Serrated Aligo Fang
x1 Mille-Feuille Rock
x1 Ether Cylinder

Ultimate Counter V

x1 Pure Gemstone?
x2 Gastrates Gun Turret?
x2 Sagittarius Machine Rifle?
x2 Ropl Rock Fragment?
x1 Bizarrenacle
x2 Ether Cylinder

Ultimate Counter VI

x1 Pure Gemstone?
x2 Ardun Horns?
x2 Shining Ellook Antler?
x2 Kevesi Soldier's Armor
x1 Giant Horned Fossil
x2 Ether Cylinder

Ultimate Counter VII

x1 Ultra Pure Gemstone?
x2 Flak Scrap Iron?
x2 Zapneedle Marrin Carapace?
x3 Exploding Blant Seed?
x3 Armored Scorpox Pincer
x1 Wraithwood?
x2 Ether Cylinder

Ultimate Counter VIII

x2 Ultra Pure Gemstone?
x15 Ropl Jaw?
x15 Brog Energy Booster?
x15 Antol Leg Chitin
x15 Sharp Gyaark Tail
x10 Impact Rock?
x3 Ether Cylinder

Ultimate Counter IX

x3 Ultra Pure Gemstone?
x20 Circular Velites Blade?
x20 Touch Hox Pelt?
x20 Flak Scrap Iron?
x20 Ekidno Tail
x10 Black Iris?
x3 Ether Cylinder

Ultimate Counter X

x5 Ultra Pure Gemstone?
x30 Ageshu Needleclaw?
x30 Steel Urchon Scale?
x30 Armored Scorpox Pincer?
x30 Antol Jaws?
x30 Flak Scrap Iron
x3 Ether Cylinder

Brimming Spirit

Gemstone Tier
Materials Needed
Gold Nopon Coin Bypass
Brimming Spirit I

x1 Gemstone
x1 Rainbow Crustip Shell

Brimming Spirit II

x1 Gemstone
x1 Supersonic Vang Organ
x1 Fleshy Blant Petal
x1 Anarchy Orchid
x1 Ether Cylinder

Brimming Spirit III

x1 Gemstone
x1 Magnificent Upa Lure?
x1 Noble Feris Mane
x1 Gold Arachno Queensilk
x1 Munchygrun Fossil
x1 Ether Cylinder

Brimming Spirit IV

x1 Pure Gemstone?
x1 Round Skwaror Crystal?
x1 Marbled Quarmu Meat?
x1 Red Piranhax Egg
x1 Shiny Rose
x1 Ether Cylinder

Brimming Spirit V

x1 Pure Gemstone?
x2 Shoox Flower Whisker?
x2 Agnian Soldier's Armor?
x2 Elegant Ansel Feather?
x1 Jade Coral
x2 Ether Cylinder

Brimming Spirit VI

x1 Pure Gemstone?
x2 Noble Feris Mane?
x2 Vollgull Mask?
x2 Elegant Ansel Feather
x1 Perfume Herb
x2 Ether Cylinder

Brimming Spirit VII

x1 Ultra Pure Gemstone?
x2 Ornate Moglum Coral?
x2 Glowing Gyaark Fin?
x3 Mineral Darbus Bone?
x3 Perfume Aries Hide
x1 Curse Branch?
x2 Ether Cylinder

Brimming Spirit VIII

x2 Ultra Pure Gemstone?
x15 Rich Quarmu Sea Milk?
x15 Gold Arachno Queensilk?
x15 Glowing Gyaark Fin
x15 Shoox Flower Whisker
x10 Shimmer Leaf?
x3 Ether Cylinder

Brimming Spirit IX

x3 Ultra Pure Gemstone?
x20 Avis Sphere?
x20 Rhogul Axe Crest?
x20 Gyrinus Halo?
x20 Wisp Sun Bead
x10 Green Diode?
x3 Ether Cylinder

Brimming Spirit X

x5 Ultra Pure Gemstone?
x30 Geometric Myoot Gear?
x30 Rainbow Crustip Shell?
x30 Sweet Kapiba Lard?
x30 Merigna Amulet?
x30 Arachno Queen Egg
x3 Ether Cylinder

Perilous Presence

Gemstone Tier
Materials Needed
Gold Nopon Coin Bypass
Perilous Presence I

x1 Gemstone
x1 Rhogul Axe Crest

Perilous Presence II

x1 Gemstone
x1 Decorative Grebel Quill
x1 Golden Brog Oil
x1 Glitter Radish
x1 Ether Cylinder

Perilous Presence III

x1 Gemstone
x1 Wisp Sun Bead?
x1 Tirkin Service Medal
x1 Elegant Ansel Feather
x1 Syrup Spruce
x1 Ether Cylinder

Perilous Presence IV

x1 Pure Gemstone?
x1 Ottil's Treasured Bivalve?
x1 Rich-Smelling Anlood Bone?
x1 Treasured Gorgol Liquor
x1 Mille-Feuille Rock
x1 Ether Cylinder

Perilous Presence V

x1 Pure Gemstone?
x2 Glowing Gyaark Fin?
x2 Glistening Krodlax Scale?
x2 Round Skwaror Crystal?
x1 Black Blossom
x2 Ether Cylinder

Perilous Presence VI

x1 Pure Gemstone?
x2 Shining Ellook Antler?
x2 Aries Fur?
x2 Supersonic Vang Organ
x1 Perfume Herb
x2 Ether Cylinder

Perilous Presence VII

x1 Ultra Pure Gemstone?
x2 Moglum Lamp?
x2 Rainbow Darbus Crystal?
x3 Gold Arachno Queensilk?
x3 Shining Ellook Antler
x1 Beaconstone?
x2 Ether Cylinder

Perilous Presence VIII

x2 Ultra Pure Gemstone?
x15 Magnificent Upa Lure?
x15 Springy Medooz Bell?
x15 Armored Scorpox Pincer
x15 Moglum Lamp
x10 King Marigold?
x3 Ether Cylinder

Perilous Presence IX

x3 Ultra Pure Gemstone?
x20 Small Speculatos Base?
x20 Preserved Gogol Snack?
x20 Enpedia Headpiece?
x20 Antol Queen Shell
x10 Lozenge Diamond?
x3 Ether Cylinder

Perilous Presence X

x5 Ultra Pure Gemstone?
x30 Elegant Ravoon Horn?
x30 Rich-Smelling Anlood Bone?
x30 Ottil's Treasured Bivalve?
x30 Explosive Plambus Powder
x30 Shoox Earplate
x3 Ether Cylinder?

Attacker Gem Crafting Requirements

The Attacker Gems follow the same principles as the Defender Gems in that you will need a boatload of Materials if you want to make all of them. The higher tiers require lots of Rare and Legendary Materials that will require quite a bit of grinding and farming to obtain, which may or may not be your style. Nonetheless, you can find every Attacker Gem and what is required from you to upgrade each of them!

Don't forget that you can bypass tiers by spending Gold Nopon Coins. This method allows you to jump ahead to another tier without needing any of the Materials, making it useful if you somehow have the required materials for the next Tier but not the one you're currently on. We have the Gold Nopon Coin price for each tier skip on the righthand side of every table!

Rarity Chart

| Common | Rare | Legendary |
| --- | --- | --- |
| Plain Text | ? | ? |

Steelcleaver

Gemstone Tier
Materials Needed
Gold Nopon Coin Bypass
Steelcleaver I

x1 Gemstone
x1 Piercing Rhogul Quill

Steelcleaver II

x1 Gemstone
x1 Exploding Blant Seed
x1 Crustip Jet Spray
x1 Redrum Seed
x1 Ether Cylinder

Steelcleaver III

x1 Gemstone
x1 Elegant Ansel Feather?
x1 Igna Weapon
x1 Ardun Horns
x1 Jagron Fossil
x1 Ether Cylinder

Steelcleaver IV

x1 Pure Gemstone?
x1 Krammit Viscera?
x1 Sharp Hox Horn?
x1 Quardun Fang
x1 Blood Emerald
x1 Ether Cylinder

Steelcleaver V

x1 Pure Gemstone?
x2 Sharp Merfrey Tail?
x2 Avis Mech Sword?
x2 Ories Horns?
x1 Thermal Parts
x2 Ether Cylinders

Steelcleaver VI

x1 Pure Gemstone?
x2 Ories Horns?
x2 Ropl Jaw?
x2 Sagittarius Machine Rifle
x1 Giant Hornet Fossil
x2 Ether Cylinder

Steelcleaver VII

x1 Ultra Pure Gemstone?
x2 Kananus Razor Horn?
x2 Thick Rhinon Tail?
x3 Marrin Bone?
x3 Circular Velites Blade
x1 Aspid Fossil?
x2 Ether Cylinder

Steelcleaver VII

x2 Ultra Pure Gemstone?
x15 Serrated Aligo Fang?
x15 Quardun Fang?
x15 Mineral Darbus Bone
x15 Royal Ardun Horn
x10 Warrior Screw?
x3 Ether Cylinder

Steelcleaver IX

x3 Ultra Pure Gemstone?
x20 Testudo Shoulder Gun?
x20 Explosive Plambus Powder?
x20 Enpedia Launcher?
x20 Kananus Razor Horn
x10 Griffox Fossil?
x3 Ether Cylinder

Steelcleaver X

x5 Ultra Pure Gemstone?
x30 Royal Ardun Horn ?
x30 Great Feris Horn Pair?
x30 Zapneedle Marrin Carapace?
x30 Thick Rhinon Tail?
x30 Ulula Metal Fist
x3 Ether Cylinder

Accurate Grace

Gemstone Tier
Materials Needed
Gold Nopon Coin Bypass
Accurate Grace I

x1 Gemstone
x1 Slender Flamii Bone

Accurate Grace II

x1 Gemstone
x1 Ropl Rock Fragment
x1 Aspar Eyeball
x1 Ether Penguin Fossil
x1 Ether Cylinder

Accurate Grace III

x1 Gemstone
x1 Full-Bodied Ardun Meat?
x1 Caterpile Antenna
x1 Moramora Bezoar
x1 Jagron Fossil
x1 Ether Cylinder

Accurate Grace IV

x1 Pure Gemstone?
x1 Tirkin Seasoning?
x1 Rhogul Axe Crest?
x1 Ottil's Clambreaking Stone
x1 Mudclam
x1 Ether Cylinder

Accurate Grace V

x1 Pure Gemstone?
x2 Ekidno Tail?
x2 Circular Speculatos Blade?
x2 Arachno Thread?
x1 Silent Wood
x2 Ether Cylinder

Accurate Grace VI

x1 Pure Gemstone?
x2 Quality Red Krodlax Meat?
x2 Volffskin?
x2 Avis Sphere
x1 Thinskin
x2 Ether Cylinder

Accurate Grace VII

x1 Ultra Pure Gemstone?
x2 Flak Simple Eye?
x2 Myoot Beak?
x3 Taos Wingtip?
x3 Shoox Earplate
x1 Obsidian Berry?
x2 Ether Cylinder

Accurate Grace VIII

x2 Ultra Pure Gemstone?
x15 Krammit Device Fragment?
x15 Variable Centuris Claw?
x15 Antol Queen Compound Eye
x15 Vokooku Backbone
x10 Empress Lettuce?
x3 Ether Cylinder

Accurate Grace IX

x3 Ultra Pure Gemstone?
x20 Centuris Legs?
x20 Refreshing Piranhax Meat?
x20 Elegant Ravoon Horn?
x20 Spikey Pagul Shell
x10 Missing Tree?
x3 Ether Cylinder

Accurate Grace X

x5 Ultra Pure Gemstone?
x30 Ulula Metal Fist?
x30 Piercing Rhogul Quill?
x30 Soft-Shelled Aligo Egg?
x30 Armored Plambus Wing?
x30 Centuris Legs
x3 Ether Cylinder

Analyze Weakness

Gemstone Tier
Materials Needed
Gold Nopon Coin Bypass
Analyze Weakness I

x1 Gemstone
x1 Crustip Jet Spray

Analyze Weakness II

x1 Gemstone
x1 Sharp Hox Horn
x1 Ropl Jaw
x1 Ether Penguin Fossil
x1 Ether Cylinder

Analyze Weakness III

x1 Gemstone
x1 Igna Weapon?
x1 Withered Kapiba Branch
x1 Pale Skeeter Wing
x1 Gromrice
x1 Ether Cylinder

Analyze Weakness IV

x1 Pure Gemstone?
x1 Serrated Aligo Fang?
x1 Quardun Fang?
x1 Testudo Shoulder Gun
x1 Condimenut
x1 Ether Cylinder

Analyze Weakness V

x1 Pure Gemstone?
x2 Equites Tank Wheel?
x2 Centuris Legs?
x2 Arachno Pincer?
x1 Ion Booster
x2 Ether Cylinder

Analyze Weakness VI

x1 Pure Gemstone?
x2 Vollgull Mask?
x2 Blooming Ellook Flower?
x2 Ories Headplate
x1 Strong Dandelion
x2 Ether Cylinder

Analyze Weakness VII

x1 Ultra Pure Gemstone?
x2 Horrish Amplifier?
x2 Vokooku Backbone?
x3 Tetudo Shoulder Gun?
x3 Sweet Pagul Body
x1 Galaxy Swirl?
x2 Ether Cylinder

Analyze Weakness VIII

x2 Ultra Pure Gemstone?
x15 Crustip Jet Spray?
x15 Sharp Merfrey Tail?
x15 Enpedia Launcher
x15 Explosive Plambus Powder
x10 Chrysanthemany?
x3 Ether Cylinder

Analyze Weakness IX

x3 Ultra Pure Gemstone?
x20 Gastrates Gun Turret?
x20 Ekidno Tail?
x20 Myoot Beak?
x20 Elegant Ravoon Horn
x10 Fleeting Plum?
x3 Ether Cylinder

Analyze Weakness X

x5 Ultra Pure Gemstone?
x30 Drague Everflame?
x30 Sharp Hox Horn?
x30 Arachno Pincer?
x30 Ageshu Needleclaw?
x30 Gastrates Gun Turret
x3 Ether Cylinder

Swelling Scourge

Gemstone Tier
Materials Needed
Gold Nopon Coin Bypass
Swelling Scourge I

x1 Gemstone
x1 Well-Aged Camill Juices

Swelling Scourge II

x1 Gemstone
x1 Aspar Secretion
x1 Flier Nectar Jelly
x1 Redrum Seed
x1 Ether Cylinder

Swelling Scourge III

x1 Gemstone
x1 Krabble Viscera?
x1 Krammit Viscera
x1 Moramora Bezoar
x1 Serenity Jet
x1 Ether Cylinder

Swelling Scourge IV

x1 Pure Gemstone?
x1 Soft-Shelled Aligo Egg?
x1 Aspar Eyeball?
x1 Refreshing Piranhax Meat
x1 Condimenut
x1 Ether Cylinder

Swelling Scourge V

x1 Pure Gemstone?
x2 Merfrey Skull?
x2 Eluca Silk?
x2 Bunnit Meat?
x1 Ten-Term Palm
x2 Ether Cylinder

Swelling Scourge VI

x1 Pure Gemstone?
x2 Garaffa Tenderloin?
x2 Powdered Skwaror Leaves?
x2 Great Feris Horn Pair
x1 Blue Sorghum
x2 Ether Cylinder

Swelling Scourge VII

x1 Ultra Pure Gemstone?
x2 Antol Queen Compound Eye?
x2 Electrified Vvarga Skull?
x3 Enlightened Rhana Eyeball?
x3 Eluca Silk
x1 Death Mushroom?
x2 Ether Cylinder

Swelling Scourge VIII

x2 Ultra Pure Gemstone?
x15 Quadwing's Indulgence?
x15 Exploding Blant Seed?
x15 Ulula Generator
x15 Flak Simple Eye
x10 Obscurian?
x3 Ether Cylinder

Swelling Scourge IX

x3 Ultra Pure Gemstone?
x20 Garaffa Electrical Organ?
x20 Moramora Bezoar?
x20 Drague Everflame?
x20 Electrified Vvarga Skull
x10 Polar Pearl?
x3 Ether Cylinder

Swelling Scourge X

x5 Ultra Pure Gemstone?
x30 Obsidian Kananus Mane?
x30 Caterpile Antenna?
x30 Grebel Carapace?
x30 Rare Urchon Egg?
x30 Springy Medooz Bell
x3 Ether Cylinder

Refined Incantation

Gemstone Tier
Materials Needed
Gold Nopon Coin Bypass
Refined Incantation I

x1 Gemstone
x1 Bunnit Meat

Refined Incantation II

x1 Gemstone
x1 Volffskin
x1 Aspar Secretion
x1 Ether Penguin Fossil
x1 Ether Cylinder

Refined Incantation III

x1 Gemstone
x1 Arachno Queen Egg?
x1 Gooey Upa Egg
x1 Rare Urchon Egg
x1 Serenity Jet
x1 Ether Cylinder

Refined Incantation IV

x1 Pure Gemstone?
x1 Treasured Gogol Liquor?
x1 Agnian Soldier's Armor?
x1 Powdered Skwaror Leaves
x1 Oil Lentil
x1 Ether Cylinder

Refined Incantation V

x1 Pure Gemstone?
x2 Sharp Gyaark Tail?
x2 Mild Camill Powder?
x2 Rainbow Crustip Shell?
x1 Fire Pepper
x2 Ether Cylinder

Refined Incantation VI

x1 Pure Gemstone?
x2 Bitter Quadwing Powder?
x2 Perfumed Aries Hide?
x2 Magnificent Upa Lure
x1 Crimson Moonbloom
x2 Ether Cylinder

Refined Incantation VII

x1 Ultra Pure Gemstone?
x2 Enlightened Rhana Eyeball?
x2 Fine Ageshu Wing?
x3 Zapneedle Marrin Carapace?
x3 Merfrey Skull
x1 Curse Branch?
x2 Ether Cylinder

Refined Incantation VIII

x2 Ultra Pure Gemstone?
x15 Decorative Grebel Quill?
x15 Treasured Gogol Liquor?
x15 Gastrates Ether Furnace
x15 Gyrinus Halo
x10 Oil Oyster Fossil?
x3 Ether Cylinder

Refined Incantation IX

x3 Ultra Pure Gemstone?
x20 Kevesi Dog Tag?
x20 Well-Aged Camill Juices?
x20 Ulula Generator?
x20 Enlightened Rhana Eyeball
x10 Warning Lamp?
x3 Ether Cylinder

Refined Incantation X

x5 Ultra Pure Gemstone?
x30 Enpedia Headpiece?
x30 Merfrey Skull?
x30 Aspar Secretion?
x30 Electrified Vvarga Skull?
x30 Droid Tube
x3 Ether Cylinder

Healer Gem Crafting Requirements

Healer Gems work the same way as the Defender and Attacker ones, requiring you to go out and scavenge an unholy amount of Materials to upgrade to each Tier, especially if you're looking to reach Tier X with every Gem. The higher the Tier, the more Rare and Legendary Materials are needed, making progress slow the further you upgrade each Gem. With that in mind, let's look at everything required to craft each Healer Gem!

Gold Nopon Coins can skip Gem Tiers, enabling you to bypass gathering the resources needed to upgrade. While the higher Tiers require tons of Gold Nopon Coins to use this feature, the early to mid-Tiers aren't too bad, making it a viable option in some cases.

Rarity Chart

| Common | Rare | Legendary |
| --- | --- | --- |
| Plain Text | ? | ? |

Lifebearer

Gemstone Tier
Materials Needed
Gold Nopon Coin Bypass
Lifebearer I

x1 Gemstone
x1 Flier Nectar Jelly

Lifebearer II

x1 Gemstone
x1 Large Flamii Egg
x1 Volff Meat
x1 Powdered Wheat
x1 Ether Cylinder

Lifebearer III

x1 Gemstone
x1 Sweet Kapiba Lard?
x1 Fresh Armu Milk
x1 Caterpile Syrup
x1 Twooth Clover
x1 Ether Cylinder

Lifebearer IV

x1 Pure Gemstone?
x1 Red Piranhax Egg?
x1 Golden Brog Oil?
x1 Ottil's Treasured Bivalve
x1 Aldae Evridae
x1 Ether Cylinder

Lifebearer V

x1 Pure Gemstone?
x2 Gastrates Ether Furnace?
x2 Quality Red Krodlax Meat?
x2 Fatty Serprond Fillet?
x1 Silent Wood
x2 Ether Cylinder

Lifebearer VI

x1 Pure Gemstone?
x2 Aries Fur?
x2 Skeeter Honey?
x2 Full-Bodied Ardun Meat
x1 Heavy Pomegranate
x2 Ether Cylinder

Lifebearer VII

x1 Ultra Pure Gemstone?
x2 White Rhana Liver?
x2 Gulkin Seaweed Snack?
x3 Imperial Taos Egg?
x3 Fatty Serprond Fillet
x1 Golden Beetroot?
x2 Ether Cylinder

Lifebearer VIII

x2 Ultra Pure Gemstone?
x15 Gulkin Shell Amulet?
x15 Caterpile Syrup?
x15 Preserved Gogol SNack
x15 Aries Fur
x10 Thousand Carrot?
x3 Ether Cylinder

Lifebearer IX

x3 Ultra Pure Gemstone?
x20 Tirkin Seasoning?
x20 Arachno Queen Egg?
x20 Horrish Amplifier?
x20 Ornate Moglum Coral
x10 Royal Red Scallop?
x3 Ether Cylinder

Lifebearer X

x5 Ultra Pure Gemstone?
x30 Silver Ravoon Bone?
x30 Large Flamii Egg?
x30 Imperial Taos Egg?
x30 Moglum Lamp?
x30 Quadwing's Indulgence
x3 Ether Cylinder

Soothing Breath

Gemstone Tier
Materials Needed
Gold Nopon Coin Bypass
Soothing Breath I

x1 Gemstone
x1 Skeeter Honey

Soothing Breath II

x1 Gemstone
x1 Imperial Taos Egg
x1 Bunnit Meat
x1 Honey Lily
x1 Ether Cylinder

Soothing Breath III

x1 Gemstone
x1 Skeeter Honey?
x1 Cured Armu Sirloin
x1 Thick Moramora Fin
x1 Twooth Clover
x1 Ether Cylinder

Soothing Breath IV

x1 Pure Gemstone?
x1 Preserved Gogol Snack?
x1 Flier Nectar Jelly?
x1 Aspar Secretion
x1 Million-Leaf Dill
x1 Ether Cylinder

Soothing Breath V

x1 Pure Gemstone?
x2 Gulkin Seaweed Snack?
x2 Wisp Nectar?
x2 Full-Bodied Ardun Meat?
x1 Albinite
x2 Ether Cylinder

Soothing Breath VI

x1 Pure Gemstone?
x2 Compressed Ansel Meat?
x2 Cured Armu Sirloin?
x2 Quality Red Krodlax Meat
x1 Thinskin
x2 Ether Cylinder

Soothing Breath VII

x1 Ultra Pure Gemstone?
x2 Prized Merigna Salt?
x2 Rare Urchon Egg?
x3 Thick Moramora Fin?
x3 Auxilia Cylinder
x1 Ring Guava?
x2 Ether Cylinder

Soothing Breath VIII

x2 Ultra Pure Gemstone?
x15 Powdered Skwaror Leaves?
x15 Skeeter Honey?
x15 Silver Racoon Bone
x15 Gulkin Seaweed Snack
x10 Neo Walnut?
x3 Ether Cylinder

Soothing Breath IX

x3 Ultra Pure Gemstone?
x20 Shoox Flower Whisker?
x20 Krabble Viscera?
x20 Ulula Metal Fist?
x20 Blooming Ellook Flower
x10 Vermilion Bark
x3 Ether Cylinder

Soothing Breath X

x5 Ultra Pure Gemstone?
x30 Gastrates Ether Furnace?
x30 Marbled Quarmu Meat?
x30 Sweet Pagul Body?
x30 Obsidian Kananus Mane?
x30 Rich Quarmu Sea Milk
x3 Ether Cylinder

Lifesaving Expertise

Gemstone Tier
Materials Needed
Gold Nopon Coin Bypass
Lifesaving Expertise I

x1 Gemstone
x1 Quadwing's Indulgence

Lifesaving Expertise II

x1 Gemstone
x1 Krabble Viscera
x1 Tough Hox Pelt
x1 Honey Lily
x1 Ether Cylinder

Lifesaving Expertise III

x1 Gemstone
x1 Garaffa Electrical Organ?
x1 Igna Rejuvenator
x1 Refreshing Piranhax Meat
x1 Syrup Spruce
x1 Ether Cylinder

Lifesaving Expertise IV

x1 Pure Gemstone?
x1 Brog Energy Booster?
x1 Aspar Secretion?
x1 Round Amoney Tentacle
x1 Sundialflower
x1 Ether Cylinder

Lifesaving Expertise V

x1 Pure Gemstone?
x2 Kevesi Soldier's Armor?
x2 Equites Loading Core?
x2 Withered Kapiba Branch?
x1 Thermal Parts
x2 Ether Cylinder

Lifesaving Expertise VI

x1 Pure Gemstone?
x2 Blooming Ellook Flower?
x2 Quadwing's Indulgence?
x2 Garaffa Electrical Organ
x1 Rockabye Basalt
x2 Ether Cylinder

Lifesaving Expertise VII

x1 Ultra Pure Gemstone?
x2 Droid Tube?
x2 Merigna Amulet?
x3 Fleshy Blant Petal?
x3 Variable Centuris Claw
x1 Death Mushroom?
x2 Ether Cylinder

Lifesaving Expertise VIII

x2 Ultra Pure Gemstone?
x15 Igna Rejuvenator?
x15 Flier Nectar Jelly?
x15 Horrish Amplifier
x15 Prized Merigna Salt
x10 Flaskform Aquapolyp?
x3 Ether Cylinder

Lifesaving Expertise IX

x3 Ultra Pure Gemstone?
x20 Equites Loading Core?
x20 Arachno Thread?
x20 Geometric Myoot Gear?
x20 Anlood Antler
x10 Macimushroom?
x3 Ether Cylinder

Lifesaving Expertise X

x5 Ultra Pure Gemstone?
x30 Blessed Pippito Light?
x30 Wisp Nectar?
x30 Krammit Viscera?
x30 Prized Merigna Salt?
x30 Steel Urchon Scale
x3 Ether Cylinder

Swelling Blessing

Gemstone Tier
Materials Needed
Gold Nopon Coin Bypass
Swelling Blessing I

x1 Gemstone
x1 Flier Pollen

Swelling Blessing II

x1 Gemstone
x1 Mild Camill Powder
x1 Imperial Taos Egg
x1 Powdered Wheat
x1 Ether Cylinder

Swelling Blessing III

x1 Gemstone
x1 Krammit Viscera?
x1 Arachno Queen Egg
x1 Wisp Sun Bead
x1 Citribell
x1 Ether Cylinder

Swelling Blessing IV

x1 Pure Gemstone?
x1 Powdered Skwaror Leaves?
x1 Flier Pollen?
x1 Krammer Viscera
x1 Sundialflower
x1 Ether Cylinder

Swelling Blessing V

x1 Pure Gemstone?
x2 Shoox Earplate?
x2 Gulkin Shell Amulet?
x2 Quadwing's Indulcence?
x1 Ten-Term Palm
x2 Ether Cylinder

Swelling Blessing VI

x1 Pure Gemstone?
x2 Perfumed Aries Hide?
x2 Fresh Armu Milk?
x2 Kevesi Dog Tag
x1 Heavy Pomegranate
x2 Ether Cylinder

Swelling Blessing VII

x1 Ultra Pure Gemstone?
x2 Star-Shaped Droid Screw?
x2 Gastrates Ether Furnace?
x3 Decorative Grebel Quill?
x3 Gulkin Shell Amulet
x1 Galaxy Swirl?
x2 Ether Cylinder

Swelling Blessing VIII

x2 Ultra Pure Gemstone?
x15 Wisp Sun Bead?
x15 Shoox Earplate?
x15 Geometric Myoot Gear
x15 Merigna Amulet
x10 Buoyant Bauxite?
x3 Ether Cylinder

Swelling Blessing IX

x3 Ultra Pure Gemstone?
x20 Gyrinus Halo?
x20 Eluca Tailtip?
x20 Blessed Pippito Light?
x20 Rainbow Darbus Crystal
x10 Wyrdstone?
x3 Ether Cylinder

Swelling Blessing X

x5 Ultra Pure Gemstone?
x30 Rainbow Darbus Crystal?
x30 Mild Camill Powder?
x30 Flier Pollen?
x30 Ornate Moglum Coral?
x30 Glistening Krodlax Scale
x3 Ether Cylinder

Refined Blessing

Gemstone Tier
Materials Needed
Gold Nopon Coin Bypass
Refined Blessing I

x1 Gemstone
x1 Red Piranhax Egg

Refined Blessing II

x1 Gemstone
x1 Rainbow Crustip Shell
x1 Flier Pollen
x1 Honey Lily
x1 Ether Cylinder

Refined Blessing III

x1 Gemstone
x1 Supersonic Vang Organ?
x1 Magnificent Upa Lure
x1 Full-Bodied Ardun Meat
x1 Citribell
x1 Ether Cylinder

Refined Blessing IV

x1 Pure Gemstone?
x1 Krammit Device Fragment?
x1 Gooey Upa Egg?
x1 Rich-Smelling Anlood Bone
x1 Oil Lentil
x1 Ether Cylinder

Refined Blessing V

x1 Pure Gemstone?
x2 Bitter Quadwing Powder?
x2 Eluca Tailtip?
x2 Sweet Pagul Body?
x1 Albinite
x2 Ether Cylinder

Refined Blessing VI

x1 Pure Gemstone?
x2 Round Skwaror Crystal?
x2 Volff Meat?
x2 Equites Loading Core
x1 Rockabye Basalt
x2 Ether Cylinder

Refined Blessing VII

x1 Ultra Pure Gemstone?
x2 Marrin Bone?
x2 Antol Leg Chitin?
x3 Well-Aged Camill Juices?
x3 Amoney Flower Lure
x1 Obsidian Berry?
x2 Ether Cylinder

Refined Blessing VIII

x2 Ultra Rare Gemstone?
x15 Tirkin Service Medal?
x15 Red Piranhax Egg?
x15 Star-Shaped Droid Screw
x15 Eluca Tailtip
x10 Fluffy Cloud Ear?
x3 Ether Cylinder

Refined Blessing IX

x3 Ultra Pure Gemstone?
x20 Agnian Dog Tag?
x20 Round Amoney Tentacle?
x20 Silver Ravoon Bone?
x20 Xapneedle Marrin Carapace
x10 Lagoonite?
x3 Ether Cylinder

Refined Blessing X

x5 Ultra Pure Gemstone?
x30 Fine Ageshu Wing?
x30 Volffskin?
x30 Thick Moramora Fin?
x30 Vokooku Backbone?
x30 Agnian Dog Tag
x3 Ether Cylinder

Universal Gem Crafting Requirements

You guessed it, Universal Gems also require you to seek out Materials to craft, with each subsequent Tier demanding more and more Rare and Legendary resources to make. If you want to create every Gem in the game, you have your work cut out for you and will seemingly be busy for the rest of your life. Anywho, let's check out what each Gem needs to be made!

Yup, we're reminding you of the importance of Gold Nopon Coins once more! These precious Coins allow you to skip Gem Tiers, enabling you to craft Gems without any of the resources. Cheating? Kind of. Do we care? Absolutely not. Get those Gems without the grind, we say! Although, you sort of have to grind to get Gold Nopon Coins… But that's not the point!

Rarity Chart

| Common | Rare | Legendary |
| --- | --- | --- |
| Plain Text | ? | ? |

Ironclad

Gemstone Tier
Materials Needed
Gold Nopon Coin Bypass
Ironclad I

x1 Gemstone
x1 Glaring Eyeball

Ironclad II

x1 Gemstone
x1 Fleshy Blant Petal
x1 Well-Aged Camill Juices
x1 Kaleidoscelry
x1 Ether Cylinder

Ironclad III

x1 Gemstone
x1 Tirkin Seasoning?
x1 Wisp Nectar
x1 Cured Armu Sirloin
x1 Quinini
x1 Ether Cylinder

Ironclad IV

x1 Pure Gemstone?
x1 Rich Quarmu Sea Milk?
x1 Large Flamii Egg?
x1 Marbled Quarmu Meat
x1 Shiny Rose
x1 Ether Cylinder

Ironclad V

x1 Pure Gemstone?
x2 Kevesi Dog Tag?
x2 Auxilia Cylinder?
x2 Igna Rejuvenator?
x1 Jade Coral
x2 Ether Cylinder

Ironclad VI

x1 Pure Gemstone?
x2 Fresh Armu Milk?
x2 Garaffa Tenderloin?
x2 Bitter Quadwing Powder
x1 Crimson Mushroom
x2 Ether Cylinder

Ironclad VII

x1 Ultra Pure Gemstone?
x2 Ulula Generator?
x2 Antol Queen Shell?
x3 Caterpile Syrup?
x3 Tirkin Seasoning
x1 Golden Beetroot?
x2 Ether Cylinder

Ironclad VIII

x2 Ultra Pure Gemstone?
x15 Cured Armu Sirloin?
x15 Fatty Serprond Fillet?
x15 White Rhana Liver
x15 Blessed Pippito Light
x10 Milky Soy
x3 Ether Cylinder?

Ironclad IX

x3 Ultra Pure Gemstone?
x20 Auxilia Cylinder?
x20 Gooey Upa Egg?
x20 Droid Tube?
x20 Giant Serprond Scale
x10 Delicate Bell?
x3 Ether Cylinder

Ironclad X

x5 Ultra Pure Gemstone?
x30 Horrish Amplifier?
x30 Bunnit Meat?
x30 Full-Bodied Ardun Meat?
x30 White Rhana Liver?
x30 Enpedia Headpiece
x3 Ether Cylinder

Steady Striker

Gemstone Tier
Materials Needed
Gold Nopon Coin Bypass
Steady Striker I

x1 Gemstone
x1 Dextrous Bunnit Tail

Steady Striker II

x1 Gemstone
x1 Golden Brog Oil
x1 Sharp Hox Horn
x1 Dark Fish Fossil
x1 Ether Cylinder

Steady Striker III

x1 Gemstone
x1 Ardun Horns?
x1 Arachno Pincer
x1 Krammit Device Fragment
x1 Mallow-o'-the-Marsh
x1 Ether Cylinder

Steady Striker IV

x1 Pure Gemstone?
x1 Round Amoney Tentacle?
x1 Agnian Dog Tag?
x1 Quardun Shell
x1 Mobility Thruster
x1 Ether Cylinder

Steady Striker V

x1 Pure Gemstone?
x2 Circular Velites Blade?
x2 Avis Sphere?
x2 Great Feris Horn Pair?
x1 Fire Pepper
x2 Ether Cylinder

Steady Striker VI

x1 Pure Gemstone?
x2 Equites Tank Wheel?
x2 Vang Membrane?
x2 Ories Horns
x1 Anti-Grav Chassis
x2 Ether Cylinder

Steady Striker VII

x1 Ultra Pure Gemstone?
x2 Enpedia Launcher?
x2 Vvarga Razor Horn?
x3 Steelcrushing Rhinon Fang?
x3 Sharp Merfrey Tail
x1 Aspid Fossil?
x2 Ether Cylinder

Steady Striker VIII

x2 Ultra Pure Gemstone?
x15 Igna Weapon?
x15 Ottil's Clambreaking Stone?
x15 Drague Everflame
x15 Vvarga Razor Horn
x10 Blue Chain?
x3 Ether Cylinder

Steady Striker IX

x3 Ultra Pure Gemstone?
x20 Sagittarius Machine Rifle?
x20 Volff Meat?
x20 Horrish Propeller?
x20 Antol Jaws
x10 Dance Apple?
x3 Ether Cylinder

Steady Striker X

x5 Ultra Pure Gemstone?
x30 Evil Drague Eye?
x30 Medooz Tentacle?
x30 Kananus Razor Horn?
x30 Vvarga Razor Horn?
x30 Myoot Beak
x3 Ether Cylinder

Doublestrike

Gemstone Tier
Materials Needed
Gold Nopon Coin Bypass
Doublestrike I
Doublestrike II

x1 Gemstone
x1 Brog Energy Booster
x1 Krabble Shield Pincer
x1 Kaleidoscelery
x1 Ether Cylinder

Doublestrike III

x1 Gemstone
x1 Great Feris Horn Pair?
x1 Compressed Ansel Meat
x1 Taos Wingtip
x1 Mallow-o'-the-Marsh
x1 Ether Cylinder

Doublestrike IV

x1 Pure Gemstone?
x1 Anlood Antler?
x1 Refreshing Piranhax Meat?
x1 Medooz Tentacle
x1 Mudclam
x1 Ether Cylinder

Doublestrike V

x1 Pure Gemstone?
x2 Armored Scorpox Pincer?
x2 Compressed Ansel Meat?
x2 Dextrous Bunnit Tail?
x1 Bizarrenacle
x2 Ether Cylinder

Doublestrike VI

x1 Pure Gemstone?
x2 Avis Mech Sword?
x2 Vollgull Stormwind Wing?
x2 Sagittarius Frame
x1 Matryos Carbon
x2 Ether Cylinder

Doublestrike VII

x1 Ultra Pure Gemstone?
x2 Steelcrushing Rhinon Fang?
x2 Antol Jaws?
x3 Krabble Shield Pincer?
x3 Vollgull Stormwind Wing
x1 Beaconstone?
x2 Ether Cylinder

Doublestrike VIII

x2 Ultra Pure Stone?
x15 Dextrous Bunnit Tail?
x15 Spiky Pagul Shell?
x15 Thick Rhinon Tail
x15 Ageshu Needleclaw
x10 Black Kiwi?
x3 Ether Cylinder

Doublestrike IX

x3 Ultra Pure Gemstone?
x20 Testudo Iron Wing?
x20 Sharp Gyaark Tail?
x20 Evil Drague Eye?
x20 Steelcrushing Rhinon Fang
x10 Helix Tube?
x3 Ether Cylinder

Doublestrike X

x5 Ultra Pure Gemstone?
x30 Vollgull Stormwind Wing?
x30 Taos Wingtip?
x30 Ekidno Jawbone?
x30 Rainbow Darbus Crystal?
x30 Circular Speculatos Blade
x3 Ether Cylinder

Empowered Combo

Gemstone Tier
Materials Needed
Gold Nopon Coin Bypass
Empowered Combo I

x1 Gemstone
x1 Volff Meat

Empowered Combo II

x1 Gemstone
x1 Taos Wingtip
x1 Dextrous Bunnit Tail
x1 Dark Fish Fossil
x1 Ether Cylinder

Empowered Combo III

x1 Gemstone
x1 Krammit Device Fragment?
x1 Brog Energy Booster
x1 Garaffa Electrical Organ
x1 Fleet Shimeji
x1 Ether Cylinder

Empowered Combo IV

x1 Pure Gemstone?
x1 Tirkin Service Medal?
x1 Magnificent Upa Lure?
x1 Anlood Antler
x1 Aldae Eridae
x1 Ether Cylinder

Empowered Combo V

x1 Pure Gemstone?
x2 Ekidno Jawbone?
x2 Sagittarius Frame?
x2 Spiky Pagul Shell?
x1 Thick Flange
x2 Ether Cylinder

Empowered Combo VI

x1 Pure Gemstone?
x2 Glistening Krodlax Scale?
x2 Sagittarius Machine Rifle?
x2 Round Skwaror Crystal
x1 Strong Dandelion
x2 Ether Cylinder

Empowered Combo VII

x1 Ultra Pure Gemstone?
x2 Ageshu Needleclaw?
x2 Ulula Metal Fist?
x3 Moramora Bezoar?
x3 Steel Urchon Scale
x1 Bronze Wood?
x2 Ether Cylinder

Empowered Combo VIII

x2 Ultra Pure Gemstone?
x15 Withered Kapiba Branch?
x15 Sagittarius Frame?
x15 Marrin Bone
x15 Scorpox Exoskeleton
x10 Bezoarite?
x3 Ether Cylinder

Empowered Combo IX

x3 Ultra Pure Gemstone?
x20 Circular Speculatos Blade?
x20 Scorpox Exoskeleton?
x20 Flak Simple Eye?
x20 Serrated Aligo Fang
x10 Puzzletree Wood?
x3 Ether Cylinder

Empowered Combo X

x5 Ultra Pure Gemstone?
x30 Mineral Darbus Bone?
x30 Eluca Silk?
x30 Ropl Rock Fragment?
x30 Kananus Razor Horn?
x30 Lightweight Velites Base
x3 Ether Cylinder

Disperse Bloodlust

Gemstone Tier
Materials Needed
Gold Nopon Coin Bypass
Disperse Bloodlust I
Disperse Bloodlust II

x1 Gemstone
x1 Aspar Eyeball
x1 Rhogul Axe Crest
x1 Kaleidoscelery
x1 Ether Cylinder

Disperse Bloodlust III

x1 Gemstone
x1 Noble Feris Mane?
x1 Sweet Kapiba Lard
x1 Gooey Upa Egg
x1 Quinini
x1 Ether Cylinder

Disperse Bloodlust IV

x1 Pure Gemstone?
x1 Amoney Flower Lure?
x1 Springy Medooz Bell?
x1 Soft-Shelled Aligo Egg
x1 Million-Leaf Dill
x1 Ether Cylinder

Disperse Bloodlust V

x1 Pure Gemstone?
x2 Variable Centuris Claw?
x2 Giant Serprond Scale?
x2 Ories Headplate?
x1 Black Blossom
x2 Ether Cylinder

Disperse Bloodlust VI

x1 Pure Gemstone?
x2 Anlood Antler?
x2 Rich-Smelling Anlood Bone?
x2 Avis Mech Sword
x1 Blue Sorghum
x2 Ether Crystal

Disperse Bloodlust VII

x1 Ultra Pure Gemstone?
x2 Enpedia Headpiece?
x2 Obsidian Kananus Mane?
x3 Antol Queen Compound Eye?
x3 Ekidno Jawbone
x1 Wraithwood?
x2 Ether Cylinder

Disperse Bloodlust VIII

x2 Ultra Pure Gemstone?
x15 Aspar Eyeball?
x15 Amoney Flower Lure?
x15 Vollgull Mask
x15 Evil Drague Eye
x10 Buloofo Fossil?
x3 Ether Cylinder

Disperse Bloodlust IX

x3 Ultra Pure Gemstone?
x20 Giant Serprond Scale?
x20 Supersonic Vang Organ?
x20 Royal Ardun Horn?
x20 Quardun Fang
x10 Bloody Doomcap?
x3 Ether Cylinder

Disperse Bloodlust X

x5 Ultra Pure Gemstone?
x30 Vollgull Mask?
x30 Fleshy Blant Petal?
x30 Antol Queen Compound Eye?
x30 Antol Queen Shell?
x30 Ories Horns
x3 Ether Cylinder

Source: Read Full Article