You Can Pre-Order Modular Joel And Ellie The Last Of Us Figures Now
Outbreak Day has had a name change to simply 'The Last of Us Day', in light of the outbreak we face ourselves. Tomorrow will celebrate all things TLOU – including the passionate community – and Naughty Dog wanted to release the first party popper by announcing the launch of Mamegyorai's 1/9 scale Joel and Ellie figures.
Addressing the fan base on Twitter, Naughty Dog posted our first look at Joel and Ellie in figure form, created by sculptor Masato Ohata and the team from the Japanese collectibles company Mamegyorai. The developers also stated that the 1/9 scale figures were available to pre-order through the company's website, but made sure to include "while supplies last" in the small print. Hopefully there won't be a repeat of the next-gen console pre-order debacle.
The figures up for grabs showcase Joel and Ellie with exquisite detail, both in combat-ready stances. The figures can stand independently from each other, but they can also be arranged within a combined scene. Both figures reflect the grunge color palette of the game series, and feature incredible details within the character's clothing, weapons, and in the setting around them. The figures come complete with the backdrop pedestal, and retails at $350.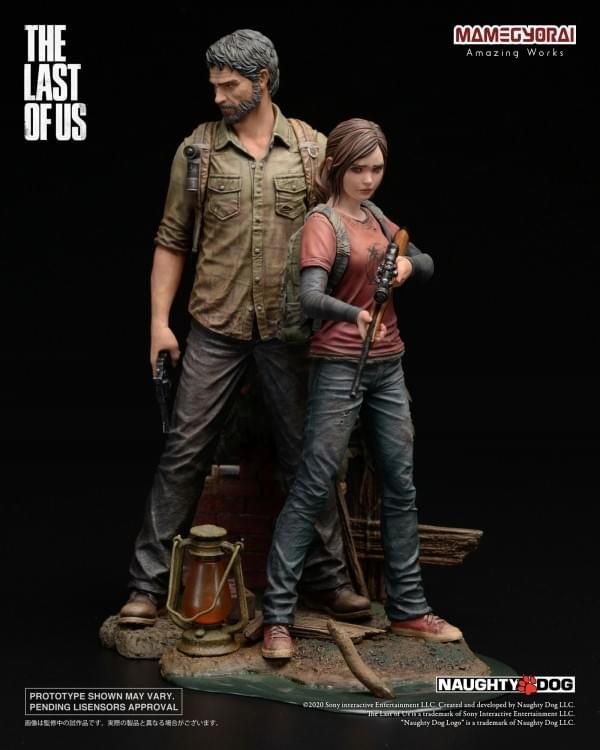 Joel emits protection over Ellie in his pose and facial expressions, while Ellie's demeanor conveys the fear and innocence built within her character in the game. Joel wields a handgun, while Ellie handles the rifle, but there is also an easter egg crafted into the pedestal of the figure set. The remains of a wooden panel can be seen attached to a broken brick wall behind Joel, that could be referring to a hidden pathway within the first game. Other in-game items can be seen within the pedestal, including bullets and broken scissors, which all add to the ambience.
The craft involved in creating this piece is impressive when you take into account the creative planning that went behind it. Surrounding Ellie's stand with water has been included to enforce that look of worry in her expression, referring to the fact that she cannot swim. The inclusion of these details make the piece so interesting to observe as a whole, and earns its place above the rest.
The Last of Us Limited Edition Joel and Ellie 1/9 Scale Figures are available for pre-order here, and will ship in March 2021.
Source: Read Full Article