Review: HyperX Alloy Origins Core Is The TKL Of My Dreams
TKL or tenkeyless have started to win me over during lockdown. While I appreciate the battle station aesthetic of a full-sized keyboard and the additional controls, a 60% keyboard like the HyperX Alloy Origins Core offers a much smaller footprint on my desk without losing any of the core features I've grown accustomed to. What's more, the keyboard is so much more portable than a standard gaming keyboard, thanks to its size and removable USB cable. This has allowed me to more easily relocate my setup without necessarily needing to crawl under my desk to unplug anything. The compact design and sturdy, portable frame of the Alloy Origins Core has turned out to be exactly what I needed for my work from home setup, and has quickly proven that less can definitely be more.
The HyperX Alloy Origins Core just might be the sturdiest keyboard I've ever tested. The aircraft-grade aluminum body has a smooth finish and rounded edges that's both nice to touch and has a noticeably premium look. There's absolutely no flex to the board at all and I would have absolutely no problem cramming this device in a bag or, frankly, dropping it down a flight of stairs. The keycaps have a glossy texture that provides a bit more friction than I'm used to, especially if you're the type that tends to sweat from your hands. I really don't mind the feel of them, but of course, they're easily replaced if you prefer a keycap with less gloss. There are three incline options, but I found even the highest options to be quite flat. I found that I needed to prop the keyboard up on another keyboard's wrist rest to get the angle that I like, which obviously isn't ideal.
The only port on the keyboard is a single USB type-C on the far right side. There's no cable management under the keyboard or anything like that, but it does come with a long braided USB cable. I like the removable cable a lot because it allows me to move my keyboard from one PC to another, or even over to my laptop, without needing to go behind my desk. Now I just keep a USB cable wrapped up with each of my machines and plug the Origins Core in wherever I go. With both my partner and I working full time at home, it's been great to have a device I can take with me when I need a change of scenery. I think the convenience of the Origins Core opened up a lot more possibilities for me.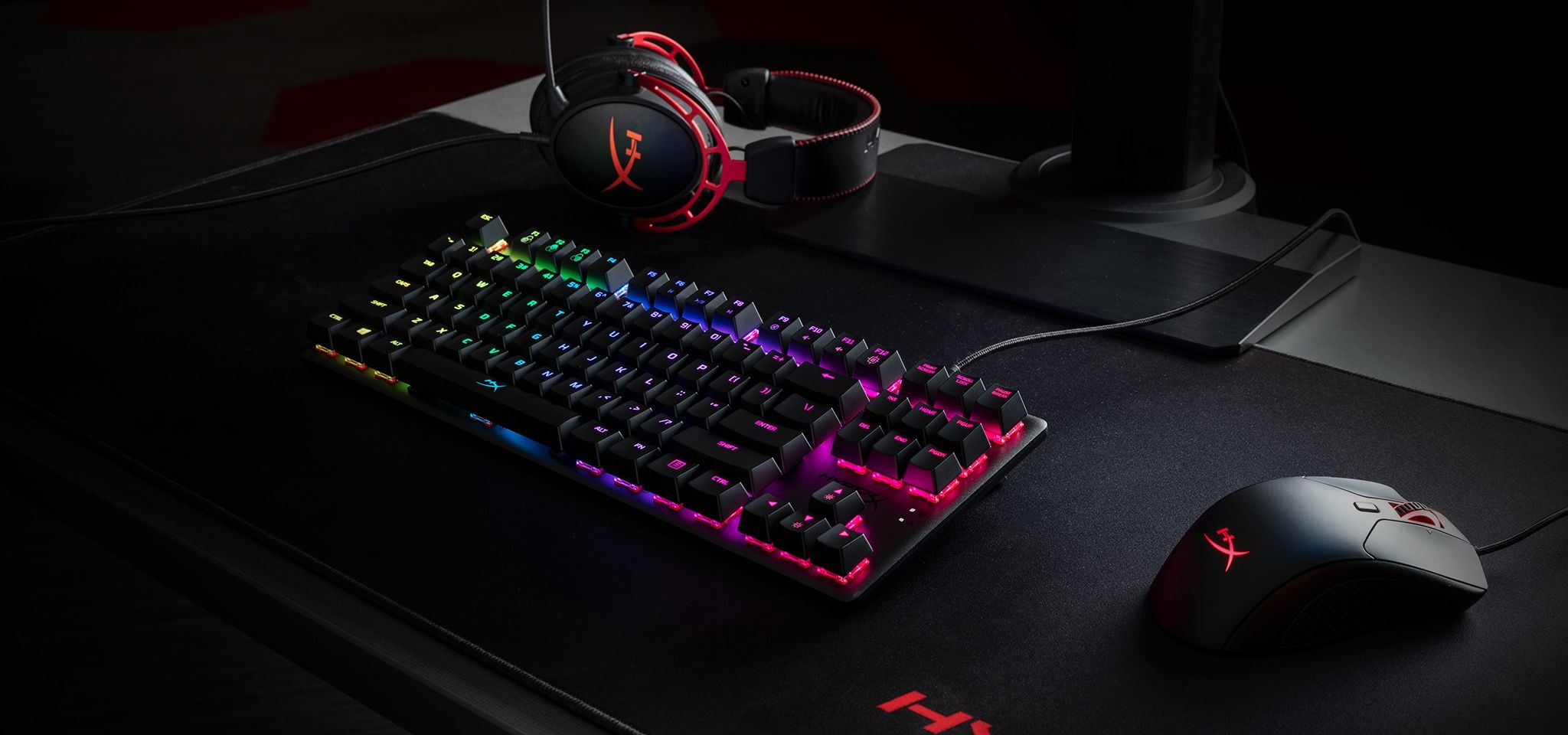 While you do lose the right-hand number pad, the Alloy Origins Core still manages to retain all of the functionality you'd expect from a gaming keyboard. You've got volume and track controls across the function keys, brightness settings on the arrow keys, and three profiles you can switch between for any macros or lighting configurations you've set up through HyperX's NGENUITY engine. There's also a game mode that can be toggled on that prevents certain macros like Shift + Tab, Ctrl + Esc, and Alt + F4 from being pressed. I think this is to make sure you don't accidentally close or tab out of your game, but this has never happened to me before, and I don't see much use for the setting.
The customizations for lighting, macros, and game mode need to be set up through the aforementioned NGENUITY engine. I had some trouble getting the software to work at first, but once the engine recognized the keyboard it was pretty straightforward to use. You have a fair amount of customization for the RGB effects, even compared to other peripheral engines like iCUE and Razer Synapse. Not only can you control the color, speed, and brightness of your effects, but you can also change the angle of patterns, target certain sections of the keyboard, and stack more than one effect. It's a surprisingly robust engine for such a small keyboard, and you can save the profiles that you create to the keyboard itself so that it keeps your patterns when you switch machines.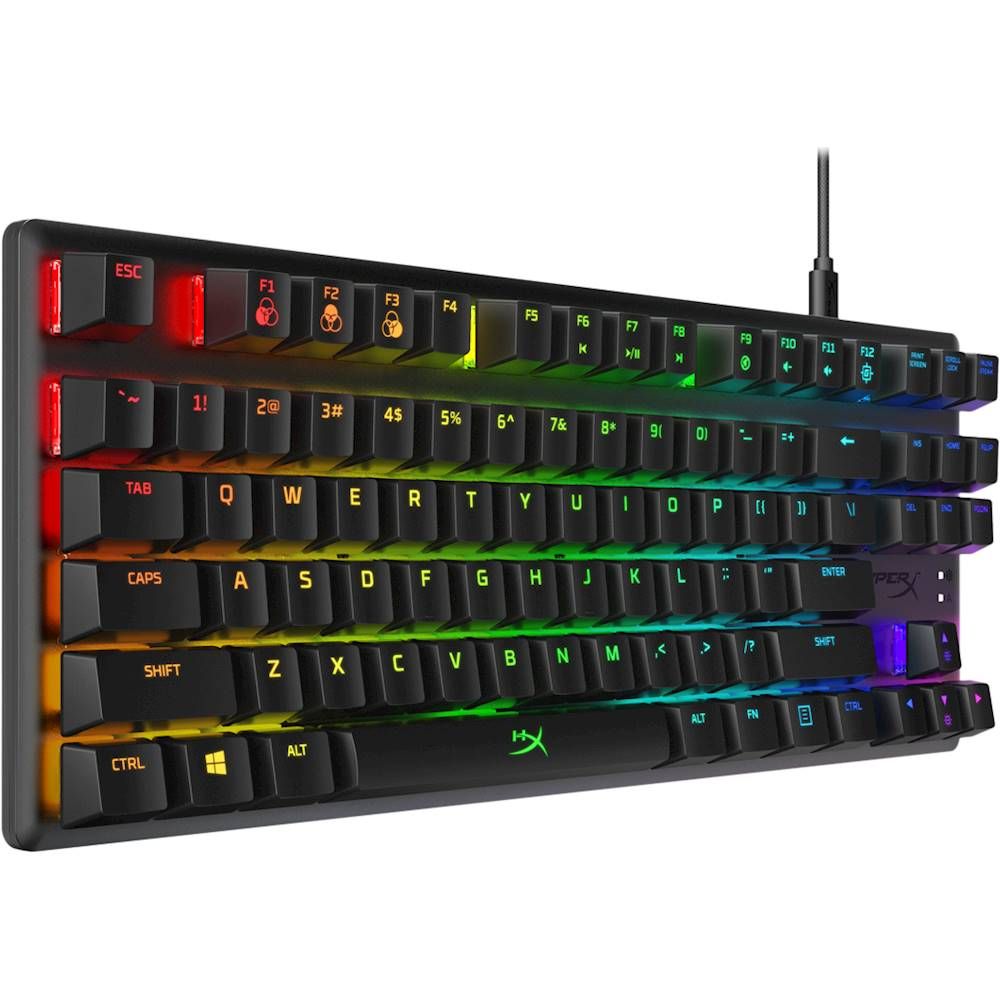 As a former cashier, I'll probably never give up my ten keys. That said, TKL keyboards are more popular than ever, and I've got plenty of friends that have no interest in a full-sized gaming keyboard. The Alloy Origins Core is by far the most solid-feeling TKL I've ever used. Just because it's smaller doesn't mean it's some kind of featureless budget device, and the Alloy Origins Core stands out as a premium device for PC players that need a little bit more real estate on their desks. The version I'm testing has blue switches that feel fantastic, but I've also tested both Aqua and Red switches from HyperX and can assure you that whatever your preference is, you'll get a nice set of switches with this device. If you're looking for something portable, or perhaps something just a little more compact. The HyperX Alloy Origins Core is a fantastic investment.
A HyperX Alloy Origins Core was provided to TheGamer for this review. Learn more about the Alloy Origins Core on the HyperX website.
Source: Read Full Article