Rogue Heroes: Ruins Of Tasos Review: Old School Legend Of Zelda Meets Stardew Valley
After writing a piece recently on how I was longing for traditional dungeons from The Legend of Zelda to be brought back, playing Rogue Heroes: Ruins of Tasos was quite refreshing. The game begins with a short introduction that describes the context for the rest of the game. There isn't any gameplay involved in the prologue. Instead, you read through it, and it states that there was a 100-year battle between the Gods and the Titans, but the Gods could not win. Therefore, they sealed away the Titans within four Great Dungeons. By the time you begin the game, the seals have become weakened, due to conflict and suffering that have brewed across Tasos, and the Titans' minions have been wreaking havoc on the world. It is up to a group of rogue heroes to come together and rebuild Tasos to its former peace and to take down the Titans for good.
While this setup nicely complements the gameplay that follows, I would hardly call "Gods need heroes' help to defeat the Titans" an original plot. Personally, I wouldn't have even minded if it had similarities to this trope that we've all heard a thousand times over, so long as there were some unique aspects or twists added to it. Unfortunately, Ruins of Tasos doesn't deliver on that front. In addition, any character you play with is void of all personality, and the side characters only speak incredibly simple and short dialogue most of the time.
However, there are plenty of areas in which the game does deliver, starting with the spectacular construction of its dungeons. If you've played any of the older Legend of Zelda games, the dungeons in Ruins of Tasos are quite similar. The dungeons include mazes that are filled with all different types of enemies, complex puzzles that you must solve (often using items in the room) to clear the area or to get a key to another area, and boss battles of which require you to figure out weaknesses and strategies to use to be able to win. Bows, wands, bombs, and grappling wrenches are just some examples of items that you pick up within the dungeon, and I love that they stuck with the fact that if you die, you lose them.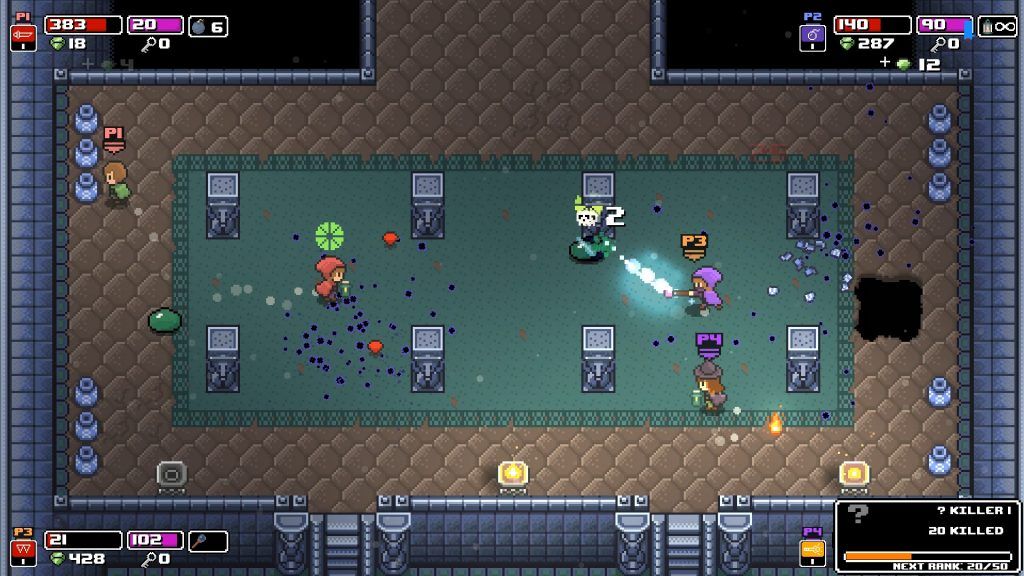 Part of what makes the dungeons in this game so great, aside from the qualities listed above, is that you can pay to activate permanent shortcuts to certain floors – once you reach those floors and have enough gems to use as payment. Considering how large the dungeons are (and how often you will likely die within them), this is a useful feature that encourages game progression without making it too easy. Likewise, though you lose all the items you picked up in the dungeon when you die, you maintain your gems. This way, you can spend them on upgrading your health, damage, stamina, and more when you respawn in the town, before you jump back into the dungeon again (which you can warp to once it's been discovered). Thus, you are set up to eventually find success after enough tries, considering your stats can be upgraded even as you "fail."
That said, we should probably talk about those upgrades for a minute. While some of the skill tree progressions make sense (for example, upgrading the damage you can deal unlocks an upgrade that allows you to deflect certain projectiles), others seem almost entirely pointless. In some cases, there are several upgrades to health points in that tree that all do the exact same thing, yet still require a previous upgrade to unlock. In other words, I would unlock an upgrade that ups my health from 115 to 120, just to unlock the next upgrade in the tree that allows me to up it from 120 to 126. Considering that each "skill" can be upgraded numerous times, having several skills that are upgrading the same stats is unnecessary.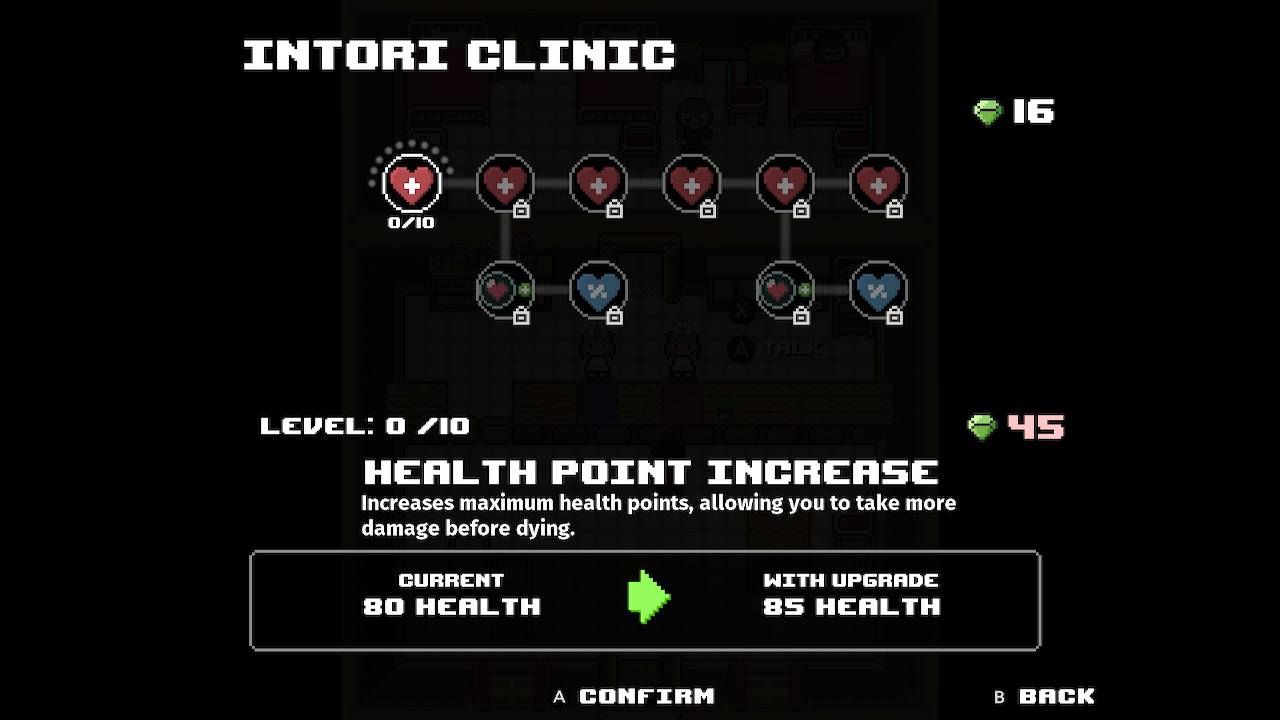 Despite the awkward skills trees though, the rest of the game mechanics are straightforward. The style of combat is hack and slash, but there is no clunkiness whatsoever. Furthermore, the enemies are inventive enough that you aren't just going through everything button-mashing—some enemies require waiting for opportune times to strike so you aren't hitting their shields, while others require to be hit from a distance, as they explode into harmful smoke when they're killed. Switching between weapons can also be done simply by tapping "R," which makes it easy to navigate during combat. The setup of the mechanics is intuitive, so you don't have to worry about fumbling around and trying to remember how to do each individual maneuver.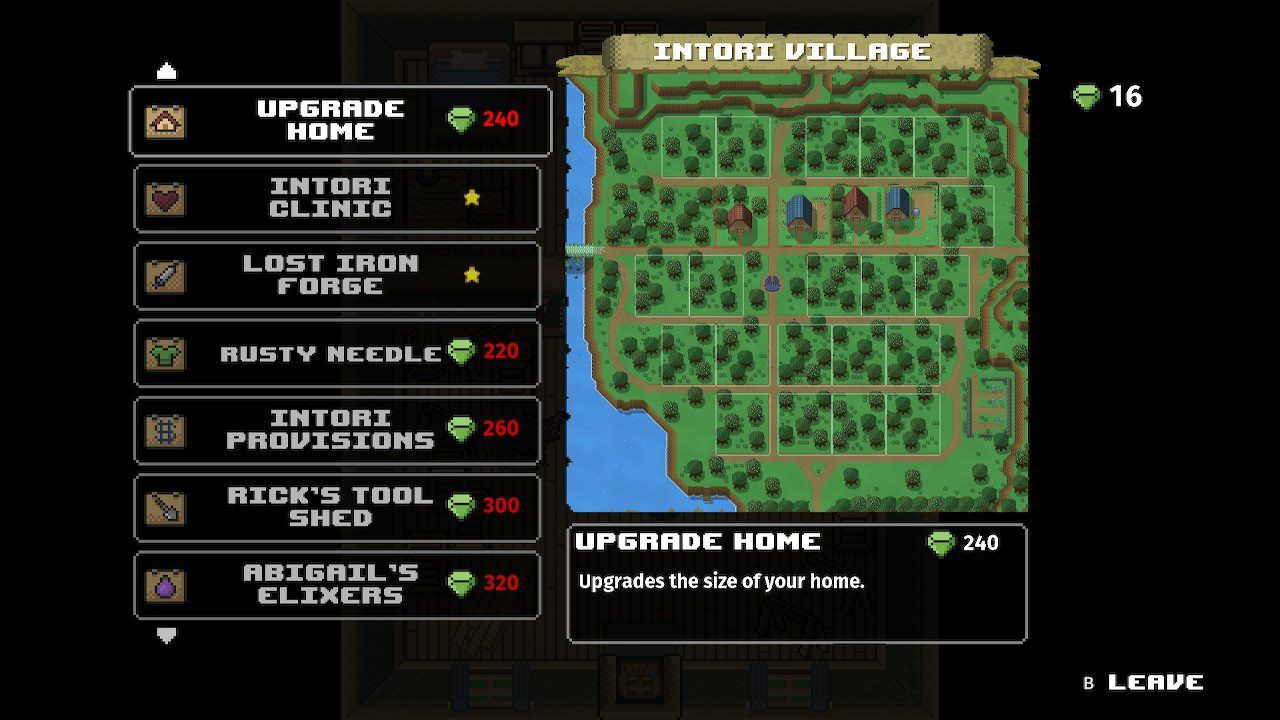 The last major part of Ruins of Tasos that adds to the game is the ability to construct your town and your house. If you've played Stardew Valley before, the music, graphics, and feel of the town are all quite similar. In Ruins of Tasos, you can use gems to build all sorts of places, including a clinic, blacksmith, tailor shop, potions shop, farm, tavern, and more. All these places include different benefits, from the ability to upgrade stats and weapons to being able to fish, grow vegetables, or play games and wager gems. You can also pay to upgrade your own house. This makes the overworld feel just as involved and significant as the dungeons are, which is a trait some other games have failed to do well. Furthermore, you must travel across many dangerous lands in the overworld to get to the dungeons in the first place. The way that this game manages to combine freedom and exploration with the feel of classic dungeons is phenomenal.
Taking all aspects into consideration, I would highly recommend Rogue Heroes: Ruins of Tasos. Despite its lack of engaging plot and characters, the gameplay is outstanding and makes the experience worth it on its own. I did not find myself wishing for a better plot and characters 99% of the time, because I was so caught up in trying to figure out how to make it through or find the next dungeon.

Score: 3.5/5
A Nintendo Switch copy of Rogue Heroes: Ruins of Tasos was provided to TheGamer for this review. Rogue Heroes: Ruins of Tasos will be available on the Switch, starting February 23, 2021.
Next: Stardew Valley Split-Screen Update Is Now On Consoles, With Other Platforms Incoming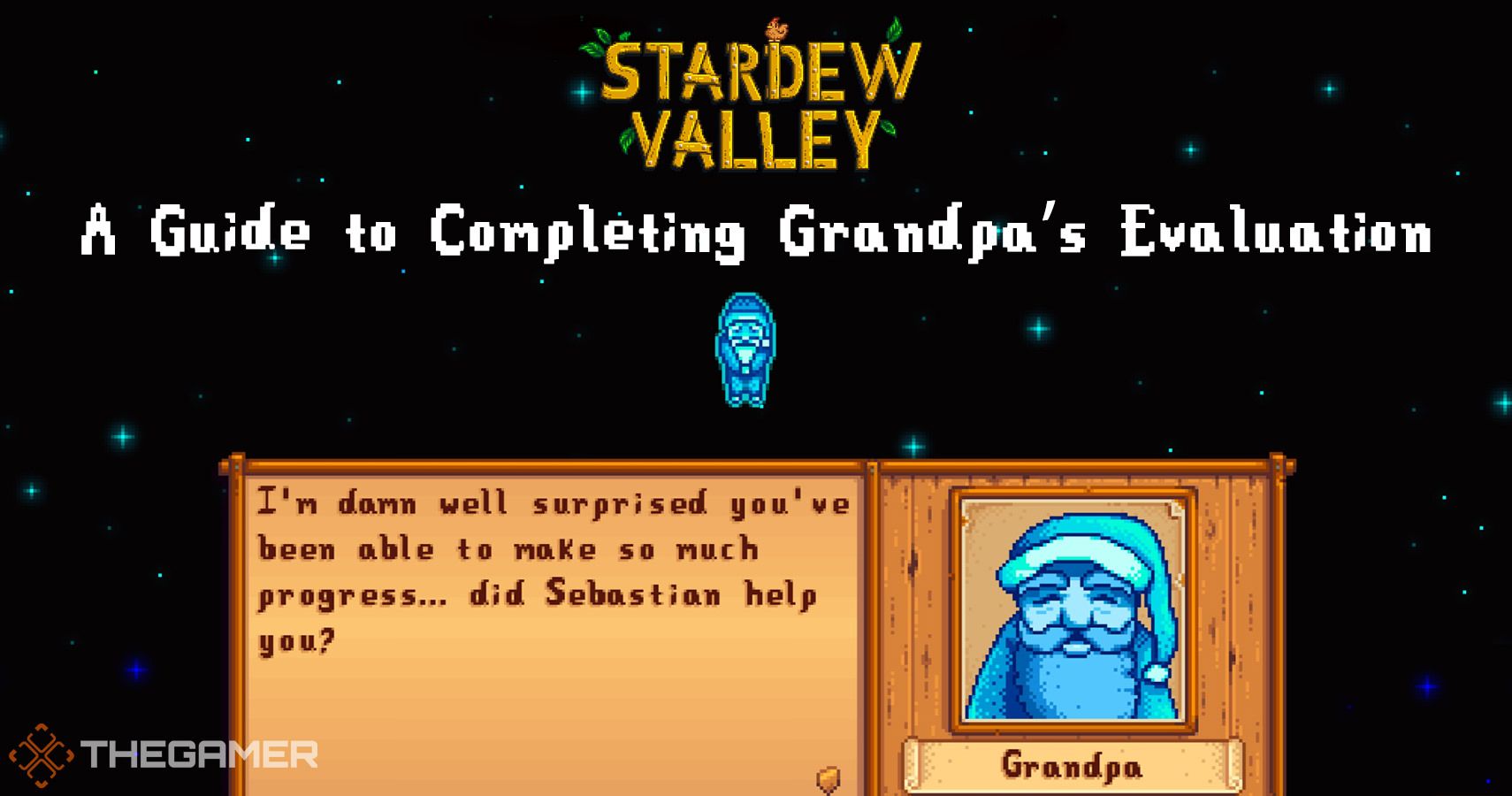 Game Reviews
Rogue Heroes: Ruins of Tasos
Stephanie is an Editor at TheGamer, solidly aligned chaotic neutral. Though her favorite game is Fire Emblem: Three Houses, she vows to do everything in her power to one day see a Legend of Dragoon remake. Absolutely nothing can top her immense love for The Lord of the Rings.
Source: Read Full Article