This Week In Pokemon Go: Season Of Mischief Finale, Go Battle League, And More
After a few months of the Season of Mischief, it's finally coming to a close, and it's going out in style with a finale celebration that features Hoopa Unbound's debut. However, when one thing ends, another begins, and this week sees the start of Season 10 of the Go Battle League. This season features some returning tournaments and a few new ones.
Meanwhile, November is ending and December is beginning, which should bring a ton of new events. Unfortunately, Niantic has not yet announced what's going on for the final month of the year, save for December Community Day. We've got all the announced details for this week, though, and be sure to check back next Sunday when we (hopefully) have more info on December's events!
Season of Mischief Finale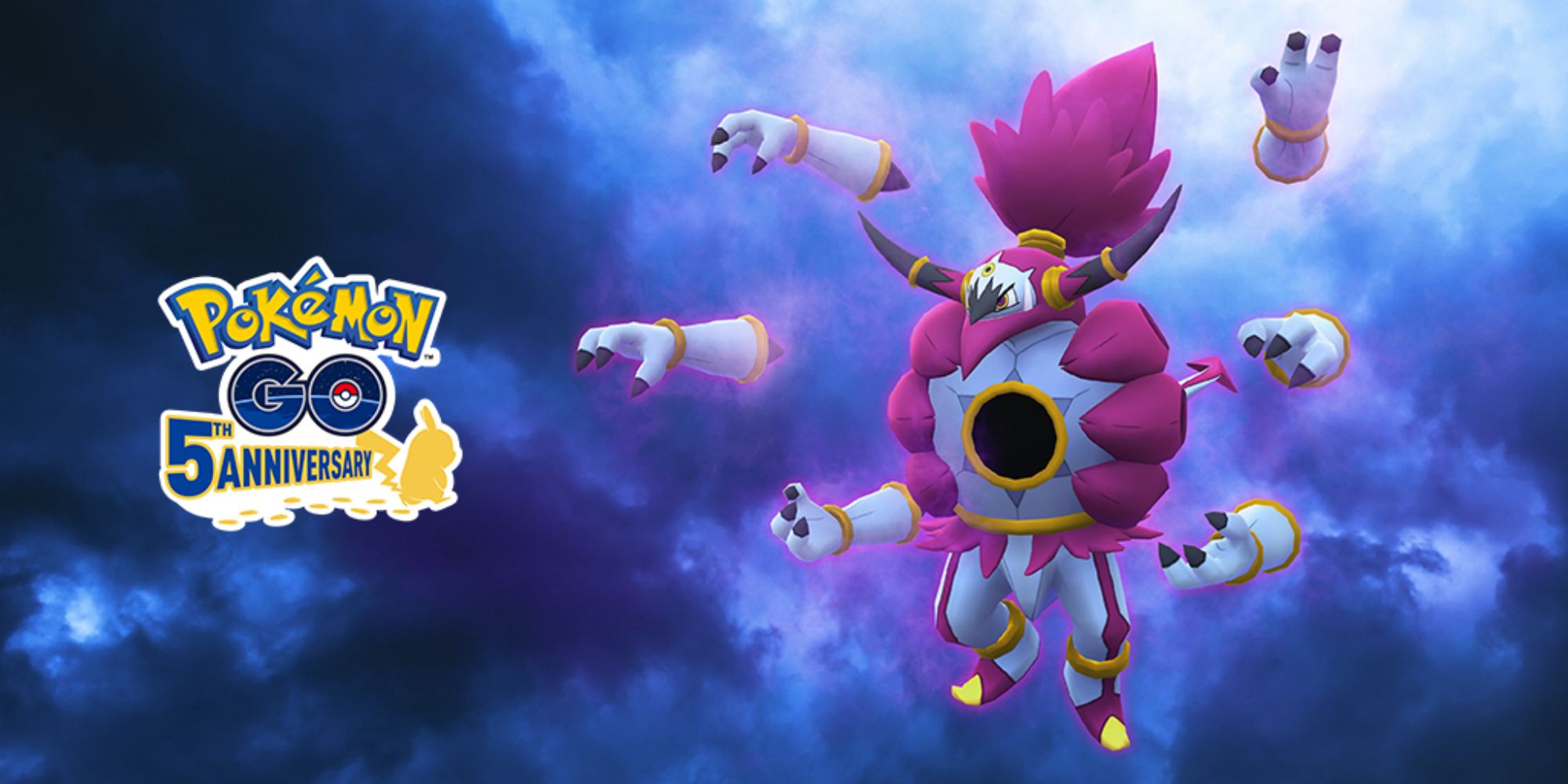 Friday, November 26 to Monday, November 29 at 8pm local time.
At long last, the Season of Mischief is coming to an end. To celebrate, the Mischief Unbound event has been running this weekend and continues into tomorrow. We have a full guide with every detail you need, but here's the most important info:
Hoopa Unbound is now available in game. You can change between Hoopa Confined and Hoopa Unbound with the new form change mechanic.

To change from Confined to Unbound, it will cost you 50 Hoopa candies and 10,000 Stardust. To revert back the other way, it costs 10 Hoopa candies and 2,000 Stardust.

You'll earn double XP for all catches and double candies for transferring Pokemon to the professor
A Special Research story, Mischief Unbound, is now available. You can access it if you complete the Misunderstood Mischief questline before December 1 at 9:59am, or if you purchase a ticket.
Special Legendary Raid Hours are taking place every day. By the time you're reading this, some of them have already come and gone.

Sunday, November 28 from 6pm to 7pm local time, Regirock, Registeel, and Regice will be in Raids.
Monday, November 29 from 6pm to 7pm local time, Cobalion, Virizion, and Terrakion will be in Raids.
There are also Spotlight Hours running every day, though again some have passed by the time you're reading this.

On Sunday, November 28 from 12pm to 1pm local time, Pikachu will be the featured Pokemon.
Then, on Monday, November 29, from 12pm to 1pm local time, Beldum will be in the spotlight.

Go Battle League Season 10

Monday, November 29 at 1pm PST to Sunday, February 28, 2022 at 1pm PST.

The tenth season of the GBL begins this week and brings with it a ton of exciting content. Running through to the end of February, Season 10 brings new encounter rewards, tournaments, avatar items, poses, and more.

By reaching the Legend rank, you'll unlock a new pose inspired by Lysandre, the boss of Team Flare from Pokemon X & Y. There will be Lysandre outfit pieces to unlock at the upper ranks as well. At certain levels, you'll have guaranteed encounter rewards with Pokemon associated with Lysandre.

There will be themed cups during many weeks of Season 10. Here's a quick rundown of the upcoming tournaments:

Cup
Date
Rules
Holiday Cup
Dec. 16-31

Pokemon must be 1,500 CP or lower
Only the following types are permitted: Normal, Grass, Electric, Ice, Flying, and Ghost

Sinnoh Cup
Jan. 10-24

Pokemon must be 1,500 CP or lower
Only Pokemon from Sinnoh will be allowed (Pokedex numbers 387-493)

Love Cup
Feb. 7-21

Pokemon must be 1,500 CP or lower
Only certain red and/or pink Pokemon will be allowed

Johto Cup
Feb. 21-28

Pokemon must be 1,500 CP or lower
Only Pokemon from Johto will be allowed (Pokedex numbers 152-251)

To see all of the details for Season 10 of the GBL, check out Niantic's blog post.

Spotlight Hour and Raid Hour

There is likely to be a Raid Hour on Wednesday this week, but Niantic has not revealed what it will be. This is probably because Wednesday is December 1, so the event will be included in their December update. However, we do know that the regularly scheduled Spotlight Hour will take place this Tuesday (November 30). It will run from 6pm to 7pm local time, and the featured Pokemon is Piplup. The special bonus is double catch candy.

Raid Bosses

This week, the Raid bosses will change over on Wednesday. However, like much of the rest of the week, we don't know who the new bosses will be because Niantic has not announced the December schedule.

Until Wednesday, December 1 at 10am local time, here's who will be in Raids:

Tier 1
Tier 3
Tier 5
Mega Tier

Jigglypuff
Yanma
Murkrow
Meditite
Timburr

Alakazam
Gengar
Miltank
Breloom

News and Updates

As always, there's a bit of news and some reminders for this week.

Ed Sheeran Event Ending

On November 30 at 4pm EST, the Ed Sheeran x Pokemon Go event is ending. The main features of the event were the Water-type Starters spawning in the wild (including Sunglasses Squirtle) and a YouTube video featuring Sheeran playing some of his music.

A special code for an Ed Sheeran sweatshirt for your in-game avatar is available until the end of the event. The code is: VVM87WGMMUZHTB8X.

Some users had issues with the code working, and Niantic issued a statement explaining that the code should work for everyone now.

November Features Ending

As November ends, some of the features of the month you may have forgotten about are ending, too.

Research Breakthrough: We don't yet know who will replace Vullaby as the Breakthrough Encounter, but Vullaby's run ends December 1 at 4pm EST. We should know soon who the replacement will be after Niantic's December announcement.

Mega Houndoom: For the month of November, Mega Houndoom received a CP boost. This will also end at the end of the month.

December Community Day Upcoming

On December 18 and 19, the annual December roundup Community Day will take place. The Pokemon featured in the first 11 months of the year will be the focus with appearances from those of 2020. We've got the full rundown in our Community Day guide, so be sure to check that out for all the important details.

Included in the CD celebrations are item bag and Pokemon storage upgrades which increase the capacity of both by 500. These go live on December 16 in time for Community Day.

Monday Bundles

Tomorrow (Monday, November 29) is the final Monday that will have a 1 PokeCoin bundle. It will contain a Remote Raid Pass and various supplies. It's likely that these Monday bundles will continue, but we don't have confirmation from Niantic yet.

Source: Read Full Article