Two Bit Circus Combines Escape Rooms, Arcade Games, And VR In A One Of A Kind Amusement Park
Two Bit Circus is the hottest attraction in L.A. right now and if you haven't heard of it yet, prepare to have your mind blown.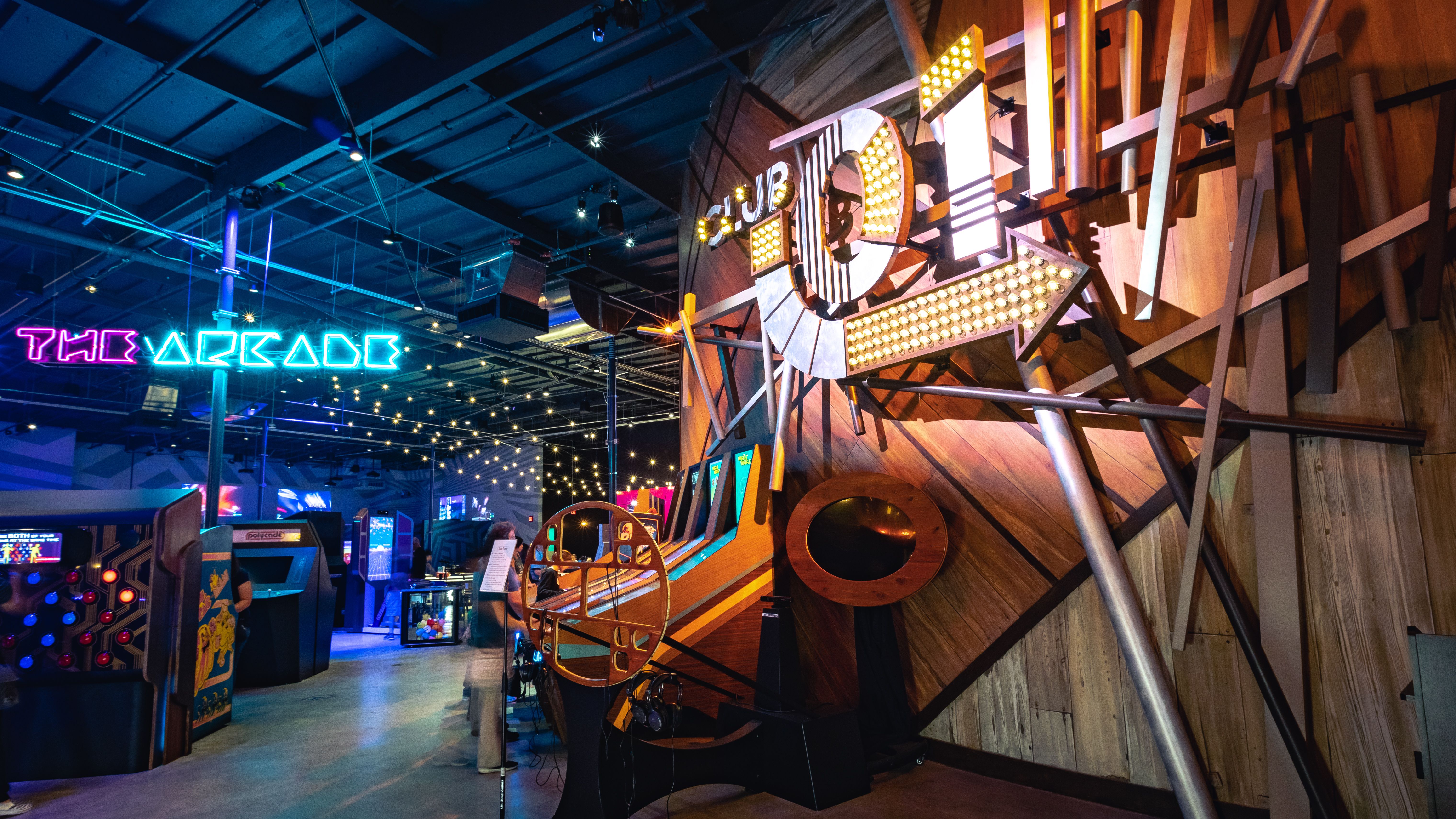 Somewhere in between an arcade, an escape room, a carnival, and a virtual reality playground, Two Bit Circus has built itself into the premiere destination for unique interactive experiences. Stepping into the downtown L.A. arts district warehouse is like discovering a futuristic theme park in a sci-fi novel. Everywhere you look you'll find arcade cabinets you've never seen before, virtual reality experiences you never knew were possible, and amazing attraction you could never have even dreamed off.
CEO and co-founder Brent Bushnell, son of Atari and Chuck E. Cheese founder Nolan Bushnell, has both gaming and entertainment running through his veins. His concept for a "micro-amusement park" has come to life over the last year inside Two Bit Circus, and after visiting myself recently, I can attest that what they have is really something special
Discovery Is Half The Fun
The experiences within Two Bit Circus are broken up into sections not unlike Disney World's various lands. Right at the front you'll find The Midway: a fresh take on carnival style games with a mix of classics like Skee-ball and new concept developed just for Two Bit. One of my favorites is a Rampage-style wrecking ball game where two players swing a physical ball into a projection screen. On the screen is a building and each swing of the wrecking ball knocks out sections of the building for points.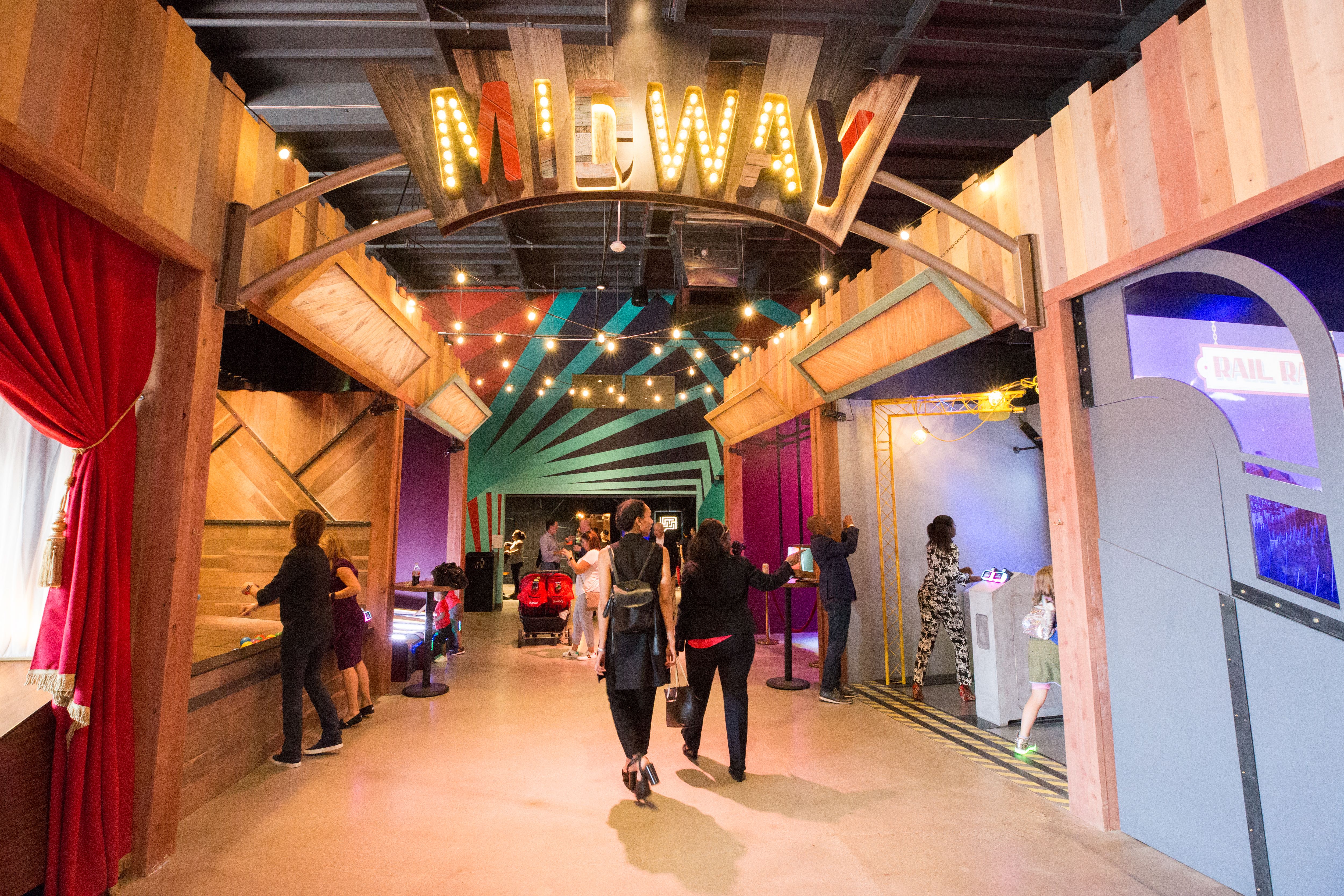 The blending of physical play and digital production is core to almost every experience at Two Bit Circus, no more so than in The Arena: Two Bits' virtual reality playground.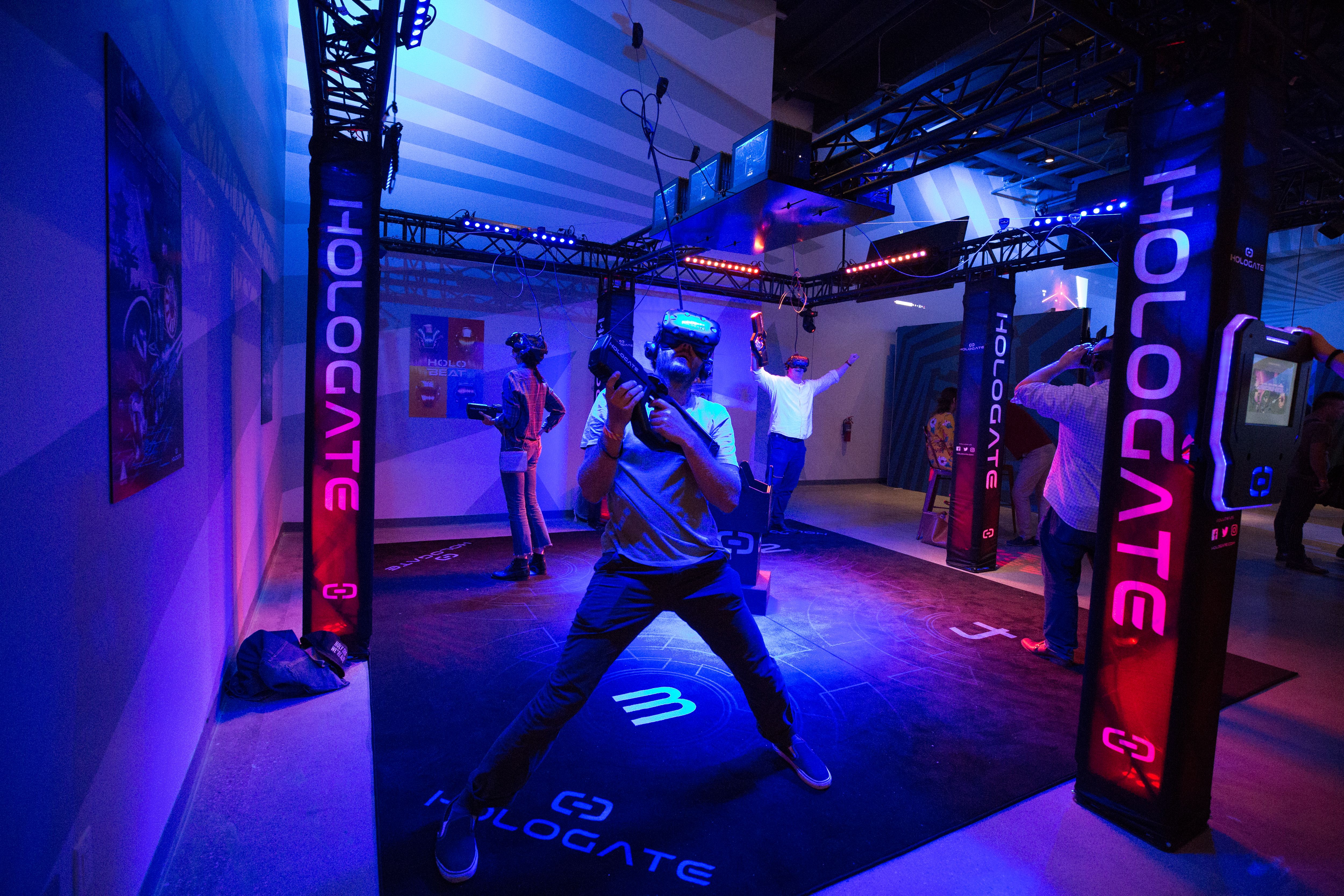 The Arena hosts a dizzying number of VR installations that are each entirely destination specific. Whether you're shooting zombies with pulse rifles in Hologate's co-op shooter Zombye or flying like a bird in remarkable flying contraption in Birdly, all of the VR games in The Arena are experiences you could never get at home.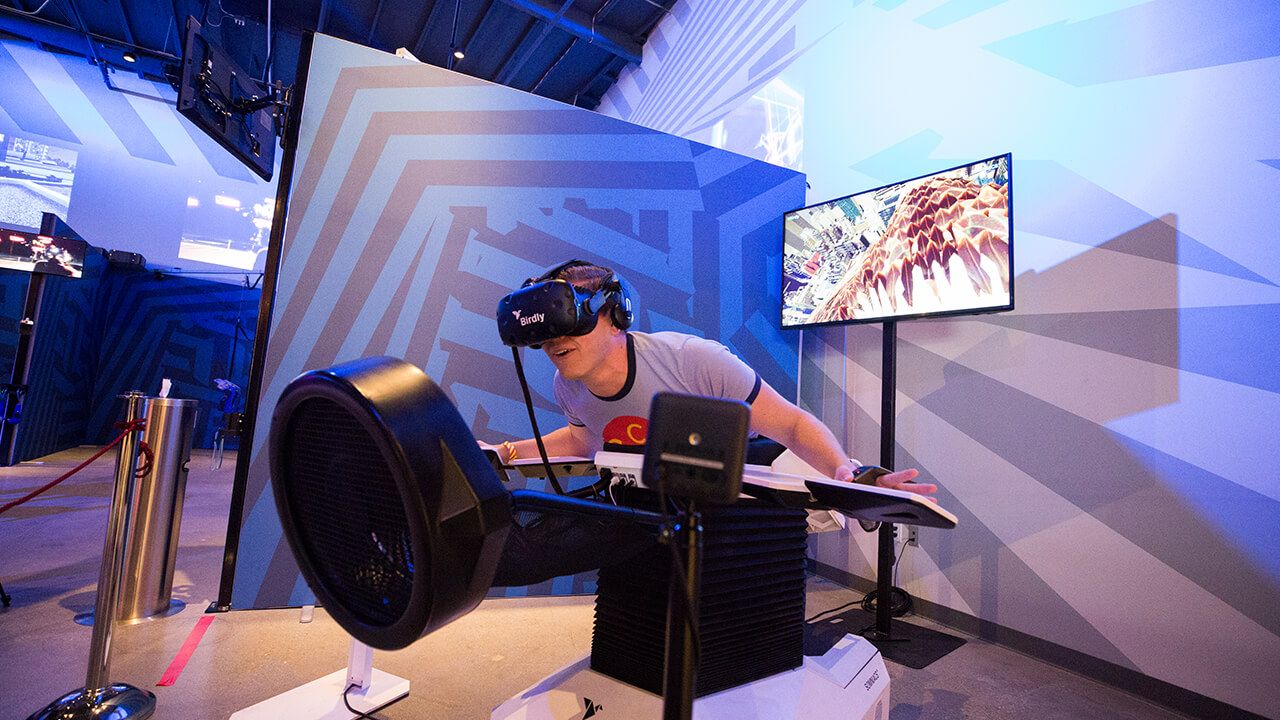 The innovations and unique experiences extend throughout the entire park, including the Arcade. While there are plenty of classics and modern hits to play like Street Fighter 2, Ms. Pacman, and Killer Queen, there are also oddities and brand new games developed just for Two Bit. You'll find games from the 80s that have rarely (if ever) been seen outside of Japan as well is innovative new games developed either in house or exclusively for Two Bit. My favorite exclusive is called Heavy Burger, a 2v2 bullet hell mixed with capture the flag where every round takes place on the battlefield inspired by different classic games.
The only Heavy Burger Game arcade cabinet in the world is now at #TwoBitCircus! Blast, dodge, and charge your way through an array of classic 1980's Data East arcade machines. 1-4 Players can battle against time-honored characters in a nostalgia-inducing collage of retro set-pieces from BurgerTime, Karate Champ, Lock 'N Chase, Heavy Barrel, Side Pocket, and Bad Dudes!
There is also a live theater where interactive shows are put on daily. Whispers In The Dark is Two Bit's spin on the murder mystery, combining magic, mentalism, and technology for an unforgettable experience. Some of the shows, like Under The Big Top are meant an audience of only two people so that participants can be pulled right into the show.
Story Rooms Are The Beating Heart Of Two Bit Circus
The pièce de résistance of Two Bit Circus is without a doubt the Story Rooms. These experience take the micro-amusement park's core competency, combining physical play with thrilling technology, and delivers truly unforgettable experiences. They're similar to escape room in that you and a group of friends will enter an enclosed play area and complete team-oriented tasks, but unlike escape rooms, these are narratively focused experiences that are less about solving puzzles and more about becoming part of a story.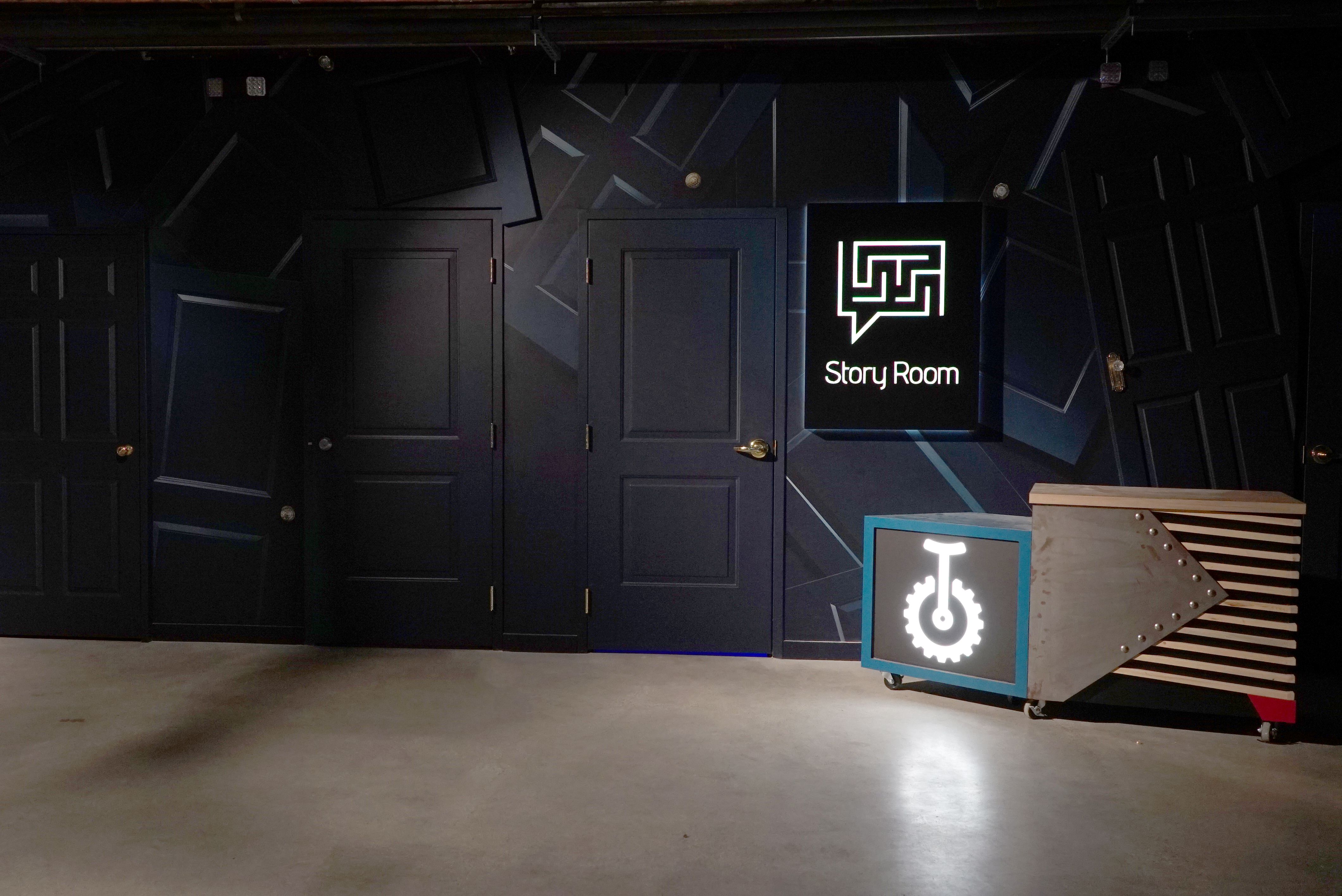 There is a Star Trek: Bridge Crew-type experience in which each team member is assigned a role on a spaceship and the team plays out an interstellar adventure. There are also Story Rooms that use VR for a truly immersive cinematic experience. The most popular, The Raft, is a VR Story Room that takes your group on a wild raft ride through a monster-infested bayou.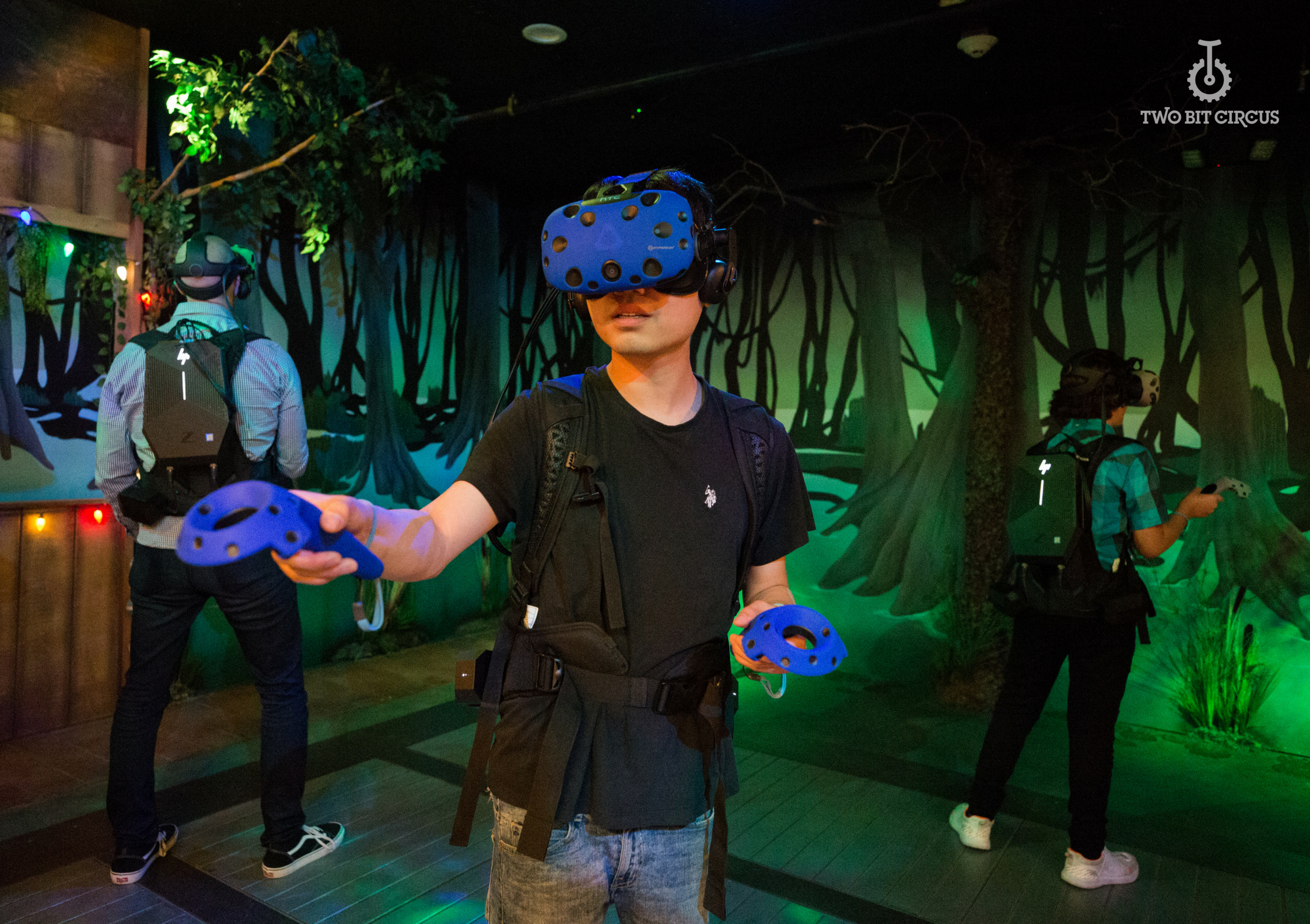 During my visit I got to play Dr. Botcher's Minute Medical School. The play area is dressed like operating room in a hospital on Sesame Street. Dr Botcher, a muppet-like doctor, will give your team a series of cooperative mini games to play in order to treat the patient. Players will use a microscope to battle viruses, plug criss-crossing cables into the patients IV to administer medicine, scan the patient for injuries, and play Operation is long springy needles. The 20 minute experience has a really satisfying narrative arc and feels like playing through your own Muppets bit.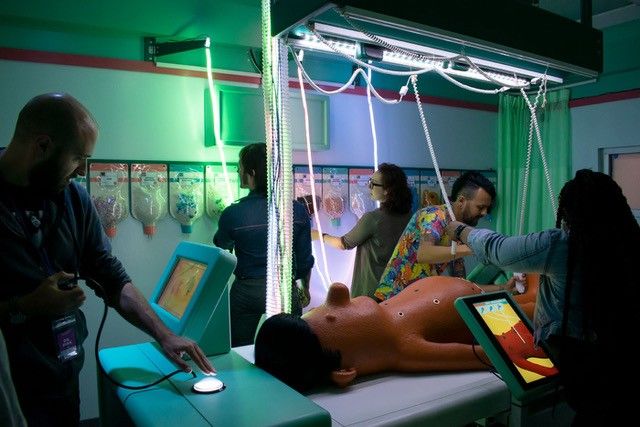 More Than You Could Ever See In One Visit
There's so much more to do and see at Two Bit Circus than I've mentioned here. On my next visit I'll be sure to check out The Maze, an untethered VR experience where you walk through a virtual maze that matches a physical maze in the real world, as well as The Cabanas, a series of private game rooms where you and a group of friends can select from a massive library of VR games to play together.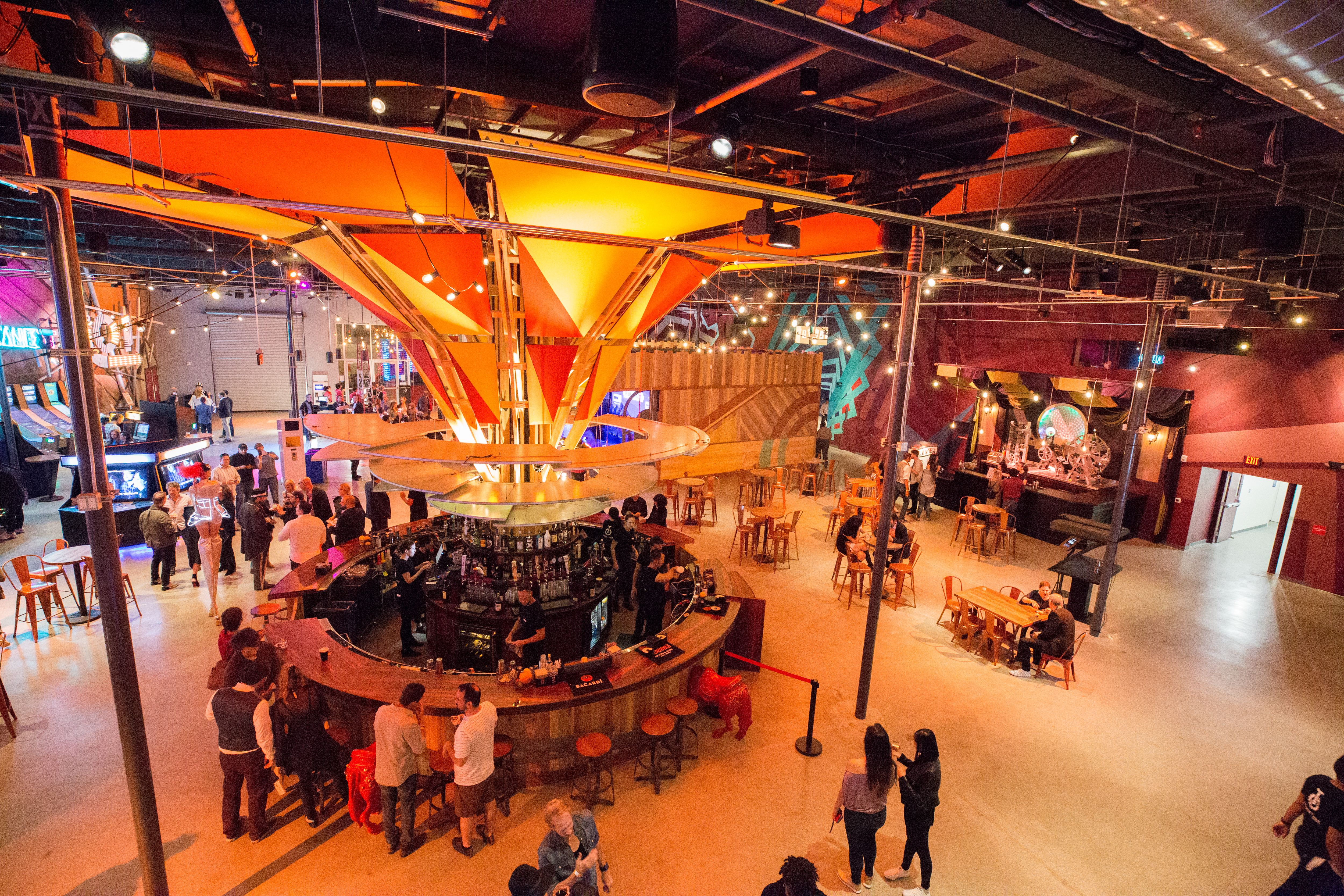 In between games you can enjoy a bite at the Sidecar, participate in a number of game shows in Club01, and order a drink from a robot bartender. The best part? Two Bit is constantly developing and acquiring new experiences and new games to make each visit  unique.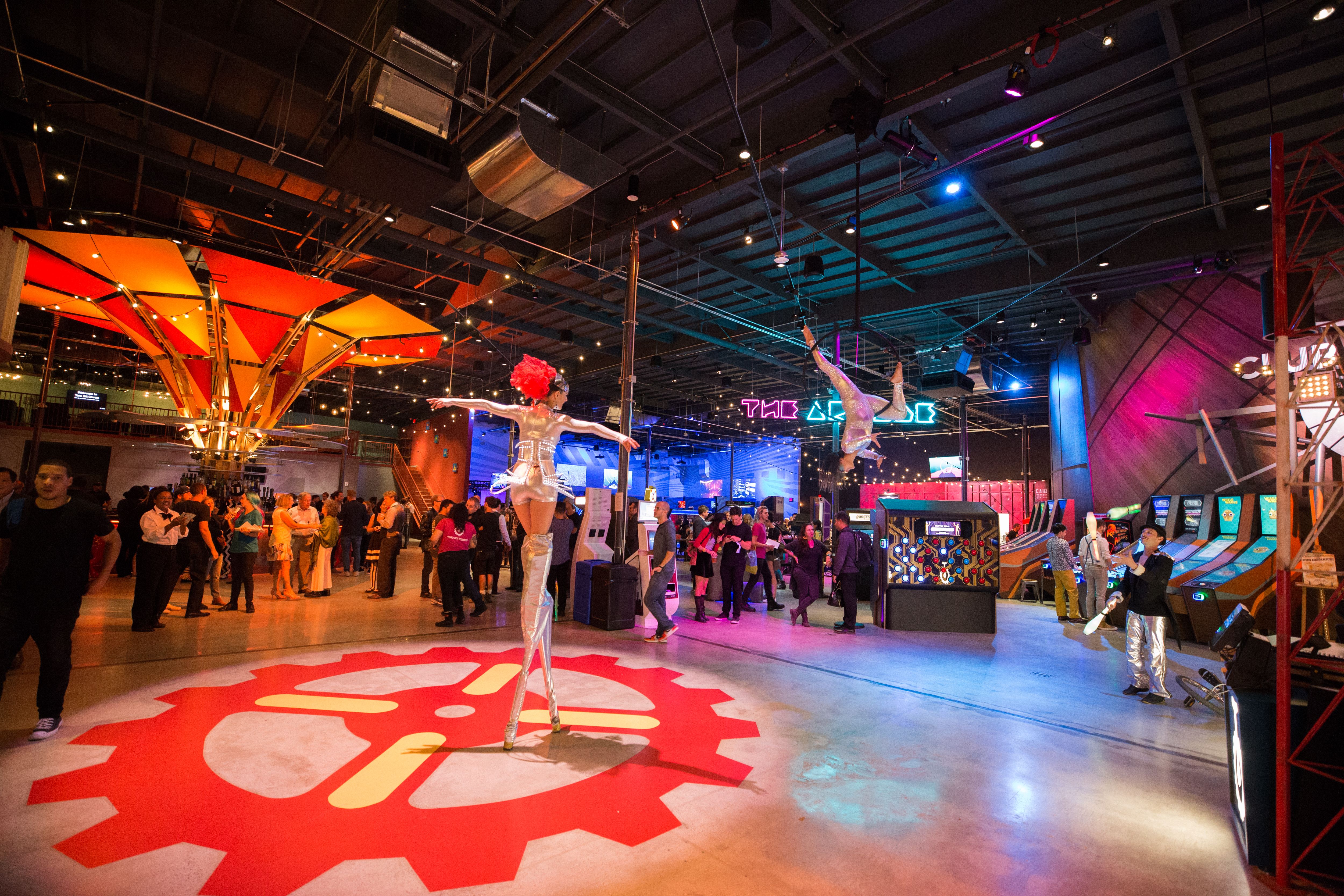 If you are visiting L.A. you can schedule your Two Bit experiences on their website. Not every attraction requires a reservation, but if you're checking out any of the shows, story rooms, or VR games in the Arena, it's best to book ahead of time. To make the most out of your visit, Two Bit Circus offers a variety of tour packages that tailor a group of experiences around the things you're most interested in. You can check out the Two Bit Tours here.
Source: Read Full Article